How You Could Earn a Yield Higher Than 9.9% Next Month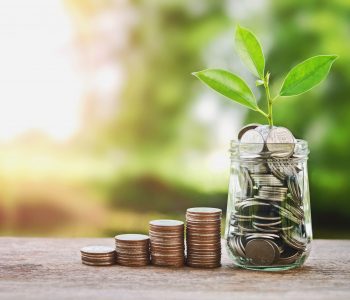 iStock.com/lovelyday12
This Is a Big Opportunity for Yield Hunters
In the world of income investing, few things feel better than buying a high-yield stock and then receiving a dividend check that's even bigger than what you were expecting.
How is that possible?
Well, the key is to invest in a company that's ready to raise its payout to investors. And if that company already offers a big yield, it would make the deal even sweeter.
Of course, the big question is identifying high-yield companies that are capable of raising their payouts. And keep in mind that dividend growth stocks are always highly sought after. Over the years, investors have already bought the most well-known dividend growers, bidding up their price and lowering their yield.
In fact, if you invest in an exchange-traded fund (ETF) that tracks the S&P 500 "Dividend Aristocrats"—an elite group of S&P 500 companies that have raised their payout annually for at least a quarter of a century—you would earn a yield of just 2.6% at the moment. (Source: "S&P 500 Dividend Aristocrats ETF," ProShares, last accessed March 20, 2019.)
Sure, most of the Dividend Aristocrats will likely continue to increase their dividend on a regular basis. But for many income-seeking investors, a yield of less than three percent simply doesn't get the job done.
That's why today I want to talk to you about a stock that's capable of delivering consistent payout increases. But because it's nowhere near as famous as the Dividend Aristocrats (in fact, most people likely haven't heard of it), it manages to offer a yield that's already approaching the double-digit mark.
The stock in question is Delek Logistics Partners LP (NYSE:DKL), a master limited partnership (MLP) headquartered in Brentwood, Tennessee. It was created by Delek US Holdings Inc (NYSE:DK) in 2012 to own, operate, acquire, and construct crude oil and refined products logistics and marketing assets.
Because consumers don't use Delek Logistics' services directly, most people aren't really familiar with the partnership.
Still, if you take a look at how much cash DKL stock dishes out to investors, you'll see that this could be a serious income opportunity.
Paying a quarterly cash distribution of $0.81 per common limited partner unit, the partnership offers a jaw-dropping annual yield of 9.9% at the current price.
And the best part is, if an investor purchases DKL stock today, there's a good chance that they'll earn a yield even higher than that by as early as next month.
Will Delek Logistics Partners LP Deliver an Even Bigger Payout Than Before?
As I discussed at the beginning of this article, the key to achieving a higher yield on cost is to invest in companies that are well positioned for a dividend increase.
One of the easiest ways to identify such companies is to listen to what their management says. Ultimately, it's the board of directors that decides on how much cash to pay to investors.
On that front, during the company's latest earnings conference call, Ezra Uzi Yemin, the Chairman and Chief Executive Officer of DKL's general partner, reaffirmed the partnership's goal of delivering "annual distribution growth per limited partner unit of at least 10% through 2019." (Source: "Delek Logistics Partners, LP (DKL) CEO Ezra Yemin on Q4 2018 Results – Earnings Call Transcript," Seeking Alpha, February 20, 2019.)
That sounded quite encouraging. I mean, who doesn't want a double-digit increase in dividends?
Still, I should point out that a company's management is almost always upbeat about their business, and their comments should be taken with a grain of salt.
Therefore, when it comes to their outlook on dividends, we should also check whether the business can generate enough cash to cover the payout.
In the case of MLPs, this is done by comparing a business's distributable cash flow to its actual payout. DKL calculates its distributable cash flow by taking net cash flow from operating activities, adjusting for changes in assets and liabilities, and subtracting maintenance capital expenditures.
In 2018, the partnership generated $121.6 million in distributable cash flow while paying total cash distributions of $101.9 million. That translated to a distribution coverage ratio of 1.19 times. (Source: "Delek Logistics Partners, LP Reports Fourth Quarter and Full Year 2018 Results," Delek Logistics Partners LP, February 19, 2019.)
What this means is that last year, Delek Logistics Partners LP earned 19% more cash than the amount needed to support its distributions to investors. In the MLP business, that's a pretty wide margin of safety.
Another thing you might want to check is the management team's track record. Talk is cheap, but if a company can consistently deliver on its promises, there's a good chance that its management knows what they are talking about.
As it turns out, the track record is excellent at Delek Logistics Partners. Growing the payout to unitholders has always been a goal for DKL. When the partnership was formed in 2012, it had a minimum quarterly distribution rate of $0.375 per unit. Since its initial public offering in November of the same year, management has raised the partnership's cash distribution every single quarter. (Source: "Delek Logistics Partners, L.P. Dividend Date & History," Nasdaq, last accessed March 20, 2019.)
That's 24 consecutive quarterly distribution hikes!
In other words, while DKL was already a high yielder from the start, unitholders received a bigger distribution check in the mail every three months. This is particularly impressive considering that the partnership maintained those payout increases even when oil prices crashed in the summer of 2014.
The Bottom Line on Delek Logistics Partners LP
Add it all up and you'll see that Delek Logistics Partners has a management team that's determined to raise the distribution, a business that's strong enough to support the payout, and an impeccable track record of delivering on its promises.
The partnership usually declares its first-quarter distribution at the end of April. Therefore, if management wants to continue that track record, investors will likely get another distribution hike next month.
That's why, for investors who lock in DKL stock's 9.9% yield today, the yield on cost could surge past 10% in just several weeks.