Delek Logistics Partners LP: Why This 11% Yield Is Better Than You Think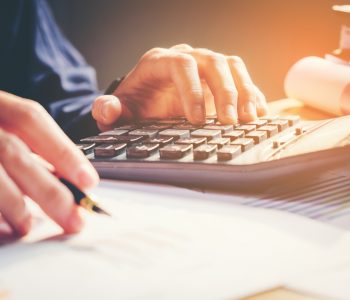 iStock.com/SARINYAPINNGAM
This High-Yield Stock Is Worth a Serious Look
If you look at the stock chart of Delek Logistics Partners LP (NYSE:DKL), you might feel a little underwhelmed. Over the past six months—a period when the S&P 500 index made new all-time highs, DKL stock slipped 7.3%.
But here's the thing: while Delek Logistics stock did not put on stellar price performance, its cash distributions have been traveling in just one direction: up.
Delek Logistics Partners is a master limited partnership headquartered Brentwood, Tennessee. It was created in 2012 by Delek U.S. Holdings Inc (NYSE:DK) to own, operate, acquire, and build crude oil and refined products logistics and marketing assets.
When DKL was formed, its partnership agreement specified a minimum quarterly distribution rate of $0.375 per unit.
But management hasn't been content with sticking to that minimum rate. Since Delek Logistics Partners went public in November 2012, the company has increased the cash payout every single quarter. (Source: "Delek Logistics Partners, L.P. Dividend Date & History," Delek Logistics Partners LP, last accessed September 12, 2019.)
Just think about that for a second. Due to the crash in oil and gas prices a few years ago, the energy industry had a major downturn and even today, many energy companies are yet to make a full recovery. But during this period, Delek Logistics Partners LP was raising its payout to unitholders every three months.
That's 26 consecutive quarterly distribution increases!
The latest distribution hike came in July, when the company declared a quarterly cash distribution of $0.85 per unit. The amount represented a 10.4% increase year-over-year and a 3.7% increase sequentially. The $0.85 cash distribution was paid on August 13 to unitholders of record as of August 5.
So in less than seven years, DKL stock's per-unit payout has grown by 126.7%.
With Delek Logistics stock trading at $30.81 per unit, its latest cash distribution translates to an annual yield of 11%.
Of course, given the uncertainties associated with the energy industry, a double-digit-yielding energy stock looks far from being the safest bet. And considering that the average S&P 500 company pays less than two percent at the moment, an 11% annual yield simply seems too good to be true. (Source: "S&P 500 Dividend Yield," Multpl.com, last accessed September 12, 2019.)
But it isn't. In fact, if you take a look at DKL's financials, you'll see that the partnership actually has enough resources to support that jaw-dropping payout.
Delek Logistics Partners LP Financials
According to its most recent earnings report, Delek Logistics generated $31.2 million in distributable cash flow in the second quarter of 2019. Its actual cash distributions for the quarter, on the other hand, totaled $28.9 million. (Source: "Delek Logistics Partners, LP Reports Second Quarter 2019 Results," Delek Logistics Partners LP, August 5, 2019.)
That translated to a distribution coverage ratio of 1.08 times, meaning the partnership generated eight percent more cash than what was needed to meet its distribution obligations.
For the first six months of this year, Delek Logistics Partners earned $61.5 million in distributable cash flow while paying $56.4 million in cash distributions to unitholders. That resulted in a distribution coverage ratio of 1.09 times.
So again, the payout remained safe.
If you are very, very risk-averse, you might want to see a higher distribution coverage ratio so the company would have more financial wiggle room. But note that, among stocks that yield more than 10% in today's market, a well-covered payout like what DKL has is already considered quite impressive.
One of the reasons Delek Logistics Partners can maintain a safe payout is the fee-based nature of its business. You see, while the partnership comes from the energy industry, it's not drilling new wells.
Instead, DKL generates most of its margin from long-term, fee-based contracts with minimum volume commitments. As a result, the company can limit its commodity price exposure and generate a predictable stream of cash flow. (Source: "Investor Presentation," Delek Logistics Partners LP, last accessed September 12, 2019.)
Delek Logistics Partners LP (NYSE:DKL) Stock Chart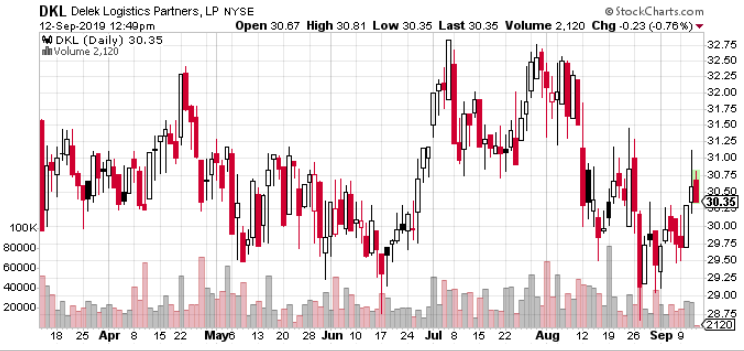 Chart courtesy of StockCharts.com
Earn a Yield Higher Than 11%?
The best part is, Delek Logistics is not done with its payout increases. During its latest earnings conference call, Chairman and Chief Executive Officer Uzi Yemin said, "With continued growth at DKL, this should support annual distribution growth per limited partner unit of at least 10% to 2019, while maintaining appropriate annual distribution coverage." (Source: "Delek Logistics Partners, LP (DKL) CEO Uzi Yemin on Q2 2019 Results – Earnings Call Transcript," Seeking Alpha, August 5, 2019.)
Now keep in mind that the latest distribution declared by Delek Logistics was only for the second quarter of 2019. That is, the partnership is yet to announce its third- and fourth-quarter payouts for this year. Given management's expectations, I wouldn't be surprised if both distributions turn out to be higher than the previous ones.
So if an investor has Delek Logistics stock today, there's a good chance that a few months down the road, they'll earn a yield on cost that's even greater than the current 11%.
Add it all up and you'll see that Delek Logistics Partners LP is one of the few double-digit yielders that are actually worth considering for income investors.