DEA Stock's High-Yield Dividend Isn't Fazed by Rising Interest Rates or Economic Downturns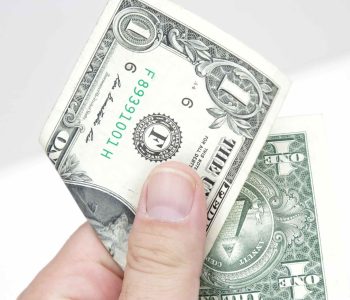 Easterly Government Properties Inc's Outlook Is Bullish
When it comes to real estate investment trusts (REITs), now might be one the best times to take a look at Easterly Government Properties Inc (NYSE:DEA).
REITs tend to be popular among investors because they provide ultra-high dividend yields. That's because REITs legally have to return at least 90% of their taxable income to investors.
REITs, however, tend to face headwinds when the economy slows and interest rates rise—which is kind of what we're staring down right now. The Federal Reserve's chair, Jerome Powell, said he'll begin to raise interest rates in an effort to tackle surging inflation, which has been rising at its quickest pace in 40 years. An interest rate hike in March would be the first since 2018. Powell also said he's open to additional rate hikes.
Higher interest rates make it more expensive to borrow, which isn't ideal for REITs since they carry mortgages on some of their properties and they rely on acquisitions to increase their portfolios. REITs also need their tenants to make enough money to pay their rent.
The economy is running hot at the moment, but it could slow down very quickly. The Russian invasion of Ukraine is expected to undermine global economic growth at a time when the prices of virtually everything—especially energy and food—are rising. At $129.0 per barrel, West Texas Intermediate crude oil is trading at its highest level in almost 10 years. Moreover, since the middle of February, wheat futures have soared by close to 50% to their highest levels since 2008.
Easterly Government Properties Inc is one REIT that isn't that concerned about the economic outlook and rising interest rates.
In 2020, a year when real gross domestic product (GDP) contracted by 3.5% and many real estate sectors faced fundamental challenges, Easterly was able to achieve five percent year-over-year growth in its funds from operations (FFO) per diluted share. FFO is used in real estate to describe cash flow. (Source: "Easterly Government Properties Reports Fourth Quarter and Full Year 2020 Results," Easterly Government Properties Inc, February 24, 2021.)
How was it able to do that?
Easterly acquires, develops, and manages commercial properties that it leases to various U.S. government agencies. And really, if there's one tenant that should be able to pay its rent on time—regardless of how the economy is doing, where interest rates are, or whether we're facing a pandemic—it's the U.S. government.
Easterly Government Properties Inc's 8.6-million-square-foot portfolio consists of 89 properties in 25 U.S. states. Of those properties, 88 are leased primarily to U.S. government agencies. The other property is leased to a private tenant.
Some of the government agencies that pay rent to Easterly Government Properties are Customs and Border Protection, the Department of Defense, the Department of Energy, the Department of Veterans Affairs, the Federal Bureau of Investigation, the Food and Drug Administration, the Internal Revenue Service, and the National Park Service. (Source: "Properties," Easterly Government Properties Inc, last accessed March 8, 2022.)
Acquisition of 10 Properties
In October 2021, Easterly announced the formation of a joint venture with one of the preferred leading global investors. The venture is an investment vehicle for the acquisition of 10 properties for $635.6 million. (Source: "Easterly Government Properties Enters Into Joint Venture and Announces Agreement to Acquire 1,214,165 SF Department of Veterans Affairs Portfolio for $635.6 Million," Easterly Government Properties Inc, October 13, 2021.)
The properties, which cover 1.2 million leased square feet, are 100% leased to the Department of Veterans Affairs, with a weighted average lease of 19.6 years.
The acquisitions are expected to close on a rolling basis by the end of 2023. Easterly Government Properties Inc will retain a 53% stake in the joint venture, receive asset management fees from its partner, and be responsible for the day-to-day management of the properties.
Another Highly Successful Year
For the fourth quarter of 2021, Easterly announced net income of $7.8 million, or $0.08 per share. That's a big improvement over the fourth-quarter 2020 net income of $2.6 million, or $0.03 per share. (Source: "Easterly Government Properties Reports Fourth Quarter and Full Year 2021 Results," Easterly Government Properties Inc, February 28, 2022.)
The REIT's fourth-quarter 2021 FFO were $31.8 million, or $0.33 per share, versus fourth-quarter 2020 FFO of $27.3 million, or $0.32 per share. Its adjusted FFO in the fourth quarter of 2021 was $0.32 per share, compared to $0.30 in the same prior-year period.
Easterly Government Properties Inc's full-year net income was $34.0 million, or $0.36 per diluted share, which was more than double the $13.5 million, or $0.15 per share, it recorded for 2020. The company's full-year 2021 FFO were $124.2 million, or $1.31 per share, which was up by 11% from the 2020 FFO of $111.3 million, or $1.26 per share. Its full-year 2021 adjusted FFO was $1.24 per share, versus $1.26 per share in 2020.
"By every measure, 2021 was a highly successful year at Easterly," said William C. Trimble, III, Easterly Government Properties Inc's CEO. "Easterly increased its acquisition volume and its quarterly dividend, and delivered on its enhanced earnings guidance, all to the benefit of our shareholders." (Source: Ibid.)
Why DEA Stock Is Attractive
Reliable cash flow is one reason shares of Easterly Government Properties Inc have been able to rebound as quickly as they have during the COVID-19 pandemic. The fact that Easterly Government Properties stock tanked at all is a bit of a head-scratcher, frankly, but knee-jerk investors will do that.
While DEA stock has recovered from the pandemic, it has been trading in a relatively tight range. This isn't ideal for investors who are looking for near-term capital appreciation, but the company's recent acquisition of 10 properties should juice Easterly Government Properties stock over the coming quarters.
In the meantime, income investors can sit back and enjoy DEA stock's high-yield dividends. In February, the company announced a quarterly dividend of $0.265 per share, for a yield of almost five percent.
Easterly Government Properties Inc has a history of raising its dividends. Since going public in 2015, the company has raised its quarterly dividend seven times.
As you can see in the following chart, the company held its payout at $0.26 per share throughout much of the pandemic and raised it slightly in August 2021 to $0.265. The red line in the chart makes the dividend increase look oversized.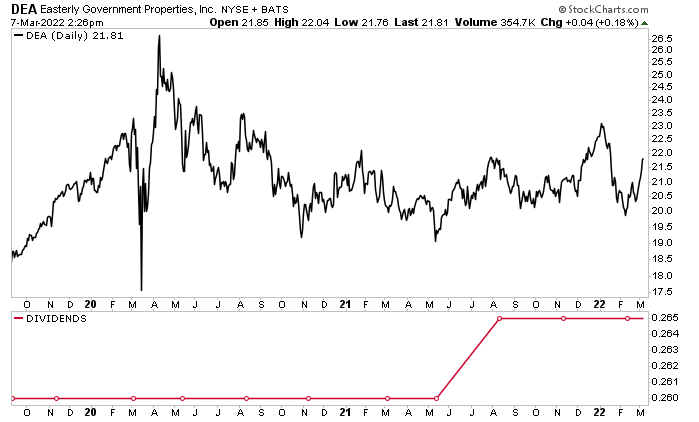 Chart courtesy of StockCharts.com
The Lowdown on Easterly Government Properties Stock
One of the biggest issues facing REITs is its customers. Fortunately, Easterly Government Properties Inc has some of the most enviable tenants on the planet.
Thanks to its impeccable, high-grade tenants, the company has a reliable cash flow, which allows it to make accretive acquisitions and target opportunistic developments. This provides Easterly with super risk-adjusted returns and provides DEA stock investors with reliable, high-yield dividends.
Because of the company's excellent 2021 results, and depending on what happens in the first and second quarters of 2022, there's a good chance Easterly Government Properties stock's quarterly dividend will increase again this year.