DDR Stock: Top Retail REIT with 9.0% Yield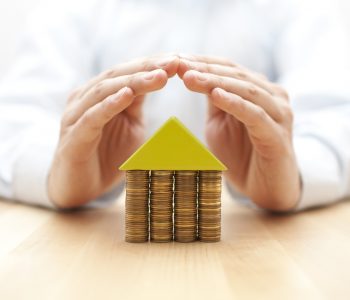 This High-Dividend Stock is a Top Pick for Income Investors
Dividends can be very powerful. From 1930 to 2010, they accounted for 44% of total return in the U.S. stock market. However, today's investors seem to be more interested in the hottest tickers in the tech sector rather than boring, dividend-paying businesses. But if you still believe in the magic of dividends, here is one high dividend stock currently yielding nine percent.
The company in question is DDR Corp (NYSE:DDR), a real estate investment trust (REIT) headquartered in Beachwood, Ohio.
DDR Corp was founded in 1965. Today, it owns and manages 309 value-oriented shopping centers totaling 103-million square feet. These are mainly open-air shopping centers, also known as power centers. A power center usually contains a few big box retailers and various small retailers with a common parking area. DDR's properties are located in 35 states and Puerto Rico. (Source: "Our Company," DDR Corp, last accessed June 22, 2017.)
One thing to note is that the despite being a decades-old company, DDR's business has changed quite bit over the years. In fact, the company used to go by the name of Developers Diversified Realty Corporation. But in 2011, it decided to adopt its NYSE ticker symbol as the name.
The reason is that while ground-up development of new shopping centers is still part of the company's business, it "no longer warrants top billing" in its name. Moreover, because its current strategy is to focus on open-air, value oriented shopping centers, the world "diversified" is not really an accurate description. (Source: "DDR Announces New Name, Tagline And Brand Identity," DDR Corp, September 12, 2011.)
High-Dividend Stock Backed By a Solid Business
Of course, higher returns often come with higher risk. The reason why some stocks can offer high dividend yields is that investors don't believe they have sustainable business. Without a recurring cash flow, a company cannot pay dividends indefinitely, and as we have seen plenty of times, few things disappoint investors more than a dividend cut. But what about this high-dividend stock?
Well, despite its nine-percent yield, DDR is actually running a solid business. The company makes money by leasing out its power centers to retailers. In fact, after DDR rebranded itself, it also got a new tagline: "Think Retail. Create Value."
I know what you are thinking: that the retail industry is not really firing on all cylinders right now. With the booming e-commerce industry, some retailers have experienced sizable declines in their comparable-stores sales.
However, not all retailers are having a hard time; there are plenty of companies that can still generate recurring sales and have no problem paying their rent. Here is a list of DDR's top 10 tenants based on annualized rental revenue by the end of 2016.

Source: "2016 Form 10-K," DDR Corp, last accessed June 22, 2017.
Note that on this list, TJX Companies Inc (NYSE:TJX), Wal-Mart Stores Inc (NYSE:WMT) and Ross Stores, Inc (NASDAQ:ROST) are well-known shopping destinations for consumers looking for value. These stores are known to do well even during economic downturns. Having a tilt towards value and discount stores adds stability to the landlord's cash flow.
Also Read:
Why DDR Corp is a Top Dividend Stock: A Juicy Yield of 9%
Top Dividend Stock: Eight Dividend Hikes in Two Years
Moreover, a sizable portion of DDR Corp's tenants operate in the grocery store business. While e-commerce platforms like Amazon.com, Inc. (NASDAQ:AMZN) have been expanding their presence in this business, consumers are still going to physical stores to get groceries. Having a significant grocer component adds further stability to DDR's business.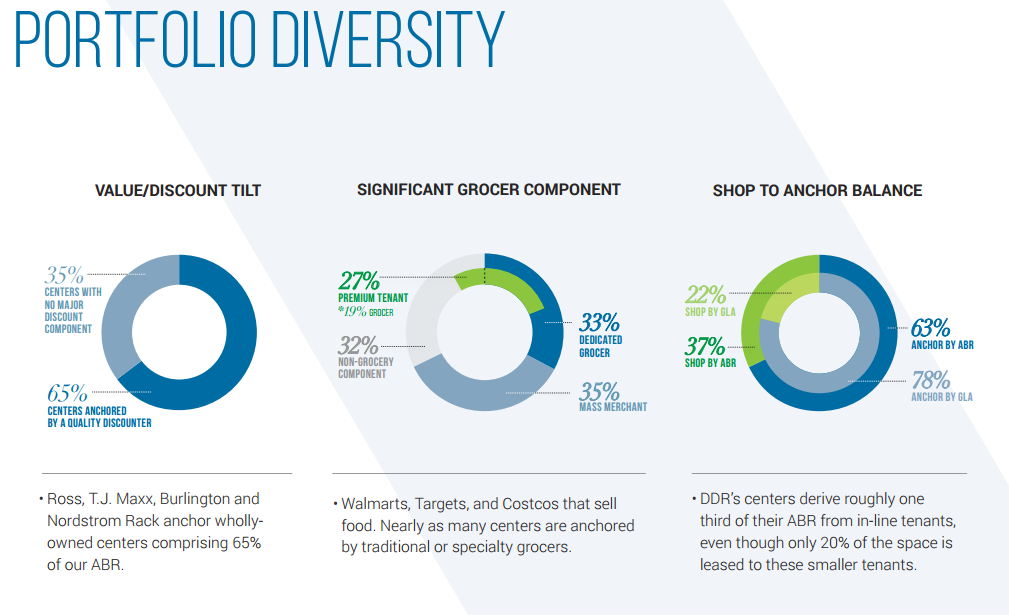 Source: "Investor Presentation," DDR Corp, last accessed June 22, 2017.
And don't forget: for real estate investment trusts, retail is not really a bad place to be in. Historically, retail and residential REITs have proven to be more recession-resistant than office and industrial REITs.
Final Thoughts on This High-Dividend Stock
At the end of the day, dividends are paid in cash. A company may choose to borrow some money to fulfill its dividend obligations, but for a high-dividend stock to cover its generous distributions in the long run, it needs to generate enough cash flow.
The good news is that on the cash flow front, things look quite solid for DDR Corp. In 2016, the company generated operating funds from operations (FFO) of $1.28 per diluted share. It declared total dividends of $0.76 per share. That gives a payout ratio of 59.4%, which leaves a sizable margin of safety. (Source: "DDR Reports First Quarter And Year End 2016 Operating Results," DDR Corp, February 13, 2017.)
In the first quarter of 2017, operating FFO came in at $0.30 per share, which again provided more than enough coverage of DDR stock's $0.19-per-share cash distribution. The company is also streamlining its operations; DDR recently reduced its headcount by 65 positions, including nine officer level roles. This is expected to generate annual reduction to recurring general and administrative expenses of approximately $6.0 million. (Source: "DDR Reports First Quarter 2017 Operating Results," DDR Corp, April 25, 2017.)
With a solid real estate portfolio and efficient operations, this high-dividend stock deserves the attention of income investors.