DCP Midstream LP: "Cash Cow" Stock Now Yields 7.9%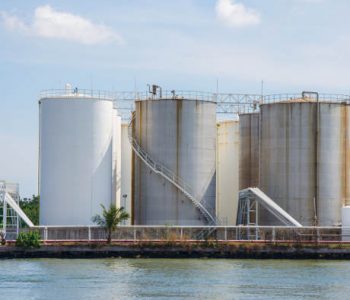 iStock.com/hirun
Quiet Stock Yields 7.9%
In a recent Income Investors post, I told you all about my favorite type of dividend stocks for collecting safe, high yields. These names don't get a lot of coverage in the press. You almost never hear them brought up on CNBC or around the cocktail party circuit. But many of these stocks have quietly crushed the market for decades. And it's not uncommon to find some names paying out yields of up to 21%.
I call these stocks my "cash cows." The firms are mature businesses with little need to spend money on new property, plants, or equipment. Because they no longer have to reinvest their earnings back into expansion projects, owners can milk these operations for extra-large dividends.
Case in point: DCP Midstream LP (NYSE:DCP). The partnership owns thousands of miles of natural gas liquid  (NGL) pipelines. It's a quiet operation, but if you like earning outsized income, there might be no better business in the world. Here's why.
For starters, pipelines churn out a lot of cash flow. New routes cost billions of dollars to construct. But once you have one up and running, ongoing maintenance and labor costs come in at just a fraction of the sales revenue.
DCP's pipelines serve as the "interstate highway system" of the energy patch. And, like an overpass tollbooth, the partnership collects a fee on every barrel that flows through its network. So, while commodity prices swing wildly from year to year, DCP's actual cash flow remains remarkably consistent.
Better still, those cash flows tend to grow over time. America's shale oil boom has unlocked supplies for a lot of related commodities, like propane, butane, isobutane, and pentane. As a result, DCP's pipeline network now runs a nearly full capacity.
This puts DCP Midstream LP in the position to raise its toll fees each year. Even if you can cough up the billions of dollars needed to construct a new pipeline, it can be difficult to buy out landowners and secure the needed government rights-of-way. So, with a near monopoly position in the markets it serves, DCP can raise prices by four or five percent annually.
Most of these cash flows get passed on to investors in the form of steady, growing distributions. Today, DCP pays out a quarterly distribution of $0.78 per unit. That comes out to an annual yield of almost 7.9%.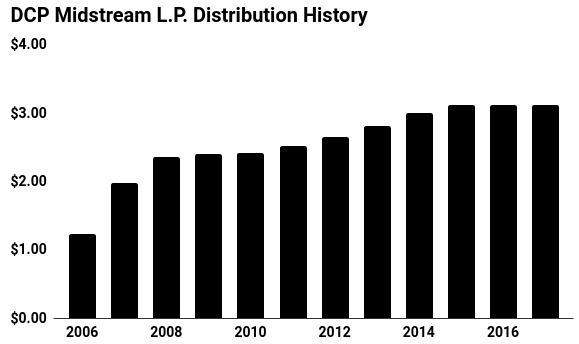 (Source: "Distribution Payments," DCP Midstream LP, last accessed June 20, 2018.)

That distribution will likely keep growing. The partnership knocked it out of the park last year, with profits well surpassing analysts' estimates. DCP executives see the company's cash flows–and, by rough extension, the distribution–growing by between seven and nine percent annually over the next five years.
In other words, we're not talking about a stock that will get a lot of mention around the office water cooler. But for those of us willing to trade heart-pounding excitement for reliable income, you'll like this business just fine. If you're looking for safe, high yields, give this cash cow a second look.