8.5%-Yielding DallasNews Stock Spikes Higher on Special Dividend Announcement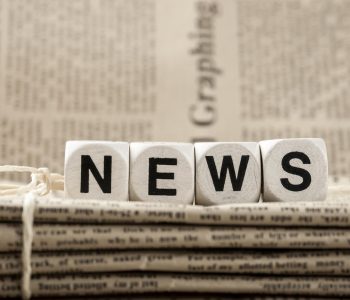 DallasNews Corp Announces 5th Special Dividend in 10 Years
DallasNews Corp (NASDAQ:DALN) isn't exactly the kind of ultra-high-yield dividend stock people wax eloquent about. After all, for most investors, print media is dead.
But there's more to DallasNews than just newspapers. The company has been working on being a sustainably profitable digital media company, too. That might not attract a lot of investor attention on its own (profitability ought to be one of many corporate goals), but the fact that the cash-rich company recently announced its fifth special dividend in a decade might catch the attention of dividend hogs.
DallasNews Corp is the holding company of The Dallas Morning News and Medium Giant Company Inc., a media and marketing company.
The Dallas Morning News is Texas' leading daily newspaper, with more than 12 million readers per month—including its print, online, and digital editions. The company has won nine Pulitzer Prizes. Furthermore, it's the oldest continuously operated business in Texas, starting in 1842 (under a different name and corporate structure). (Source: "About Us," DallasNews Corp, last accessed August 29, 2022.)
The company also publishes the newspapers Briefing and Al Dia and operates various web sites and mobile apps. ("About Us," The Dallas Morning News, last accessed August 29, 2022.)
Medium Giant provides clients nationwide with services including analytics, branding, creative, integrated media, marketing, and strategy. (Source: "Services," Medium Giant Company Inc., last accessed August 29, 2022.)
DALN Stock to Provide $1.50 Special Dividend
For the most part, DallasNews stock has been trading in a pretty tight range between $6.00 and $6.90 since May 2021. But it recently broke through that resistance level and rose to its highest trading level since April 2021 after the company announced a special dividend of $1.50 per share. (Source: "DallasNews Corporation Announces Special Dividend and Voluntary Pension Contribution," DallasNews Corp, August 22, 2022.)
On August 22, the company's board approved a $1.50 special dividend payable on September 30 to shareholders of record as of the close of business on September 9.
In late July, DallasNews Corp received the full payment of a note related to the 2019 sale of its former headquarters campus in Dallas. The total proceeds were $22.5 million. The special dividend accounts for $9.0 million of that total, and $5.0 million is being added to the company's pension plan. The remaining $10.0 million will be kept on DallasNews Corp's balance sheet. Following the payment of the special dividend, the cash on the company's balance sheet will be $33.0 million.
DALN stock's special dividend is its fifth one in the past 10 years. DallasNews stock paid special dividends of:
$0.96 per share in 2012
$6.00 per share in 2014
$9.00 per share in 2015
$0.56 per share in 2017
Since DallasNews Corp became a separate company in 2008, it has paid a total of $82.4 million in regular dividends and $100.6 million in special dividends. The board said it plans to continue quarterly dividends at the current rate of $0.16 per share, for a yield of 8.5%. With the next special dividend, DALN stock's annual payout will be $2.14 per share, for a current inflation-busting yield of 27.2%.
The company's special dividend and strengthened balance sheet have helped juice the price of DallasNews stock. As of this writing, DALN stock is up by:
22% over the last month
28% over the last six months
17% year-to-date
23% year-over-year
The good news is that investors who missed out on DallasNews stock's initial share-price explosion can still take advantage of its special dividend, which—as noted above—will be paid to shareholders of record as of the close of business on September 9.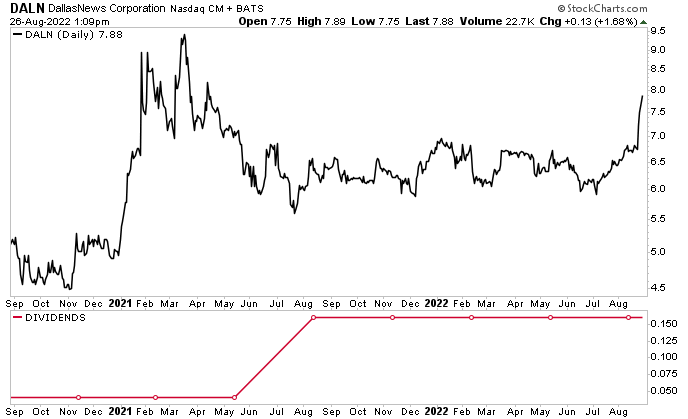 Chart courtesy of StockCharts.com
Great Second-Quarter Results
In addition to its reliable, growing, regular dividends and semi-annual special dividends, DallasNews continues to report solid financial results. For the second quarter ended June 30, the company reported revenue of $37.6 million, a 2.8% decrease from the second quarter of 2021. (Source: "DallasNews Corporation Announces Second Quarter 2022 Financial Results," DallasNews Corp, July 26, 2022.)
The company reported a second-quarter 2022 net loss of $2.4 million, or $0.45 per share, versus a second-quarter 2021 net loss of $1.5 million, or $0.28 per share. Management reported an operating loss of $2.3 million for the second quarter of 2022, compared to an operating loss of $3.0 million in the same prior-year period.
Grant Moise, DallasNews Corp's CEO, noted, "The second quarter showed steady progress in our pursuit to become a sustainably profitable digital media company and DallasNews' financial performance was in line with our internal expectations." (Source: Ibid.)
"We continue to invest in our growing digital business, while efficiently managing our more mature print business which continues to experience headwinds from significantly higher newsprint and fuel costs. Medium Giant had a strong quarter closing new business, while the subscription side of our business continued to grow year-over-year."
The Lowdown on DallasNews Corp
DallasNews Corp isn't the contrarian play many investors believe it is. In addition to operating the leading daily newspaper in Texas, it operates other newspapers, web sites, and mobile applications. The corporation has also moved into branding, marketing, and other services.
As mentioned earlier, the company has a strong balance sheet and is working to become sustainably profitable.
Moreover, since DallasNews Corp was established under its current name and structure in 2008, management has consistently focused on returning capital to DALN stockholders when opportunities arise. This is excellent news for dividend hogs.