DallasNews Corp: New Name, New Ticker for This Reliable 9.5% Yielder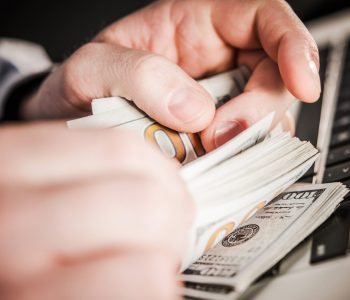 DallasNews Corp's Healthy Balance Sheet Points to Reliable High-Yield Payout
Shares of DallasNews Corp (NASDAQ:DALN) might only have begun trading on the Nasdaq back in June, but the company has been around for a long time: since 1842. Most investors are probably more familiar with its previous name A. H. Belo Corporation (NYSE:AHC)—or maybe not.
Back in June, A. H. Belo Corporation announced that it was transferring the listing of its shares from the New York Stock Exchange (NYSE) to the Nasdaq on June 29. The decision to move to the Nasdaq followed an internal review of what market would best serve the company's interests.
Concurrent with its listing on the Nasdaq as DALN stock, the company changed its name to DallasNews Corp. The move was to embrace "the social justice movement underway in America." The company's namesake, Alfred Horatio Belo, volunteered to serve in the Confederate Army, eventually becoming a colonel. While Belo never owned slaves, his family did. (Source: "Hoping to Cut Confederate Ties, Media Company A.H. Belo Considers Name Change," Dallas Observer, March 10, 2021.)
The company's name change was approved with more than 99% of the votes cast.
About DALN Stock
The company might have a new name and a new stock ticker, but the roots of the company are still the same.
DallasNews Corp is the Dallas-based holding company of The Dallas Morning News and Belo + Company (a marketing consultancy). DallasNews was formed when A. H. Belo Corporation separated its broadcasting and publishing ventures into two corporations. (Source: "About DallasNews Corporation," DallasNews Corp, last accessed September 21, 2021.)
The Dallas Morning News is Texas' leading daily newspaper, with more than 12 million monthly readers in print, online, or digitally. The company has won nine Pulitzer Prizes and is the oldest continuously operated business in Texas. The company also publishes the newspapers Briefing and Al Dia, as well as operating related web sites and mobile applications.
The company also offers commercial printing, distribution, direct mail, and shared mail packaging services.
Many investors might be leery of investing in a company that publishes print newspapers, but it's important to remember that it has joined the 21st century with digital and online platforms.
For instance, DallasNews Corp provides auto dealership advertising services on the Cars.com platform. Moreover, through Belo + Company, it provides digital marketing, digital and marketing analytics, search engine marketing, social media account management, content marketing, and multi-channel digital advertising.
2Q Results
When it comes to the newspaper and digital media space, DallasNews is head and shoulders above its peers: it has $39.0 million in cash and zero debt. That doesn't mean the company isn't facing an uphill battle. It is, but it has been making strong gains. (Source: "DallasNews Corporation Announces Second Quarter 2021 Financial Results," DallasNews Corp, July 26, 2021.)
For the second quarter ended June 30, DallasNews announced that its revenue increased by 9.2% year-over-year to $38.7 million. Its revenue from advertising and marketing was up by 19.3%, at $18.6 million. The company's circulation revenue inched up by 2.4% to $16.1 million. Its printing, distribution, and other revenue decreased by 3.1% to $4.0 million, primarily due to a reduction in commercial printing revenue.
DallasNews Corp reported a second-quarter 2021 net loss of $1.5 million, or $0.28 per share, compared to a second-quarter 2020 net loss of $3.4 million, or $0.64 per share. It also reported an operating loss of $3.0 million, versus an operating loss of $4.4 million in the same prior-year period.
Robert W. Decherd, chairman, president, and CEO, said, "We continue to see signs of progress across DallasNews' businesses and are encouraged by the surprisingly rapid pace at which the United States and Texas are returning to pre-pandemic levels of activity." (Source: Ibid.)
He added, "Growth in total membership revenue in the second quarter extends a trend that has been in evidence now for more than a year…With almost $39 million in cash and no debt, DallasNews Corp continues to occupy a highly-preferred position in the newspaper and digital media space."
Decherd also said that the company's primary objective of becoming a sustainably profitable digital news and information provider remains paramount.
This is good news for DallasNews stock investors. A. H. Belo Corporation had a long history of providing dividends, and investors want to know that this will continue under the new banner of DALN stock.
So far, so good.
Dividends & Reverse Stock Split
Back in May, the company's board of directors declared a quarterly cash dividend of $0.04 per share, payable in September. At the time, the company said it expected the amount to be proportionally adjusted should a reverse stock split take place—which they knew would happen. (Source: "A. H. Belo Corporation Announces Third Quarter 2021 Dividend," A. H. Belo Corporation, May 13, 2021.)
Five days later, on May 18, the company announced that it had approved a one-for-four reverse stock split. This, in effect, lifted the company's quarterly dividend from $0.04 to $0.16. This is why, in the following DallasNews stock chart, it looks like the company raised its dividend. (Source: "A. H. Belo Corporation Announces Reverse Stock Split," A. H. Belo Corporation, May 18, 2021.)
With the reverse stock split, DALN stock pays a quarterly dividend of $0.16, or $0.64 on an annual basis, for a yield of 9.5%.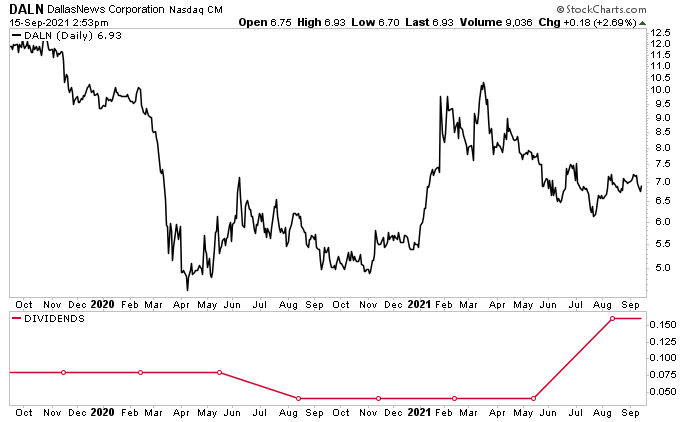 Chart courtesy of StockCharts.com
As you can see in the above chart, DallasNews stock has performed well, up by 18.5% year-to-date and 26% year-over-year.
There's clearly room for more growth. DALN stock needs to climb by more than 50% to get to its pre-COVID level and more than 275% to get to its December 2014 record level.
The Lowdown on DallasNews Stock
DallasNews stock might seem like a contrarian play, especially for investors who've never opened a physical newspaper. But DallasNews Corp is more than that. Sure, the company owns the leading daily newspaper in Texas, but it also operates web sites and mobile applications, and it has moved into digital media, marketing, and advertising.
The company has a solid balance sheet and is working to become a sustainable, profitable digital news and information provider. That's good news for long-term investors and income hogs.