DAL Stock: Why Buffett Just Invested in Delta Air Lines, Inc.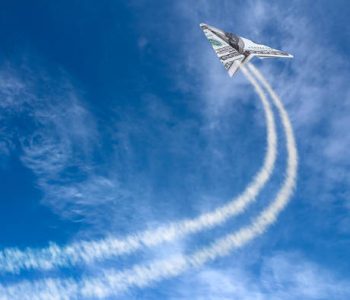 Berkshire Takes New Stake in Delta Stock
After closing with a 2.35% gain, Delta Air Lines, Inc. (NYSE: DAL) stock surged another 3.43% in after-hours trading on Tuesday. Why? Because billionaire investor Warren Buffett's company just disclosed their new stake in Delta stock.
On Tuesday, November 14, Warren Buffett's Berkshire Hathaway Inc. (NYSE:BRK.B) released its 13F filing. It showed that as of September 30, Berkshire owned 6.33 million shares of Delta stock, worth just under $250.0 million at the time. (Source: "Form 13F Information Table," United States Security and Exchange Commission, November 14, 2016.)
Buffett's new investment in the airline company was quite unexpected, as he once called his previous investment in airline stocks a "mistake." He even said back in 2001 that, "if I get the urge to invest in airlines, I call an 800 number, and I say: Hello, my name is Warren, and I'm an air-o-holic." (Source: "Berkshire Bets on Airlines With Stakes in American, Delta," Bloomberg, November 14, 2016.)
"Sometimes, it takes them 10 minutes to talk me out of it, sometimes more," said the "Oracle of Omaha."
However, things have changed, and Berkshire is revisiting the airline industry.
In fact, Delta Air Lines stock is just one of the airline companies added to Buffett's fund's portfolio. In recent months, Berkshire had also taken a stake in American Airlines Group Inc (NASDAQ:AAL), United Continental Holdings Inc (NYSE:UAL), and Southwest Airlines Co (NYSE:LUV). (Source: Ibid.)
Berkshire didn't say why the company decided to take new stakes in the airline industry. However, note that in recent years, there have been a lot of mergers in the U.S. airline industry. The number of major carriers has been reduced from nine to four.
Now the industry is essentially in an oligopoly state, meaning that the market is controlled by a small group of firms. The high barrier to entry helps protect these companies' profits from potential entrants.
Delta Air Lines stock was already on the rise, gaining more than 30% in the past three months. The investment by Buffett's company suggests that the bull run might not be over just yet.