CVS Stock: The Value of CVS Health Corp for Income Investors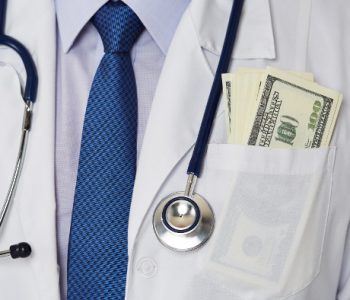 CVS Stock Could Deliver Exceptional Returns in the Long Term
With bloated valuations in today's stock market, bargains are hard to find. That's why when something as solid as CVS Health Corp (NYSE:CVS) stock is having a bit of a hiccup, it deserves the attention of income investors.
CVS stock tumbled over nine percent in the past three months. Year-to-date, it's down more than 13%.
Compared to other fast-growing companies on the market, CVS' retail and health care business doesn't sound that exciting. However, when considering adding stocks to your income portfolio, you have to ask yourself whether these booming businesses will still be around in the long term. Sometimes, when the economic climate changes, a once-booming industry could suddenly fall into the doldrums.
Fortunately, CVS stock investors don't really need to worry about that, because the company could be recession-proof.
You see, CVS Health is the largest pharmacy in the U.S. based on prescription revenue. It has approximately 9,500 retail pharmacies and more than 1,100 walk-in medical clinics. At the same time, the company is also one of the largest pharmacy benefits managers (PBM) in the U.S. with more than 75-million plan members.
Compared to most other businesses, pharmacies are more recession-proof. The idea is simple: in a recession, people will have to forego some consumption of things that they want and focus on things that they need. Consumers might not be buying new cars when times get tough, but they'll still go to pharmacies to get their medication.
CVS Health's retail pharmacy and long-term care business delivered solid growth in the second quarter of 2016. Total same-store sales increased by 2.1% year-over-year, driven by a 3.9% increase in pharmacy same-store sales. (Source: "CVS Health Reports Second Quarter Results," CVS Health Corp, August 2, 2016.)
Note that CVS has been expanding its presence in the pharmacy industry through acquisitions. Last year, the company spent $1.9 billion buying Target Corporation's (NYSE:TGT) pharmacy and clinic businesses. CVS said in August that integration was completed ahead of schedule, with all 1,667 pharmacies and 79 clinics being converted to CVS systems, programs, and interior branding.
Thanks to the inclusion of Target pharmacies and its own growth, CVS Health's retail pharmacy market share expanded by 230 basis points to 23.9% by the end of the second quarter.
Retail pharmacies are not the only growth driver at CVS; the company's pharmacy benefits manager business is also delivering strong growth. As of the end of the second quarter, CVS has sold approximately $7.4 billion worth of contracts for 2017, with net new business of around $4.6 billion. The company has already completed 75% of renewals for 2017, with a retention rate of 97.5%. (Source: "Second Quarter 2016 Earnings Conference Call," CVS Health Corp, August 2, 2016.)
Growth in these core segments boosted both the top and bottom line at CVS Health. Net revenue for the second quarter surged 17.6% year-over-year to $43.7 billion., while adjusted earnings came in at $1.32 per share, up from the $1.22 per share earned in the year-ago period.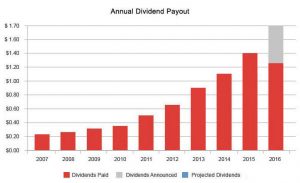 Source: CVS Health Corp
And the best part is that CVS is distributing some of its profits to shareholders through dividends. Right now, the company is paying $0.425 per share on a quarterly basis, translating to an annual dividend yield of nearly two percent.
What's more impressive is the company's ability to raise its payout over the years. Since 2003, CVS Health has been increasing its quarterly dividend every single year at a compound annual growth rate of 23%.
With such aggressive growth in CVS stock's dividends, you might be wondering if the current dividend payout is sustainable. Well, note that in 2015, the company generated earnings of $4.63 per share while distributing $1.40 in dividends per share. This means the company was paying out just over 30% of its earnings. (Source: "CVS Health Reports Strong Fourth Quarter and Full Year Profit Growth for 2015; Confirms 2016 Guidance," CVS Health Corp, February 9, 2016.)
The Bottom Line on CVS Stock
At the end of the day, keep in mind that with CVS stock's recent downturn, valuations have become quite attractive. The company is currently trading at 19.84x its earnings, which is below the health care plans industry's average price-to-earnings of 24.44x. Income investors looking for value in today's market should take a serious look at CVS stock.