CVS Stock: CVS Health Corp Is One Name to Own for the Next 50 Years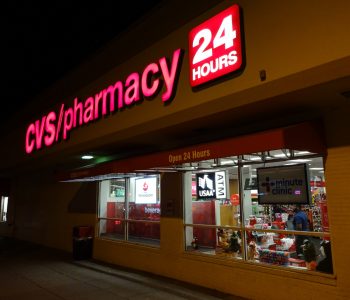 CVS Stock Is a Top Pick for Income Investors
For income investors, few things are better than a "set-and-forget" investment portfolio. After all, you've already worked hard to earn your money in the first place; why do you have to work for it all over again? Fortunately, there are companies that allow an investor to put their portfolio on cruise control. One of them is CVS Health Corp (NYSE:CVS).
If you live in the U.S., chances are you've seen some of its stores. CVS is one of the largest pharmacy chains in the country. It has more than 9,700 retail pharmacies and more than 1,100 walk-in clinics spread across 49 states, the District of Columbia, Puerto Rico, and Brazil. These retail locations operate primarily under the CVS Pharmacy, Longs Drugs, Navarro Discount Pharmacy, and Drogaria Onofre brands.
On top of its pharmacy chain and walk-in clinics business, CVS is also a pharmacy benefits manager (PBM) with nearly 90-million plan members. Last year, the company filled or managed approximately 1.2-billion prescriptions, making it one of the largest pharmacy benefits managers in the country.
In order for a stock to be worth owning in the long run, it needs to have wide economic moats. The reason is simple: if a company is making good money, others will notice. Before long, competitors will enter the business. If the incumbent doesn't have an economic moat to protect its profits, newcomers will take business away from it.
So, does CVS Health Corp have an economic moat? The answer is "yes"
You see, in the company's retail segment, it has thousands of locations in America. In other words, CVS is deeply entrenched in the pharmacy chain business. If a new company wants to challenge its position, it would need to build an equally impressive pharmacy chain network and convince millions of CVS customers to switch. The high barriers to entry protect CVS' business from potential entrants.
The company also has strengths in its pharmacy benefit management business. CVS has established its relationship with numerous employers, insurance companies, unions, government employee groups, health plans, Medicare Part D plans, and Managed Medicaid plans. If a pharmacy benefits manager wants to take over CVS' business, it would need to convince each of CVS' clients to switch—a very difficult task indeed.
CVS Stock: Providing Recession-Proof Dividends
Other than having a competitive advantage, a "set-and-forget" stock should also provide a steady and hopefully increasing stream of dividends. I mean, if you are not going to sell the stock anytime soon and want some returns, those returns will have to come from dividends.
The good news is that CVS stock is known for delivering rising dividends. The company has raised its quarterly dividend rate every year for 14 consecutive years, a period that includes the Great Recession.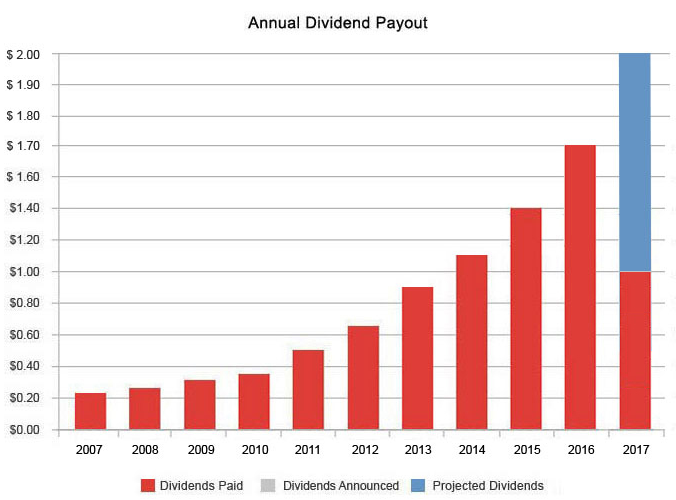 Source: "Dividend History," CVS Health Corp, last accessed June 28, 2017.
These dividend hikes were quite substantial. The company increased its quarterly dividend rate by 23% in 2007 and by 15% in 2008. In those two years, numerous businesses were in deep trouble, some of them cutting back their dividends. By raising its payout at a double-digit pace in what's considered the biggest downturn since the Great Depression, CVS stock has proven its worth to income investors.
The latest dividend hike came last December, when CVS Health announced an 18% increase to its quarterly payout to $0.50 per share. Over the past 14 years, CVS stock's annual payout has increased by more than sixteenfold.
Also Read:
Consider CVS Stock for Its Solid Business
Best Value Stocks to Watch in 2017
And if you are concerned that CVS stock might be raising its payout too aggressively, don't worry; the company's dividends are backed by a growing business. In 2016, CVS' net revenue increased 15.8% year-over-year to $177.5 billion. (Source: "CVS Health Reports Record Fourth Quarter and Full Year Results for 2016; Confirms 2017 EPS Guidance," CVS Health Corp, February 9, 2017.)
Top line growth translated to the bottom line. Adjusted earnings for CVS stock came in at $5.84 per share in 2016, representing a 13.2% increase from the prior year.
And since the company declared and paid total dividends of $1.70 per share in 2016, it had a dividend payout ratio of just 29%. This leaves a sizable margin of safety and the potential for future dividend hikes.
Bottom Line on CVS Stock
The reason why CVS stock can deliver recession-proof dividends is the nature of its business. In a recession, economic activities slow down and many businesses see their revenue and profits decline, and some might shut down operations altogether. However, some sectors are more recession-proof than others. For instance, when people's income declines, they may not be purchasing as many new cars or the latest smartphone, but when they need to get medication, they will still go to the nearest pharmacy to fill their prescription.
As one of the largest pharmacy chains in the country, CVS Health stands to make money even when everything else is deep in the doldrums. And that's why CVS stock is one name to own for the next 50 years.