CVS Health Corp: Great Dividend Stock for Long-Term Investors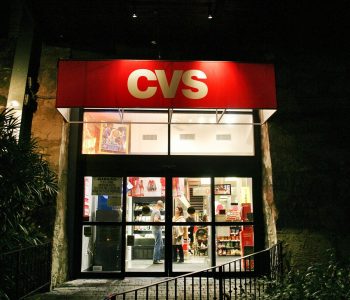 CVS Stock Deserves Income Investors' Attention
When it comes to providing investors with a reliable stream of dividends, few industries can do a better job than healthcare. The reason is simple: the demand for healthcare products and services stays relatively inelastic to how the economy is doing.
For instance, when people need medication, they tend to go to the nearest pharmacy to fill their prescription, regardless of where we are in the economic cycle. And that has allowed companies like CVS Health Corp (NYSE:CVS) to run recession-proof businesses.
If you live in the U.S., CVS Health should be a familiar name. The company has more than 9,900 pharmacies located across 49 states, D.C., and Puerto Rico, as well as about 1,100 walk-in medical clinics. It is also one of the largest pharmacy benefits managers in the country, with more than 102 million plan members.
Every day, CVS pharmacies serve around 4.5 million customers.
The company has been around since 1963, and its business is well established. Adding in its recession-proof business model, CVS Health Corp is well positioned to return profits to investors through regular dividend payments.
To see just how reliable those dividend payments are, here's a fact: from 2007 to 2009—a period many consider to be the biggest economic downturn since the Great Depression—CVS Health stock's quarterly dividend rate went from $0.04875 to $0.07625 per share, marking a total increase of 56.4%. (Source: "Dividend History," CVS Health Corp, last accessed February 24, 2020.)
Just think about that for a second. During the Great Recession, dividend cuts were not uncommon in the U.S. stock market. Yet, during that time, CVS Health was dishing out massive dividend increases.
Those dividend hikes continued for quite a few years, and today, CVS stock is paying investors $0.50 per share on a quarterly basis. Trading at $68.96 per share, CVS Health Corp has an annual dividend yield of 2.9%.
I should point out that, while the company can provide investors with reliable dividends through thick and thin, it doesn't mean its share price won't fluctuate. In fact, CVS Health stock had a serious tumble just last year, but has since recovered, as can be seen in the following stock chart.
CVS Health Corp (NYSE:CVS) Stock Chart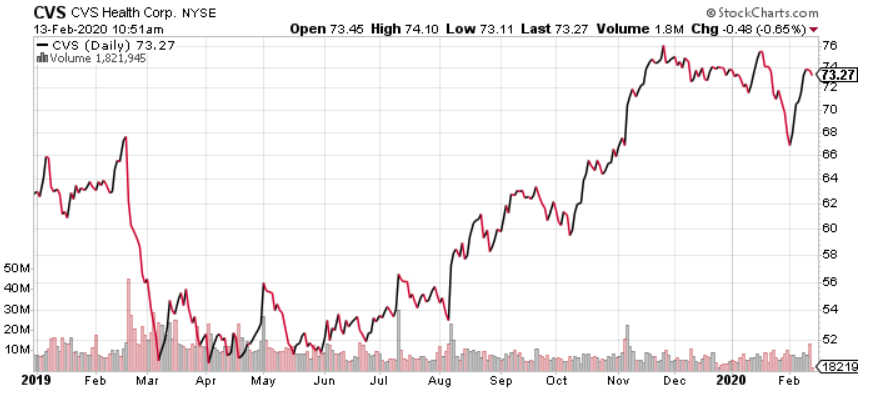 Chart courtesy of StockCharts.com
Another Solid Quarter for CVS Health Corp
In early February, CVS Health reported earnings. The report showed that, in the fourth quarter of 2019, the pharmacy giant generated $66.9 billion of adjusted revenue, which represented a 23.1% increase year-over-year. (Source: "CVS Health Reports Fourth Quarter and Full-Year 2019 Results, Reflecting Strong Execution Across the Enterprise," CVS Health Corp, February 12, 2020.)
Growth was across the board. In the "Pharmacy Services" segment, total revenues grew 6.2% year-over-year to $37.1 billion. In the "Retail/LTC" segment, total revenues increased 2.5% year-over-year to $22.6 billion. The most impressive number, though, came from the "Health Care Benefits" segment: in the fourth quarter, the segment generated $17.2 billion of total revenues, up a whopping 174.9% from a year ago.
At the bottom line, CVS Health Corp's adjusted earnings came in at $1.73 per share in the fourth quarter of 2019. While the number is down year-over-year, it handsomely beat Wall Street's earnings expectation of $1.68 per share.
In full-year 2019, CVS Health's adjusted revenue grew 32.3% year-over-year to $256.8 billion. Meanwhile, the company's adjusted earnings per share was $7.08, unchanged from 2018.
Considering that CVS stock declared and paid total dividends of $2.00 per share in full-year 2019, its adjusted earnings per share for the year covered the payout more than three times over.
In full-year 2020, management expects the company to earn adjusted net income between $7.04 and $7.17 per share. If CVS Health Corp meets the expectation, it will once again cover its dividends with ease.
Will CVS Health Stock Increase Its Dividend?
If you've been following CVS stock, you'd know that the company has been paying the same quarterly dividend since 2017. The reason is that, after acquiring managed healthcare company Aetna Inc., CVS Health Inc had an increased debt load. Management decided not to increase the dividend until the company lowers its leverage ratio.
In the company's latest earnings conference call, executive vice president and chief financial officer Eva Boratto said, "We remain on track to reach our goal of low three times leverage in 2022. We continue to expect to generate between $10 billion to $12 billion in cash annually to enhance shareholder value in the long term. As previously stated, we will maintain our dividend of $2.00 per share, demonstrating our commitment to return capital to our shareholders." (Source: "CVS Health Corporation (CVS) CEO Larry Merlo on Q4 2019 Results – Earnings Call Transcript," Seeking Alpha, February 12, 2020.)
In other words, CVS Health stock investors should have no problem continuing to collect the current reliable dividend. And after 2022, that dividend stream could be going up again.