CVR Partners Stock: 41.4%-Yielder Reports Strong Financial Results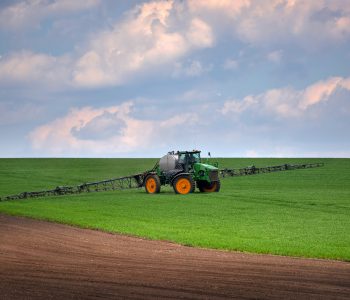 CVR Partners LP's Outlook Bullish on Industry Tailwinds
Inflation may be starting to cool, but that's no reason to give up on looking for reliable, ultra-high-yield dividend stocks to supplement your income. Better yet, keep an eye out for market-crushing dividend stocks like CVR Partners LP (NYSE:UAN).
America's only petroleum coke-based nitrogen fertilizer producer, CVR Partners is a limited partnership formed by CVR Energy, Inc. (NYSE:CVI) to own, operate, and grow its nitrogen fertilizer business.
Nitrogen fertilizer is critical for plant growth and reproduction. Soil often already includes nitrogen and other nutrients, but it's not always enough to support healthy plant growth. Moreover, fertilizers typically represent about 15% of farmers' cost structure and significantly improve crop yields. Nitrogen fertilizer is generally low on the cost curve for farmers.
A rising demand for fertilizer, driven by a lower corn supply and increased corn prices—combined with a reduced fertilizer supply—has contributed to higher prices for nitrogen fertilizer.
Demand for corn is high in the U.S. because, in addition to corn on the cob covered with salt and butter, the crop has a large number of uses, including as feed grain and as ethanol for fuel.
Some 96% of the domestic U.S. feed grains are supplied by corn. This use consumes 39% of the country's annual corn crop.
Ethanol consumes about 37% of the annual corn crop. In 2021, the demand for corn fell because the demand for gasoline and ethanol had gone down as a result of the COVID-19 pandemic, but that's no longer the case.
CVR Partners is based in Sugar Land, Texas, but its nitrogen fertilizer manufacturing facilities—which primarily produce ammonia and urea ammonium nitrate (UAN) fertilizers—are located in the Corn Belt. The company has facilities in Coffeyville, Kansas and East Dubuque, Illinois. (Source: "Investor Presentation: September 2022," CVR Partners LP, last accessed July 11, 2023.)
Coffeyville Resources Nitrogen Fertilizers, LLC, a subsidiary of CVR Partners, directly owns and operates the Coffeyville nitrogen fertilizer plant. This plant is the only such operation in North America that uses a petroleum coke gasification process to make hydrogen, a key ingredient in its manufacturing process. The plant, which sits on 35 acres, includes a 1,300-ton-per-day ammonia unit, a 3,000-ton-per-day UAN unit, and a gasifier complex with a capacity of 89 million standard cubic feet per day of hydrogen.
East Dubuque Nitrogen Fertilizers, LLC, another subsidiary of CVR Partners LP, directly owns the East Dubuque nitrogen fertilizer plant, which uses natural gas as its feedstock to produce fertilizer. This plant includes a 1,075-ton-per-day ammonia unit and a 1,100-ton-per-day UAN unit.
Strong Q1 Financial Results & Record Production
In May, CVR Partners announced that its first-quarter sales inched up to $226.0 million, from $223.0 million in the same period last year. Its net income advanced 8.5% year-over-year to $102.0 million, or $9.64 per share. (Source: "CVR Partners Reports First Quarter 2023 Results and Announces a Cash Distribution of $10.43," CVR Partners LP, May 1, 2023.)
Its first-quarter earnings before interest, taxes, depreciation, and amortization (EBITDA) went up by less than one percent year-over-year to $124.0 million.
In the first quarter of 2023, CVR Partners LP's average realized gate prices for urea ammonium nitrate were down by eight percent year-over-year, at $457.00 per ton, and its average realized gate prices for ammonia were down by 16% year-over-year, at $888.00 per ton.
Commenting on the results, the company's CEO, Mark Pytosh, said, "CVR Partners achieved solid results for the 2023 first quarter led by record production, including a combined ammonia utilization rate of 105 percent, offset somewhat by lower fertilizer pricing during the quarter." (Source: Ibid.)
During the first quarter of 2023, the partnership's fertilizer facilities produced a combined 224,000 tons of ammonia, of which 62,000 net tons were available for sale. The rest was upgraded to other fertilizer products, including 366,000 tons of UAN. In the first quarter of 2022, CVR Partners LP's fertilizer facilities had produced 187,000 tons of ammonia, of which 52,000 net tons were available for sale. The remainder in that quarter was upgraded to other fertilizer products, including 317,000 tons of UAN.
The production increases in the first quarter of 2023 were due to improved operating reliability after the company completed planned turnarounds at both of its fertilizer facilities during the third quarter of 2022.
"The maintenance work that was completed during last year's turnarounds has improved reliability at both nitrogen fertilizer facilities and we plan to continue to invest in additional reliability projects during the next two to three years," said Pytosh.
When announcing the first-quarter results, Pytosh noted that the U.S. Department of Agriculture had estimated that planted corn acres would increase by about four percent in the spring, driving up the demand for nitrogen fertilizer.
Management Announced Q1 Dividend of $10.43
When it comes to dividends, CVR Partners LP's policy is to distribute all of the available cash it generates each quarter. That means its payout varies due to factors such as operating performance, fluctuations in the prices of finished products, and maintenance capital expenditures.
As you can see in the red line in the chart below, UAN stock's distribution indeed varies.
Right now, CVR Partners is in a distribution sweet spot. Year-to-date, the partnership has paid $20.93 per unit, which is more than the $19.32 it paid out in all of 2022. (Source: "Dividend History," CVR Partners LP, last accessed July 11, 2023.)
In February, the company declared a quarterly dividend of $10.50 per unit. In the first quarter of 2023, its earnings available for distribution were $110.2 million, up by 362% year-over-year from $23.8 million. This resulted in a distribution in May of $10.43 per unit, for a current yield of 41.4%.
During the first quarter, the company's payout ratio was 88%. While that might sound high, it isn't for limited partnerships like CVR Partners LP, which legally have to transfer at least 90% of their taxable income to their unitholders.
Keep in mind, things haven't always been this good for CVR Partners stockholders. The company didn't pay any distributions in 2020, and its payout in 2017 was just $0.20 per unit. In 2022, UAN stock paid out $10.05 per unit in the third quarter and $1.77 in the fourth quarter.
This just means CVR Partners stockholders need to really keep an eye on what's going on with fertilizer prices. They can get a handle on that by reading the partnership's quarterly results. At the very least, reading earnings reports is something that stockholders should be doing with every company they invest in.
Industry tailwinds suggest that CVR Partners LP will continue to pay pretty frothy dividends in the second half of 2023. Chances are good that, for full-year 2023, UAN stock will top its record-high $22.07 payout from 2012.
UAN Stock Up 28% Year-Over-Year
To be honest, most massive dividend yields are a result of a lower share price. After all, dividend yields are conversely related to share price. The higher the share price, the lower the payout (and vice versa).
In this case, though, CVR Partners stock has been kicking the broader market to the curb, up by:
10% over the last month
5.2% year-to-date
28% year-over-year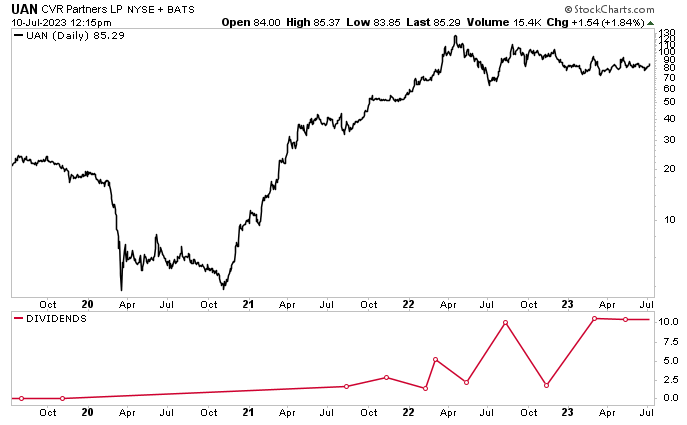 Chart courtesy of StockCharts.com
The Lowdown on CVR Partners Stock
Fertilizer might stink, but it can also generate a lot of money. At least that's the case with CVR Partners LP. It's a great agriculture company that has been doing everything right.
The partnership has been reporting solid revenue and earnings growth, which has been fueling healthy quarterly distributions. And thanks to positive industry trends, the near-term outlook is solid for UAN stock's share price and inflation-crushing dividends.