CTO Realty Growth Stock's Dividend Hiked for 10 Straight Years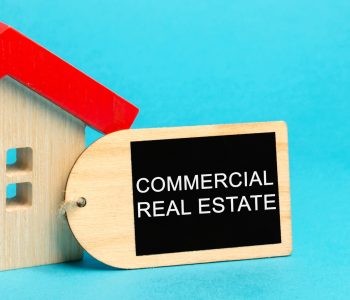 Why Investors Should Take a Look at CTO Stock
Interest rates will be on the rise for the foreseeable future as the Federal Reserve takes aggressive moves to combat stubbornly high inflation (sitting at 8.2% as of this writing). Investors looking to take advantage of falling stock prices and high-yield, inflation-fighting dividends might want to look at CTO Realty Growth Inc (NYSE:CTO).
CTO Realty is a real estate investment trust (REIT) that owns and operates a diverse portfolio of 22 income properties covering approximately 3.0 million square feet in the U.S. The company buys value-added retail and office properties in markets that are projected to have above-average job and population growth. This provides it with a sustainably growing cash flow. (Source: "Investor Presentation: July 2022," CTO Realty Growth Inc, last accessed October 20, 2022.)
In July, the REIT acquired Madison Yards, a 162,500-square-foot property in Atlanta, GA, for $80.2 million. The property is 98% occupied and anchored by the tenants Publix (17 years) and AMC Theatres (13 years). All but one lease includes base term rent increases.
CTO Realty Growth Inc is also good at liquidating assets. In July, the company announced the sale of Westland Gateway Plaza in Hialeah, FL for $22.2 million. In September, it sold three properties in Jacksonville, FL for $34.9 million.
A large number of companies lease space from CTO Realty Growth Inc, but nearly 50% of the REIT's contractual base rent comes from high-quality tenants like Ford Motor Company (NYSE:F), General Dynamics Corporation (NYSE:GD), Kroger Co (NYSE:KR), Lowe's Companies Inc (NYSE:LOW), and Walgreens Boots Alliance Inc (NASDAQ:WBA).
The company also owns an approximate 15% interest in Alpine Income Property Trust Inc (NYSE:PINE), a publicly traded net lease REIT.
CTO Realty Growth Inc Announces Another Strong Quarter
For the second quarter ended June 30, CTO Realty announced net income of $1.2 million, or breakeven per share, up from a second-quarter 2021 net loss of $3.7 million, or $0.63 per share. (Source: "CTO Realty Growth Reports Second Quarter 2022 Operating Results," CTO Realty Growth Inc, July 28, 2022.)
The REIT's core funds from operations (FFO) in the second quarter of 2022 went up by 60.2% to $1.41 per share. Its adjusted FFO climbed by 38.3% to $1.48 per share. The company also reported a 23.8% year-over-year increase in same-property net operating income.
During the second quarter, the REIT repurchased 20,101 shares for approximately $1.1 million, at an average price of $57.37 per share.
CTO Realty Growth Stock's Quarterly Dividend Hiked 14%
As a REIT, CTO Realty Growth Inc has a solid history of consistent dividend growth.
The company converted to a REIT in December 2020, allowing it to accelerate the required dividends. That said, it has paid dividends for the last 46 consecutive years and it has hiked its dividends for the last 10 straight years. Thanks to strategic acquisitions and sales of properties, the REIT has been able to increase its taxable income and free cash flow, which has allowed it to increase CTO stock's annual distribution for the last 10 straight years.
If you look at the chart below, it appears as though the company cut its dividend in September—but it actually didn't. On July 1, it completed a three-for-one stock split. In August, the REIT declared a third-quarter cash dividend, on a stock-split-adjusted basis, of $0.38 per share, for a yield of 8.6%. That represents a 1.8% increase over the previous quarterly payout of $0.3733 per share and a 14% increase over the 2021 third-quarter payout. (Source: "CTO Realty Growth Increases Quarterly Dividend By 1.8% and Declares Dividends For the Third Quarter 2022," CTO Realty Growth Inc, August 22, 2022.)
The big increase is a result of high year-to-date cash flow growth and the company's legal requirement to distribute 100% of its taxable income in order to maintain its REIT status.
Before the stock market fell in reaction to interest rate hikes and recessionary fears, CTO Realty Growth stock was doing quite well. On August 12, it hit an all-time high of $23.07, which represented a year-to-date gain of 18% and a year-over-year gain of 39%.
Many stocks have been selling off since then. As of this writing, CTO stock is now down by 6.5% year-to-date It's still up by 8.5% year-over-year, though. That's far better than the S&P 500, which is down by 23% year-to-date and down by 16% year-over-year. On top of that, the S&P 500's dividend yield is 1.8%, which is paltry compared to CTO Realty Growth stock's 8.6% yield.
The outlook for CTO stock is bullish, with analysts projecting that it could rally by as much as 45% over the next 12 months to $26.00 per share.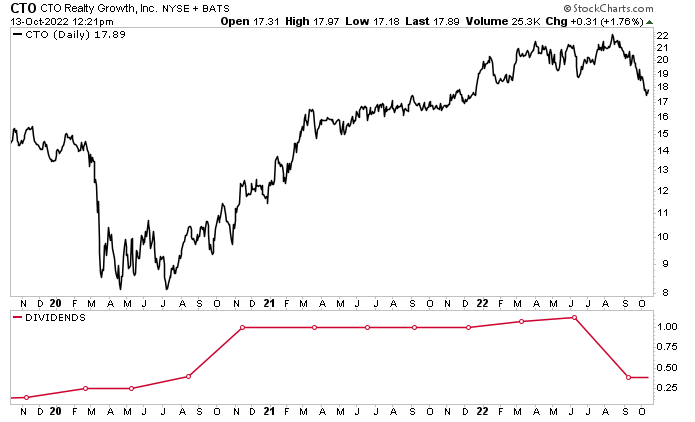 Chart courtesy of StockCharts.com
The Lowdown on CTO Realty Growth Inc
CTO Realty Growth Inc is an excellent REIT with a diverse portfolio of properties located across the U.S. Despite recessionary headwinds, the company's portfolio continues to perform well, with its year-to-date same-property net operating income increasing by 20.3%.
Its stable and flexible balance sheet and embedded growth should help drive double-digit same-store net operating income growth in the second half of 2022 and in 2023. This should help juice the company's earnings for the foreseeable future and further support CTO Realty Growth stock's attractive and growing dividends.