CTO Realty Growth Inc: REIT With 7.7% Yield & Growing Share Price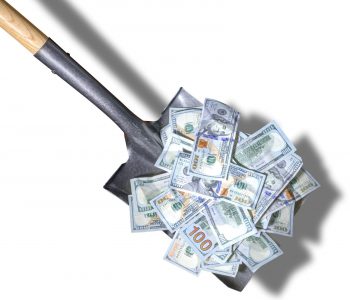 CTO Stock Up 25% in 2021; Still Pays Frothy Dividend
Interest rates have been near record lows for years now, which means the Federal Reserve has been punishing investors for doing what they've been told to do for decades: sock money away in passive income investments to help support their retirement.
Those days are long gone. And it doesn't look like interest rates are going up anytime soon. That's why investors have been flocking to the stock market. But even there, the dividend payouts have been paltry.
The S&P 500's average dividend yield is just two percent. The Dow Jones Industrial Average, which is the benchmark index for blue-chip stocks, has an average dividend yield of 1.7%. Fortunately, there are better places for income-starved investors to park their money—especially those who like to see underlying share prices rise.
One of the best high-yield dividend stocks right now is CTO Realty Growth Inc (NYSE:CTO). A real estate investment trust (REIT), CTO Realty Growth stock fell over a cliff back in March 2020 as investors tried to weigh out how much of an impact COVID-19 would have on the economy.
CTO stock has doubled since the March 2020 sell-off and is up 63% year-over-year, 27% over the last six months, and approximately 26% year-to-date.
CTO Realty Growth stock has since erased all of its losses associated with the 2020 stock market crash. Its previous resistance level is now a support level.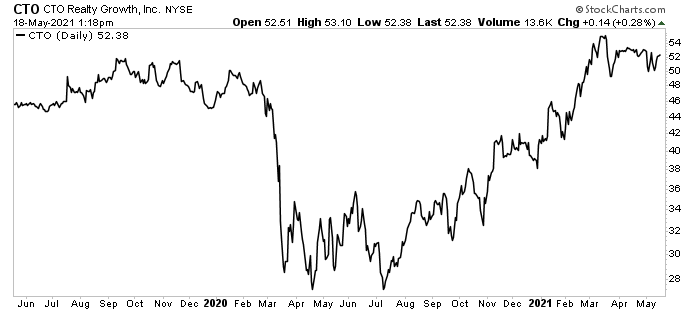 Chart courtesy of StockCharts.com
CTO Realty Growth owns and operates a diverse portfolio of 27 income properties covering approximately 2.8 million square feet in the U.S. (Source: "Investor Presentation: May 2021," CTO Realty Growth Inc, last accessed May 27, 2021.)
The company buys value-added retail and office properties in markets that are projected to have above-average job and population growth, providing it with a sustainably growing cash flow.
Some of the cities where you can find CTO Realty Growth's properties are Reno and Las Vegas, NV; Boulder and Denver, CO; Dallas, Austin, and Houston, TX; Jacksonville, Orlando, Miami, and Tampa, FL; and Nashville, TN.
Many different companies lease space from CTO Realty Growth, but nearly 50% of the REIT's contractual base rent comes from high-quality tenants such as Lowe's Companies Inc (NYSE:LOW), Wells Fargo & Co (NYSE:WFC), Ford Motor Company (NYSE:F), Best Buy Co Inc (NYSE:BBY), and Verizon Communications Inc. (NYSE:VZ).
CTO Realty Growth Inc also owns an approximate 23.5% interest in Alpine Income Property Trust Inc (NYSE:PINE), a publicly traded net lease REIT.
Investors kicked most REITs to the curb during the COVID-19-related stock market crash in early 2020. Most REITs have been bouncing back and seeing their percentage of collected rents slowly climb. Because CTO Realty Growth leases its properties to high-quality tenants, it was able to collect 100% of its first-quarter 2021 rent.
As of March 31, the company's properties had economic occupancy of 92.9% and physical occupancy of 92.7%.
Taken together, this is a good reflection of the company's strong underlying business, which is also reflected in its great first-quarter results.
Strong Start to 2021
During the first quarter of 2021, CTO Realty Growth reported net income of $7.7 million ($1.32 per share), compared to a first-quarter 2021 net loss of $12.2 million ($2.30 loss per share). (Source: "CTO Realty Growth Reports First Quarter 2021 Operating Results," CTO Realty Growth Inc, April 29, 2021.)
The company's first-quarter funds from operations (FFO) were $5.2 million ($0.89 per share), versus $9.2 million ($1.97 per share) in the same period of the previous year.
CTO Realty Growth's adjusted funds from operations (AFFO) were $5.6 million ($0.97 per share), compared to first-quarter 2020 AFFO of $9.1 million ($1.95 per share).
During the first quarter of 2021, the company acquired two multi-tenant income properties for $38.5 million. CTO Realty Growth Inc also disposed of two income properties for a total disposition volume of $4.9 million.
"The first quarter was a strong start to the year as we completed our uplisting to the NYSE, continued to opportunistically sell legacy single tenant properties at attractive cap rates, and reinvest into high-quality, multi-tenanted properties at higher yields in the growing Salt Lake City, UT and Las Vegas, NV markets," said John P. Albright, president and CEO.
CTO Realty Growth Inc Maintains its 2021 Outlook
In spite of the devastating impact COVID-19 had on businesses across the U.S., CTO Realty Growth has maintained its outlook and guidance for 2021. Management expects:
Acquisition of income-producing assets in the range of $75.0 to $125.0 million
Disposition of assets in the range of $75.0 to $125.0 million
Target disposition cash yield in the range of 6.4% to 6.8%
FFO per diluted share in the range of $3.80 to $4.10
AFFO per diluted share in the range of $3.90 to $4.20
"As we look to accelerate our pace of dispositions in the 2nd and 3rd quarters, we expect to continue this trend, which should drive increased earnings per share growth and further support our attractive 7.6% dividend yield," said Albright. (Source: Ibid.)
And this dividend stock's payout is indeed attractive. On April 28, CTO Realty declared a quarterly cash dividend of $1.00 per share for the second quarter. With an annual payout of $4.00 per share, at the current price of CTO stock, this translates into an annual dividend of 7.6%.
It's fair to say the company's dividend payout is safe and sound. The payout ratio is just 52.3%.
The Lowdown on CTO Realty Growth Stock
As mentioned earlier, CTO Realty Growth Inc is an excellent REIT with a diverse portfolio of properties located across the U.S.
Thanks to improving economic conditions and solid financial results, CTO Realty stock has made big gains over the last year. The company's strong fundamentals are also responsible for its current dividend yield of 7.6%, which makes CTO stock one of the best U.S.-based, high-yield REITs out there.