CTL Stock: This Could Be Huge for the 9.6% Yielder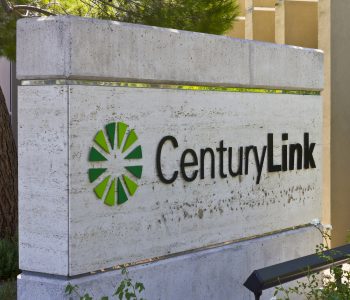 iStock.com/jetcityimage
This High Yield Stock Could Provide More Than Just Dividends
This could be a game changer for a beaten-down stock that is now yielding 9.6%.
When a stock is yielding close to 10%, you know that it's probably not a hot commodity. And in this case, you'd be right. Centurylink Inc (NYSE:CTL) plunged 24.8% over the last 12 months. In the last five years, it's down nearly 50%.
CenturyLink is a telecommunications and IT services company headquartered in Monroe, Louisiana. It has a 265,000-route-mile fiber network in the U.S. and a 360,000-route-mile international transport network. Through its network infrastructure, CenturyLink provides broadband, voice, and video services to consumers. It also offers network and data systems management, big data analytics, cloud, hosting, and IT consulting services to enterprise customers.
So why should investors consider this down-and-out telecom company?
Well, for starters, CenturyLink pays generous dividends. With a quarterly distribution rate of $0.54 per share, CTL stock has an annual dividend yield of 9.6%. In fact, CenturyLink is currently the second-highest-yielding stock among all S&P 500 companies.
Moreover, there is a pending acquisition that could become a major catalyst for the company.
In October 2016, CenturyLink announced that it would acquire Level 3 Communications, Inc. (NYSE:LVLT), a multinational telecom and Internet services company based in Broomfield, Colorado. The value of the proposed cash and stock transaction is estimated to be $34.0 billion. (Source: "CenturyLink to acquire Level 3 Communications," Centurylink Inc, October 31, 2017.)
The deal has several implications.
First, it will significantly expand CenturyLink's network.
The deal is expected to increase CenturyLink's network by 200,000 route miles of fiber. The combined company will have a network that connects over 350 metropolitan areas with around 75,000 on-net buildings.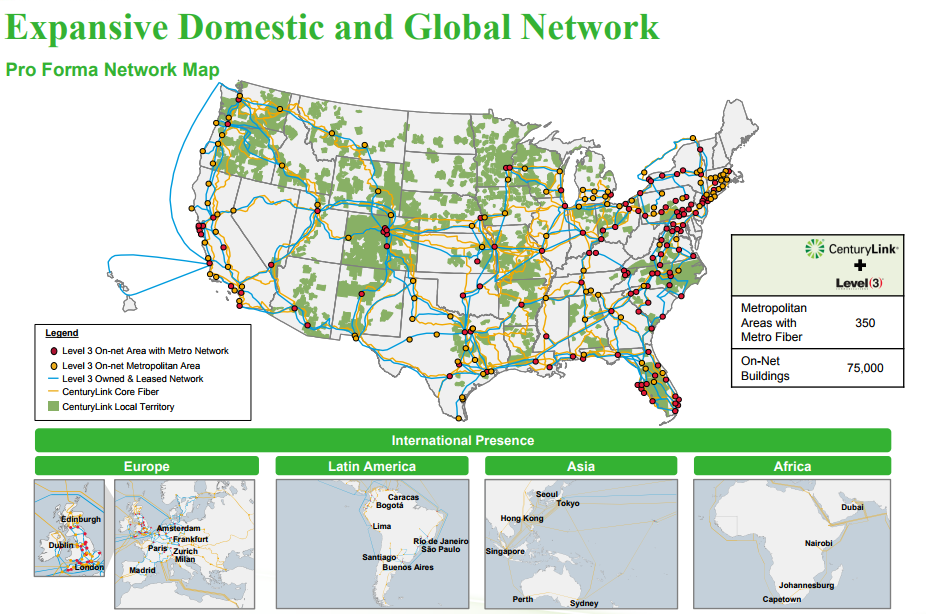 (Source: "CenturyLink to Acquire Level 3," Centurylink Inc, last accessed August 4, 2017.)
Second, the deal would change the competitive landscape of the enterprise-facing telecom industry. The merger between CenturyLink and Level 3 will create a company with nearly $19.0 billion in pro forma business revenue, making it the second-largest domestic communications company serving global enterprise customers.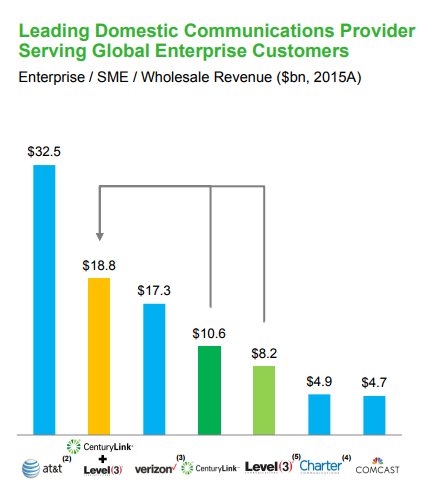 (Source: Ibid.)
Furthermore, buying Level 3 Communications would improve CenturyLink's financial profile. After the acquisition, the combined company is expected to have improved revenue growth and adjusted earnings before interest, tax, depreciation, and amortization (Adjusted EBITDA) margins.
The deal would also boost the company's dividend-paying ability. CenturyLink is a high yield stock, but it's not really known for its dividend safety. With this merger, the combined company is expected to generate higher free cash flow and significantly lower its payout ratio. This would be great news for income investors.
Also Read:
10 Highest-Paying Dividend Stocks for 2017
The 5 Best Retirement Stock Opportunities for 2017
Of course, the deal is yet to be closed. But the company has made solid progress to obtain the necessary approvals. In the most recent earnings report, CenturyLink said that the deal has received clearance in 23 of the 25 required states and territories. The companies have already started integration planning and continue to expect completion of the acquisition by the end of September 2017. (Source: "CenturyLink reports second quarter 2017 results," CenturyLink Inc, August 2, 2017.)
When the deal finally closes and the companies start to realize those synergies, sentiments may change towards this beaten-down stock. Meanwhile, income investors would still be enjoying its handsome payouts.