CSX Corporation: Up 60% On This Stock, with More Upside Ahead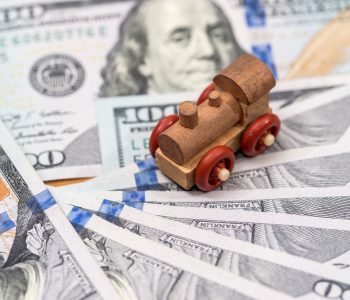 iStock.com/alfexe
Cost Cutting Sends CSX Corporation to Record Highs
If you want to make more money in the stock market, it pays to invest in something fresh.
My first boss, a grizzled 65-year-old broker, would often say, "Out with the old, in with the new." The stock market, he explained, always looked forward. Investors want to find the next big company with new, innovative products. Such opportunities could come from young, emerging firms or established companies in the process of reinventing themselves.
Take CSX Corporation (NASDAQ:CSX), for instance. In late 2017, former CEO Hunter Harrison revealed a plan to overhaul the company by introducing a program he dubbed "precision railroading." This planed involved slashing costs, selling off underperforming assets, and reducing the time locomotives spent idle. By ensuring grass never grew beneath the wheels, CSX hoped to squeeze more profits out of the company's operations.
How can we tell if this plan has started to pay off? In the railroad business, we measure performance through a metric called the operating ratio. This number simply divides a company's operating expenses by total revenues. The lower the number the better.
At CSX, precision railroading has turned the business into a profit machine. In April, the company reported an operating ratio of 59.5%, down by 420 basis points from the same period last year. The improvement was credited to cost reductions and faster-running trains. The metric also got a boost from a real estate sale and a tax benefit. (Source: "CSX Announces Record First Quarter 2019 Financial Results," CSX Corporation, April 16, 2019.)
Those cost savings have padded CSX's bottom line. Last quarter, the company reported $866.0 million in free cash flow, up 33% year-over-year. That has allowed CSX to spend more money rewarding shareholders, with expenditures on dividends and stock buybacks topping $991.0 million during the first three months of 2019. (Source: "2019 First Quarter Earnings Conference Call", CSX Corporation, April 16, 2019.)
Wall Street, it seems, has taken notice. Following another stunning earnings report, traders bidded CSX shares to another record high. And since I originally recommended this stock to Automated Income subscribers in mid-2017, CSX stock has delivered a total return, including dividends, of 60%.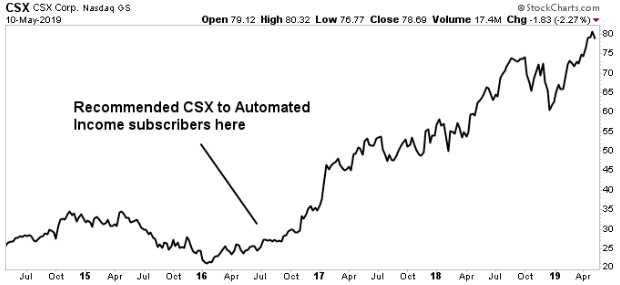 Chart courtesy of StockCharts.com
Current CEO Jim Foote has a plan to grow earnings even further by improving the railroad's reliability. Right now, CSX Corporation can promise customers delivery somewhere between four and eight days about 70% of the time. By comparison, trucking companies accomplish the same feat on 95% of shipments. That explains why many businesses continue to ship goods by truck, even though this method is 20% to 30% more expensive.
The Bottom Line on CSX Stock
Foote wants to improve CSX Corporation's on-time delivery rate to 90%. It's an ambitious goal, which will require an overhaul of the railroad's entire operations. But if he can hit that number, CSX will become much more competitive in winning business for their rivals. That could provide a second boost to earnings, providing a major catalyst for the stock price.
In the meantime, shareholders will get well paid while they wait. CSX stock now gushes so much free cash flow, the distribution will likely be boosted again later this year. I wouldn't be surprised to also see executives pad their stock buyback program.
That's the payoff of investing in something "fresh."