CSCO Stock Earnings: Will Cisco Systems, Inc. Increase Its Dividend?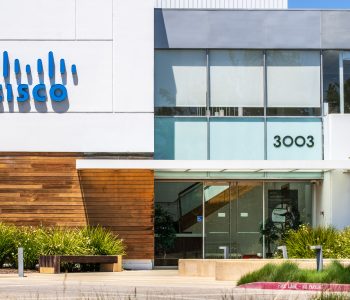 iStock.com/Andrei Stanescu
Cisco Stock Deserves Investor Attention
The Dow Jones Industrial Average just hit a new record high, but not every Dow component is shooting through the roof. For instance, Cisco Systems, Inc. (NASDAQ:CSCO), which was added to the benchmark index more than a decade ago, saw its share price plunge 16% over the past four months. That was a quite sizable drop, considering that Cisco is a giant company commanding more than $200.0 billion in market capitalization.
The neat thing is, while Cisco stock hasn't been a hot commodity lately, its investors still earned a cash return from the company's dividend payments. And since Cisco is about to report earnings, let's take a look at what the latest CSCO stock news could mean for dividend investors.
Like other mega-cap tech stocks, CSCO is a widely followed ticker, and Wall Street has already formed a set of expectations for the company this earnings season.
For the first quarter of Cisco's fiscal-year 2020, which ended October 26, 2019, analysts expect the company to report $13.08 billion of revenue, which would be a 0.08% increase from the $13.07 billion of revenue generated a year ago. (Source: "Cisco Systems, Inc. (CSCO)," Yahoo! Finance, last accessed November 7, 2019.)
What should be more exciting is Cisco's bottom line. On average, Wall Street analysts project that the company would earn a profit of $0.81 per share in the reporting quarter, which would mark an eight percent improvement from the $0.75 per share earned in the year-ago period.
Stats on CSCO Stock
| | |
| --- | --- |
| Earnings Per Share Estimate | $0.81 |
| Change From Year-Ago Earnings Per Share | 8% |
| Revenue Estimate | $13.08 Billion |
| Change From Year-Ago Revenue | 0.08% |
| Earnings Beaten in Past Four Quarters | 4 |
(Source: Ibid.)
Will This Earnings Report Cheer Up Investors?
Usually, if a company beats Wall Street's expectations, that would provide a good reason for investors to warm up to its stock. But nowadays, and especially in the tech sector, things are a bit more complicated.
For instance, we know that Cisco stock hasn't been an investor favorite: it climbed about three percent in the past 12 months—substantially lagging behind the Dow Jones Industrial Average, the S&P 500, and the Nasdaq Composite. However, during this period, the company has beaten analysts' earnings-per-share (EPS) estimates in all four quarters.
So, what would it take for CSCO stock to make a comeback?
Well, to see what the good news could be, let's first take a look at what led to the previous downturn.
The last major drop in Cisco stock occurred on August 15, in the trading session following the company's after-hours earnings release on August 14.
In that report, which was for the fourth quarter of Cisco's fiscal-year 2019 ended July 27, the numbers looked pretty impressive. Cisco's revenue grew six percent year-over-year to $13.4 billion and its adjusted EPS improved 19% year-over-year to $0.83. (Source: "Cisco Reports Fourth Quarter And Fiscal Year 2019 Earnings," Cisco Systems, Inc., August 14, 2019.)
One thing that investors weren't pleased with was China. During Cisco's fourth fiscal quarter, the company's sales in China fell by 25%.
But the trade tension between the U.S. and China has eased more recently. In fact, the China trade optimism is one of the main reasons why the Dow rose to a new all-time high. If Cisco's management can provide an optimistic view of the Chinese market in its next earnings conference call, it just might be enough to inject some bullishness into CSCO stock.
Another thing that investors didn't like last time was the guidance. In the previous earnings release, Cisco's management said that they expected first-quarter revenue to be flat to up two percent year-over-year and EPS to be in the range of $0.80 to $0.82. Analysts at that time were anticipating $0.83 in EPS and a 2.5% increase in revenue.
But now, Wall Street's expectations have already been lowered in response to the company's own guidance, and Cisco stock has slipped quite a bit. Therefore, if there is a big earnings beat this time and management issues a brighter outlook for future periods, it could give investors who were on the sidelines a reason to revisit Cisco stock.
Finally, there's 5G, which is often considered to be one of the "next big things" in the tech world. Many investors have been searching for the best 5G stocks.
Cisco Systems, Inc., despite being a decades-old company, offers a wide range of products that can help it capitalize on 5G adoption. Any update on the company's 5G-related business in the upcoming earnings report should be welcome news.
Will Cisco Stock Increase Its Dividend?
As I mentioned earlier, Cisco Systems is a solid dividend-payer. The company paid its first quarterly dividend of $0.06 per share in April 2011. Today, the amount stands at $0.35 per share, representing a total increase of 483%. (Source: "Dividends & Splits," Cisco Systems, Inc., last accessed November 7, 2019.)
With CSCO stock trading at $48.42 per share, the company offers an annual dividend yield of 2.9%.
What's more impressive than Cisco's current yield its dividend growth potential. Since 2011, management has raised the company's quarterly dividend rate every single year. And based on the company's latest financials, they should have no problem continuing that track record.
In Cisco's fiscal-year 2019, the company generated an adjusted net income of $3.10 per share while paying total dividends of $1.38 per share. Therefore, it was paying out less than half of its profits.
If the company meets Wall Street's expectation and earns $0.81 per share in the reporting quarter, it would once again cover its payout more than twice over.
Cisco Systems, Inc. is scheduled to report earnings on November 13 after the closing bell. Given the company's growing bottom line and low payout ratio, there's plenty of room for future dividend increases. However, because Cisco's management usually reviews the company's dividend policy in February, investors will likely have to wait three more months for another dividend hike.