Crown Castle International Corp.: This Top Dividend Stock Yields 4%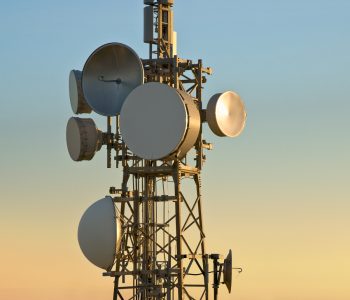 iStock.com/asdfgawe
1 Top Dividend Stock
Today, let's check in on a big "pick-and-shovel" winner in the mobile data boom.
Income Investors readers have probably heard of our idea of investing in pick-and-shovel businesses. These companies don't bet the farm on a single project. Instead, they sell goods and services to an entire industry. It's the safer (and sometimes more profitable) way to invest in a sector.
Take cell phone tower owner Crown Castle International Corp. (NYSE:CCI).
I may not know which tech giant will win the smartphone war, but I do know that all of these devices will chug down a lot of data. That means growing profits for businesses like Crown Castle, regardless of which gadget maker comes out on top.
And business, it seems, is booming.
The number of mobile devices in the U.S. recently surpassed 500 million, nearly double the number in service in 2012. Services like music downloads, streaming video, and social networking also suck down data. North American data usage is projected to grow by 35% annually through 2021, according to a recent report by telecommunications company Ericsson AB. (Source: "Mobile Data Usage Will Explode In Next 5 Years Thanks To Faster Network Speeds: Ericsson," Twice, June 6, 2016.)
This is good news for cell phone tower landlords. To accommodate the growing demand for data, carriers will need to build out their mobile networks. That means higher lease prices for customers and higher profits for Crown Castle.
Over the past five years, the company's fund flows from operations have grown at a mid-teen annual clip. Going forward, Wall Street expects profits to grow more or less in line with historical trends.
Most of these profits should get passed on to shareholders. Since 2009, Crown Castle units have increased more than sevenfold in price. And since management began paying dividends in 2014, the payout has tripled. Today, the units pay out a quarterly distribution of $1.05 each, which comes out to an annual yield of four percent.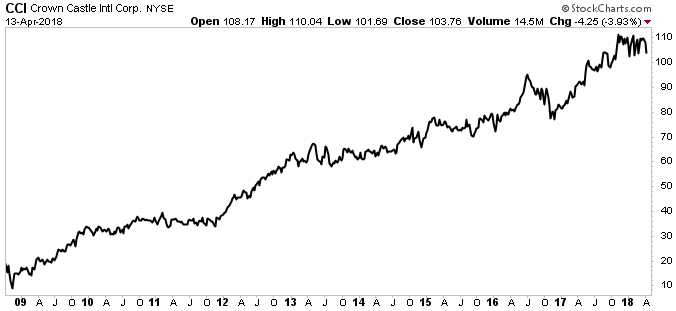 Chart courtesy of StockCharts.com
As long as folks stay glued to their smartphones, mobile pick-and-shovel businesses like Crown Castle International Corp. should keep doing well.