Crown Castle International Corp.: CCI Stock's Dividend Could Double in 5 Years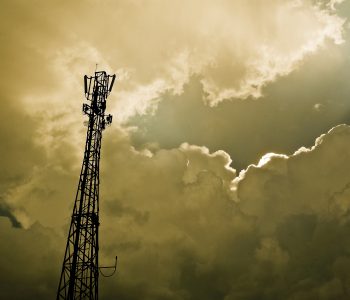 iStock.com/yogesh_more
Stock Offers Yield and Growth
Some investors believe they have to choose between income and growth. But I say, why not have both?
Take Crown Castle International Corp. (NYSE:CCI). The cell phone tower landlord yields just under four percent and has a short-but-impressive track record of dividend increases. Its rental income has soared in recent years, driven by our increasing demand for mobile data.
Management has also demonstrated a commitment to rewarding shareholders. Indeed, the company's dividend could easily double in as little as five years. This makes CCI stock one of those rare types of stocks that offer both yield and dividend growth.
One Dividend Stock for the Next 10 Years
Crown Castle International Corp. has emerged as a cash machine for shareholders.
The partnership's quarterly dividend has increased by more than 50% over just four years, rising from $0.35 in 2014 to $1.05 in 2018. Late last year, management announced another seven-percent boost to the distribution.
Today, CCI stock pays a quarterly distribution of $1.13 per unit. That comes out to an annual yield of 3.8%. By comparison, the average stock in the S&P 500 pays a dividend yield of just 2.1%.
And this could be just the beginning.
The rollout of fifth-generation (5G) technology promises to reshape the mobile landscape. The new network promises to boost browsing speeds a hundredfold and cut the time it takes for your cell phone to receive messages from a tower by 90%.
That could spark a revolution in mobile data consumption. By 2023, industry giant Ericsson projects that mobile data traffic in the United States will increase fourfold to 20.4 exabytes per month. To accommodate this demand, carriers will have to add thousands of tower sites to their networks. (Source: "Ericsson Mobility Report," Ericsson, June 2018.)
Crown Castle has started to cash in. Last quarter, the partnership trounced analysts' expectations after reporting that site rental revenue increased 15% to $1.2 billion. Management also raised their profit outlook for 2019, signaling a large amount of confidence in the business.
Most of this income will likely get passed on to investors. Over the next five years, the consensus estimate on Wall Street is that  Crown Castle will grow its profits at a 21% compounded annual clip. Investors can expect the distribution to grow in line with earnings, given the partnership's light debt load.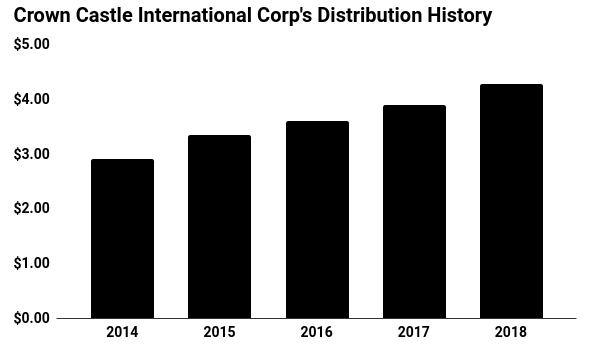 (Source: "Shareholder Services," Crown Castle International Corp., last accessed February 8, 2019.)

For investors, this combination of yield and growth should result in outstanding returns.
The Bottom Line on CCI Stock
As mentioned earlier, CCI stock pays an upfront yield of 3.8%. Add in our growth forecast of 15% and this stock should provide an annual return in the high teens.
Of course, you can't call Crown Castle a guaranteed success. Carrier consolidation could bite into profitability, and new technologies could also render the partnership's current business obsolete.
That said, Crown Castle International Corp. has navigated the ups and downs of the mobile data business before. Furthermore, management has positioned this business right in the middle of the coming 5G revolution. That could make CCI stock one top dividend stock for the next decade and beyond.