Crown Castle International Corp: Insiders Swarming Over This Stock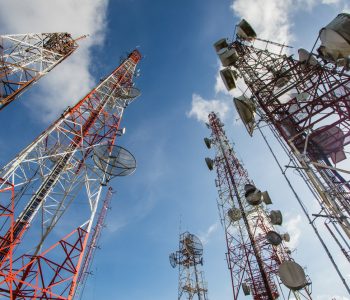 iStock.com/12521104
Insiders Buying Crown Castle International Corp: Here's Why
If you want to make more money in the stock market, it pays to watch the actions of insiders.
Executives might sell shares for all sorts of reasons, but they only buy for one: they think the stock will go a lot higher. When the smartest, most informed people about the value of a business start accumulating shares, other investors should take notice.
Case in point: Crown Castle International Corp (NYSE:CCI). According to a U.S. Securities and Exchange Commission (SEC) form published in July, Chairman Martin Landis paid $2.0 million to buy 16,300 shares of the cellphone tower company. Those purchases raised Landis's stake in Crown Castle to a total of 130,617 shares, valued at $18.4 million. (Source: "Form 4," U.S. Securities and Exchange Commission, July 23, 2019.)
Admittedly, you can't call Crown Castle shares cheap. Over the past 18 months, the stock has rallied 43%. Wall Street now values the business at 25-times trailing fund flows from operations—more than twice the average multiple for a real estate investment trust.
But investors have a good reason to pay that premium. With the emergence of smartphones, mobile data usage has doubled every 24 months for the past two decades. That has forced carriers to spend billions of dollars upgrading their networks, adding thousands of cellphone towers nationwide.
As the largest owner of these properties in the U.S., Crown Castle represents the biggest beneficiary of this boom. Lease income has tripled over the past 10 years., an increase that management credits to a combination of acquisitions and rent hikes. (Source: "Company Overview," Crown Castle International Corp, last accessed August 22, 2019.)
And this could just be the beginning.
Right now, everyone is waiting for the rollout of the fifth-generation ("5G") mobile network. Analysts predict that this shift will boost mobile browsing speeds a hundredfold, serving as the linchpin behind new technologies like artificial intelligence, driverless cars, and the Internet of Things. According to Cisco Systems, Inc. (NASDAQ:CSCO), that could boost mobile data consumption greatly over the next five years. (Source: "American Tower Corporation: An Overview," American Tower Corp, last accessed August 22, 2019.)
Cellphone tower landlords will cash in on this rollout. America's current mobile network cannot handle this surge in demand, so carriers will have to add more broadcasting sites nationwide. This puts Crown Castle in the position to raise rents on existing tenants and charge more on new leases—in other words, the perfect formula for higher share prices.
"Our current tower leasing activity is our highest in more than a decade, and we believe this level of activity will carry into next year," said CEO Jay Brown. (Source: "Crown Castle Reports Second Quarter 2019 Results And Raises Outlook For Full Year 2019," Crown Castle International Corp, July 17, 2019.)
"We expect the increase in tower activity, offset by longer small cell timelines, to generate higher expected  [adjusted fund flows from operations] per share growth of 8% for 2019, up from our prior outlook of 7% growth and at the high end of our long-term growth target."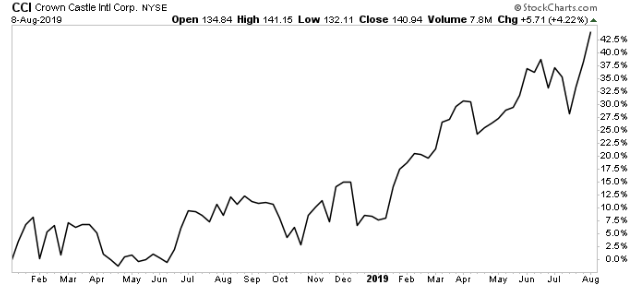 Chart courtesy of StockCharts.com
Most of those profits will likely get passed on to unitholders. Today, Crown Castle pays a quarterly distribution of $1.13 per share, which comes out to an annual yield of 3.2%. Executives have gotten into the habit of boosting this payout each fall, and we have no reason to not expect another big bump this October.
In the investment world, talk is cheap. But Crown Castle executives have put their money where their mouths are.