9.5%-Yielding CrossAmerica Partners Stock Is Crushing the Market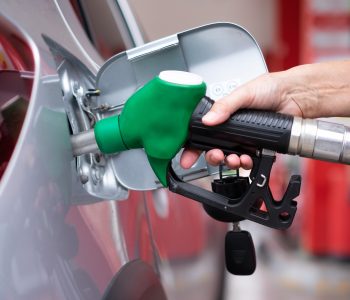 Why CAPL Stock Might Be Perfect for Growth & Income
The S&P 500 has been roaring this year, but a rising tide lifts all boats, which means plenty of mediocre stocks have been getting a boost from misguided investor optimism.
The economy is red hot and inflation is stubbornly high, so the Federal Reserve will likely continue raising its key overnight lending rate. Therefore, it's not a surprise that 64% of economists and 96% of the Conference Board believe the U.S. will slip into a recession this year. On the plus side, chances are good that any recession will be short and mild.
That's why it's important to consider stocks that are climbing higher on their own merits, such as outstanding financial results and guidance. It's a bonus to find a stock that also provides safe, reliable, inflation-crushing dividends.
Enter CrossAmerica Partners LP (NYSE:CAPL). The company is a leading U.S. wholesale distributor of motor fuel, operator of convenience stores, and owner and lessee of real estate used in the retail distribution of motor fuel. (Source: "Investor Presentation: September 2022," CrossAmerica Partners LP, last accessed February 14, 2023.
With a geographic footprint that spans 34 U.S. states, CrossAmerica Partners distributes branded and unbranded petroleum for motor vehicles to about 1,800 locations. It also owns or leases approximately 1,100 sites. Its seven convenience store brands offer food, various essentials, and car washes at more than 250 locations across 10 states. The locations are also paired with prominent national brands such as "Arby's," "Dunkin'," and "Subway."
The partnership has well-established relationships with several major oil companies, including Exxon Mobil Corp (NYSE:XOM). CrossAmerica Partners LP ranks as one of Exxon Mobil's largest U.S. distributors by fuel volume and is one of the top 10 fuel distributors for other oil companies. Three of company's other fuel clients are BP plc (NYSE:BP), Shell PLC (NYSE:SHEL), and Marathon (NYSE MPC).
In November 2022, CrossAmerica Partners completed its previously announced agreement to acquire certain assets of Community Service Stations, Inc. for $27.5 million plus working capital. (Source: "CrossAmerica Announces the Closing of Acquisition of Assets of Community Service Stations," CrossAmerica Partners LP, November 10, 2022.)
Community Service Stations' assets consist of wholesale fuel supply contracts to 38 dealer-owned locations, 35 subjobber accounts, and two commission locations. The supply contracts include about 75 million gallons of fuel annually through fuel brands such as "Exxon Mobil," Gulf," and "Shell."
CrossAmerica Partners LP Reports "Exceptionally Strong" Q3 Results
For the third quarter ended September 30, 2022, CrossAmerica reported operating income of $39.6 million, a 119% increase over its third-quarter 2021 operating income of $12.6 million. Its net income went up by 205% year-over-year to $27.01 million, or $0.71 per share. (Source: "CrossAmerica Partners LP Reports Third Quarter 2022 Results," CrossAmerica Partners LP, November 7, 2022.)
The company generated third-quarter 2022 adjusted earnings before interest, taxes, depreciation, and amortization (EBITDA) of $62.2 million, versus third-quarter 2021 adjusted EBITDA of $35.9 million.
The partnership's distributable cash flow in the third quarter advanced 67% year-over-year to $50.9 million. The company's gross profit from its Wholesale segment went up by 18% in the quarter to $48.2 million. Meanwhile, the gross profit from its Retail segment more than doubled to $56.3 million.
During the third quarter of 2022, CrossAmerica Partners LP distributed 338.1 million wholesale fuel gallons at an average wholesale fuel margin of $0.125 per gallon. That's compared to 354.6 million wholesale fuel gallons at an average wholesale fuel margin of $0.096 per gallon during the third quarter of 2021. This represents a five-percent decrease in gallons distributed but a 30% increase in margin per gallon.
The company's leverage, which excludes any pro forma EBITDA from CrossAmerica's acquisition of assets from Community Service Stations, was 3.9 times as of September 30, 2022, compared to 5.1 times as of December 31, 2021.
Charles Nifong, CrossAmerica Partners LP's president and CEO, commented, "Our financial results for the quarter were exceptionally strong, as reflected in our adjusted EBITDA and ending leverage for the quarter." (Source: Ibid.)
He continued, "Our results also illustrate the enduring strength of our underlying business as we continue to provide strong results despite high fuel prices, inflation, and other economic challenges. Our pending acquisition, which we announced during the quarter, is highly complementary to our existing business and we expect it to be immediately accretive to our financial results."
Management Maintains Quarterly Distribution of $0.525/Unit
In January, CrossAmerica Partners LP announced that its board approved a quarterly distribution of $0.525 per unit, for a current yield of 9.5%.
That payout is safe; the partnership could even raise it if it wanted to. The company's distribution coverage ratio was 2.6 times for the three months ended September 30, 2022 and 1.7 times for the trailing 12 months ended September 30, 2022.
While CrossAmerica Partners stock's dividend has held steady at $0.525 per share, the partnership's ongoing profit growth should allow it to start raising its quarterly payouts again. Between 2013 and 2017, CrossAmerica Partners LP raised its quarterly payout 19 times. Of particular note, the company didn't cut or suspend its dividend during the COVID-19 pandemic. If one of the worst economic periods of the last 100 years can't derail its high-yield dividends, one wonders what could.
On top of paying reliable, inflation-crushing dividends, CAPL stock has been rewarding buy-and-hold investors with market-thumping stock market gains. On February 1, shares of CrossAmerica Partners LP hit a new all-time high of $22.36, for a year-to-date gain of 15.3% at the time.
As of this writing, CrossAmerica Partners stock is trading close to record levels, up by:
13.5% year-to-date
9.5% over the last six months
12.5% year-over-year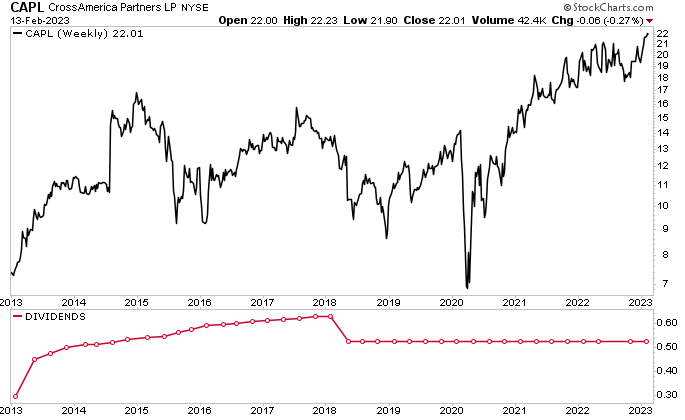 Chart courtesy of StockCharts.com
The Lowdown on CrossAmerica Partners Stock
Fears of a recession abound, but the sizzling economy means more and more people have been hitting the roads. With the start of the summer driving season just months away, the outlook for CrossAmerica Partners LP is robust.
As mentioned earlier, last November, the company reported "exceptionally strong" third-quarter 2022 financial results and closed on a strategic acquisition, a move that will be immediately accretive to CrossAmerica Partners' distributable cash flow.
CAPL stock is hovering near record price levels, and it continues to pay reliable, ultra-high-yield dividends. Hopefully, its share price and dividends will trend higher in 2023 on increased sales and profitability.