CrossAmerica Partners Stock: 10.1%-Yielder's Share Price Up 25% Year-Over-Year
Why CAPL Stock Is Trading Near Record Levels
High oil prices throughout the summer meant pain at the pump for drivers. While it looked like crude oil prices were going to retreat a little in October, they've been rising following the outbreak of unimaginable violence between Israel and Hamas. The conflict has sparked fears that geopolitical tensions could spread across the entire Middle East and threaten the world's energy supply.
If the U.S. puts sanctions on Iran, which is a big supporter and funder of Hamas, 500,000 barrels per day of Iranian oil exports could be taken out of the system. Production cuts by the Organization of the Petroleum Exporting Countries Plus (OPEC+) already meant that the world supply of oil was tight.
The ripple effect could be felt in the U.S., sending gasoline prices higher. Typically, gas prices fall during the autumn months after the summer surge. That could mean additional pain at the pumps for American drivers and, more broadly, U.S. households.
That's where CrossAmerica Partners LP (NYSE:CAPL) comes in. The company is a leading U.S. wholesale distributor of motor fuel, operator of convenience stores, and owner and lessee of real estate used in the retail distribution of motor fuel. (Source: "Investor Presentation: May 2023," CrossAmerica Partners LP, last accessed October 10, 2023.)
With a geographic footprint that spans 34 U.S. states, CrossAmerica Partners distributes branded and unbranded petroleum for motor vehicles to more than 1,700 locations. In 2022, the company distributed more than 1.3 billion gallons of fuel.
CrossAmerica Partners LP also operates convenience stores in 13 eastern U.S. states under seven brands. The sites offer food, various essentials, and car washes. Some of the locations are paired with prominent national fast-food brands such as "Arby's," "Dunkin'," and "Subway."
The partnership has well-established relationships with several major oil companies, including Exxon Mobil Corp (NYSE:XOM). CrossAmerica Partners LP ranks as one of Exxon Mobil's largest U.S. distributors by fuel volume and is one of the top 10 fuel distributors for other oil companies.
Three of the company's other fuel clients are BP plc (NYSE:BP), Shell PLC (NYSE:SHEL), and Marathon Petroleum Corp (NYSE:MPC).
Another Quarter of High Financial Growth
For the second quarter ended June 30, CrossAmerica Partners reported net income of $14.5 million, up from $14.0 million in the same period last year. Its adjusted earnings before income, taxes, depreciation, and amortization (EBITDA) inched up year-over-year from $41.4 to $42.2 million. (Source: "CrossAmerica Partners LP Reports Second Quarter 2023 Results," CrossAmerica Partners LP, August 7, 2023.)
The company's distributable cash flow came in at $30.4 million in the second quarter of 2023, down slightly from $32.4 million in the second quarter of 2022.
Its distribution coverage ratio in the second quarter was 1.53x, versus 1.63x in the same period last year. Its trailing-12-month distribution coverage ratio improved from 1.48x in the second quarter of 2022 to 1.68x in the second quarter of 2023.
During the three months ended June 30, the partnership sold six properties for $7.8 million, resulting in a net gain of $6.1 million.
Charles Nifong, CrossAmerica Partners LP's president and CEO, noted, "We had another strong quarter with total fuel volume for the second quarter up over the prior year in both of our operating segments." (Source: Ibid.)
He continued, "In particular, our retail segment posted strong results with increases in operating income, store sales and fuel and store margin. Overall, our business continues to demonstrate strength across many varied economic environments, which is further reflected in our strong balance sheet and in our healthy distribution coverage levels."
Second-Quarter Distribution of $0.525/Share
Thanks to its stable cash flows from real estate rental income and motor fuel distribution, CrossAmerica Partners is able to provide income hogs with reliable, high-yield dividends.
In the second quarter, the company declared a dividend of $0.525 per share, for a massive yield of 10.07%. (Source: "CrossAmerica Partners LP Maintains Quarterly Distribution," CrossAmerica Partners LP, July 25, 2023.)
CrossAmerica Partners stock's distribution is safe, too. The partnership targets a coverage ratio of 1.2x. As noted above, its coverage ratio in the second quarter was 1.53x and its trailing-12-month distribution ratio was 1.68x.
The company's quarterly dividend has held steady at $0.525 per unit since May 2018, but its ongoing profitability growth should lead management to begin raising the payouts again. Between 2013 and 2017, CrossAmerica Partners LP raised its quarterly distribution 19 times.
As for the price of CAPL units, it has done very well since the COVID-19 pandemic.
CAPL stock is currently trading near record-high levels. CrossAmerica Partners units hit a new all-time high of $22.05 in April. CrossAmerica Partners stock tumbled in May due to investors' concerns about regional bank issues. Rising interest rates and inflation also made investors nervous.
But you can't hold a good stock down forever.
Terrific financial results and the summer driving season, have helped propel the price of CAPL units significantly higher since July. As of this writing, CrossAmerica Partners units are trading at $21.28, up by 16% year-to-date and 25% year-over-year.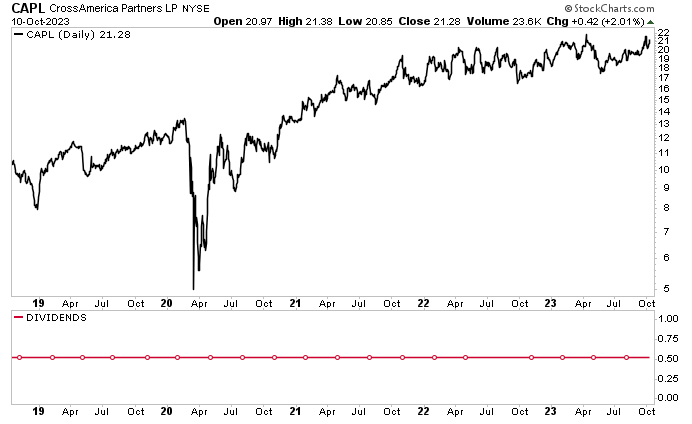 Chart courtesy of StockCharts.com
The Lowdown on CrossAmerica Partners LP
Whereas concerns about an economic hard landing and a recession had been headwinds for energy companies, the International Monetary Fund (IMF) now believes there's a greater chance of a soft landing instead. This would certainly bode well for companies like CrossAmerica Partners LP.
The partnership has great momentum no matter how the economy plays out. It reported "outstanding" fourth-quarter and full-year 2022 results, as well as solid second-quarter 2023 results that included growth in its net income and adjusted EBITDA.
Despite economic uncertainty, the outlook for CrossAmerica Partners stock is robust, with the company's high cash flow, strong barriers to entry, long-term contracts with major integrated oil companies, and significant diversification across geographical areas and operating segments supporting its long-term growth.
CAPL stock is trading near record-high price levels, and it continues to reward buy-and-hold investors with reliable, high-yield dividends. Moreover, CrossAmerica Partners LP's dividends are safe. The partnership's trailing 12-month distribution coverage ratio is comfortably above its target.