CrossAmerica Partners LP Provides Safe, Inflation-Busting 10.3% Dividend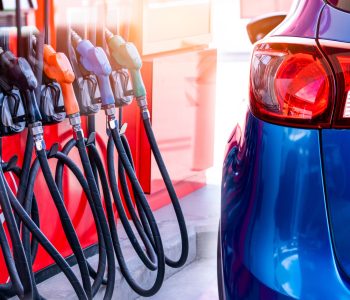 CAPL Stock a Great Dividend Stock for Growth & Income
U.S. inflation rose to a 13-year high in September as the cost of food and shelter lifted the inflation rate to 5.4%. The category with the highest increase in cost was energy, which rose by about 25% over the last year.
It's not like things are expected to get better anytime soon, either.
In October, Americans' expectations of inflation for the period one year later increased to a new series high since the Federal Reserve Bank of New York started a consumer expectations survey in June 2013. (Source: "Consumers' Medium-Term Inflation Expectations Stable; Labor Market Expectations Improve Further," Federal Reserve Bank of New York," November 8, 2021.)
According to the survey, the U.S. public expects the inflation rate to be 5.7% in October 2022. Americans forecast that the highest price increase in that period will be for gas.
Months ago, the Federal Reserve said that the soaring inflation in the U.S. would be temporary. In hindsight, however, we never really understood what "temporary" meant. It now looks like "temporary" means both "not permanent" and not "short-lived." So, it looks like we'll be paying more for things until sometime between April and September 2022.
One of the best ways to kick rising energy prices to the curb and see one's underlying investment rise over the long haul is with CrossAmerica Partners LP (NYSE:CAPL).
A leading wholesale distributor of motor fuels, operator of convenience stores, and owner and lessee of real estate for the retail distribution of motor fuels, CrossAmerica Partners provides stable, high-yield dividends and long-term capital appreciation.
On October 21, CrossAmerica Partners LP announced that its board of directors declared a quarterly distribution of $0.525 per unit, or $2.10 on an annual basis. At the current price of CrossAmerica Partners stock, that works out to a yield of 10.3%.
CAPL stock has held its distribution at $0.525 per unit since the first quarter of 2018. That means investors have been able to rely on this dividend stock to give them a high-yield paycheck every quarter during the worst economic crisis in 100 years.
As you can see in the chart below, CrossAmerica Partners stock has performed well since the start of 2019, aside from during the March 2020 COVID-19-fueled stock market crash. That said, CAPL stock recovered fairly quickly from the crash and has gone on to record levels.
As of this writing, CrossAmerica Partners stock is up by 35% year-to-date and 62% year-over-year.
Chart courtesy of StockCharts.com
Why have buy-and-hold investors done so well with CAPL stock?
The company provides everything that individual drivers and trucking fleets need to get from point A to point B. With a geographic footprint of 34 states, CrossAmerica Partners distributes branded and unbranded petroleum for motor vehicles to about 1,800 locations. It also owns or leases approximately 1,100 sites. (Source: "Home," CrossAmerica Partners LP, last accessed November 10, 2021.)
The partnership has well-established relationships with several major oil companies, including BP plc (NYSE:BP), Chevron Corporation (NYSE:CVX), ExxonMobil Corp (NYSE:XOM), and Sunoco LP (NYSE:SUN).
The company's seven convenience store brands offer food, beverages, various essentials, and car washes at more than 250 locations across 10 states. Its convenience stores are also paired with prominent fast-food brands such as "Dunkin'," "Subway," and "Arby's."
At the end of April, CrossAmerica Partners announced that it was acquiring 106 convenience stores from 7-Eleven Inc. for $263.0 million. The "7-Eleven" stores will be rebranded as "Joe's Kwik Mart" stores. (Source: "CrossAmerica Partners LP Announces Definitive Agreement to Acquire 106 Convenience Store Locations From 7-Eleven, Inc." CrossAmerica Partners LP, April 29, 2021.)
Strong Q3 Results Despite COVID-19 Challenges
For the third quarter ended September 30, CrossAmerica Partners reported operating income of $12.6 million, versus third-quarter 2020 operating income of $23.7 million. (Source: "CrossAmerica Partners LP Reports Third Quarter 2021 Results," CrossAmerica Partners LP, November 8, 2021.)
The company's net income was $8.9 million, or $0.23 per diluted share, compared to $21.2 million, or $0.56 per share, in the same prior-year period. Its adjusted earnings before interest, taxes, depreciation, and amortization (EBITDA) increased by almost 20% year-over-year from $30.0 to $35.9 million.
For its wholesale segment, CrossAmerica Partners LP reported third-quarter gross profit of $48.2 million, compared to $42.8 million in the third quarter of 2020. During the third quarter of 2021, the company's wholesale segment distributed 354.6 million gallons of fuel at an average wholesale margin of $0.096 per gallon, compared to 327.4 million gallons at an average margin of $0.094 per gallon in the third quarter of 2020.
For its retail segment, the company's gross profit in the quarter was up by 13% year-over-year from $19.5 to $27.9 million. During the third quarter of 2021, CrossAmerica Partners LP's retail segment sold 110.5 million gallons of fuel, a 29% increase over the third quarter of 2020. Its same-store fuel volume was up by 14% year-over-year at 49.4 million gallons.
"We had another strong quarter despite continuing challenges from COVID and the crude oil price environment," said Charles Nifong, CEO and president. "Our results this quarter reflect the benefit of these newly acquired [7-Eleven] assets as well as the positive impact of our ongoing strategic initiatives on our overall business." (Source: Ibid.)
The Lowdown on CrossAmerica Partners Stock
CrossAmerica Partners LP is one of the best companies in the oil and gas industry. In spite of the COVID-19 pandemic, the company reported excellent third-quarter results, which were juiced in part by the acquisition of 106 convenience stores.
Thanks to the company's strong cash flow, CAPL stock provides reliable high-yield dividends to shareholders. Moreover, the price of CrossAmerica Partners stock has been benefitting from the economic recovery. Look for the company's numbers to improve even further once the economy fully returns to normal.