CrossAmerica Partners LP: 11%-Yielder Perfect for Income & Growth in 2022?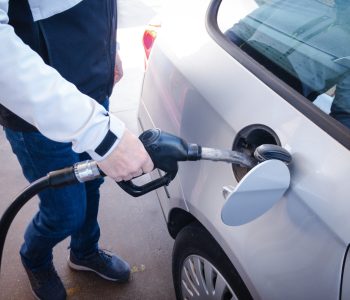 CrossAmerica Partners LP Taking Advantage of the Economy Reopening
If you're looking for reliable, ultra-high-yield shares of a company that's set to take advantage of cooped-up Americans returning to the highways, there are few better than CrossAmerica Partners LP (NYSE:CAPL). The company is one of the country's leading distributors of branded gasoline.
To be fair, 2020 wasn't the best year for oil and gas companies, with many businesses shuttered, many Americans quarantined at home, and the borders closed to tourists. It got a little better in 2021, with the launch of COVID-19 vaccines and more and more Americans returning to work.
Even though the highly contagious Omicron variant of COVID-19 is ripping its way across the planet, people are still making an effort to get out and have their lives return to some semblance of normality. It was estimated that, between December 23, 2021 and January 2, 2022, anywhere from 103 million to 109 million Americans would be traveling 50 miles or more. ("'Tis the Season: More than 109 Million Americans to Travel for the Holidays," AAA, December 14, 2021.)
Despite the presence of the Delta and Omicron variants, a large percentage of Americans expect to hit the highways in 2022. When it comes to filling up their gas tanks and stomachs—and getting their cars washed—CrossAmerica Partners LP will be there to welcome them with open arms.
Allentown, PA-based CrossAmerica Partners is a wholesale distributor of petroleum for vehicles and an operator of convenience stores across 34 states. The company distributes fuel to about 1,800 locations, and it owns or leases approximately 1,100 sites. Every day, CrossAmerica Partners' customers pump three million gallons of fuel into their tanks. (Source: "Who We Are," CrossAmerica Partners LP, last accessed December 30, 2021.)
The company's convenience store brands include "Joe's Kwik Marts," "Hy-Miler Convenience," "Zoomerz," and "Wash & Roll." Its convenience stores are also paired with national fast-food brands such as "Dunkin'," "Subway," and "Arby's."
In May 2021, the company announced that it was adding 106 convenience stores to its retail network after reaching a $263.0-million deal with 7-Eleven Inc. The majority of the new sites will operate under the "Speedway" banner.
CrossAmerica Partners LP's retail stores are paired with national oil and fuel brands like Exxon Mobil Corp (NYSE:XOM). CrossAmerica Partners ranks as one of Exxon Mobil's largest U.S. distributors by fuel volume, and it's in the top 10 for additional brands.
The company's other clients include BP plc (NYSE:BP), Chevron Corporation (NYSE:CVX), Phillips 66 (NYSE:PSX), and Royal Dutch Shell PLC (NYSE:RDS.A, NYSE: RDS.B).
Great Third-Quarter Results
Despite challenges associated with COVID-19 and crude oil prices, CrossAmerica Partners still managed to announce another strong quarter of results.
The partnership's operating income in the third quarter of 2021 was $12.6 million, compared to $23.7 million in the same period of the previous year. Its net income was $8.9 million, or $0.23 per share, compared to $21.2 million, or $0.56 per share, in the third quarter of 2020. (Source: "CrossAmerica Partners LP Reports Third Quarter 2021 Results," CrossAmerica Partners LP, November 8, 2021.)
The company's adjusted earnings before interest, taxes, depreciation, and amortization (EBITDA) went up by 20% year-over-year to $35.9 million. Its distributable cash flow inched up by two percent year-over-year to $30.4 million.
During the third quarter of 2021, CrossAmerica Partners LP's gross profits from its Wholesale segment increased by 13% year-over-year to $48.2 million. The partnership distributed 354.6 million gallons of motor fuel at an average wholesale gross profit of $0.096 per gallon, resulting in motor fuel gross profits of $34.1 million.
CrossAmerica Partners LP's gross fuel profits from its Retail segment jumped by 122% year-over-year to $7.8 million. During the quarter, the segment sold 110.5 million retail fuel gallons, a 29% increase over the third quarter of 2020. The increase was in part due to the increase in company-operated sites from the 7-Eleven deal, as well as the economic recovery from the coronavirus pandemic.
The company's same-store fuel volume for the third quarter of 2021 increased by 14% year-over-year from 43.2 million gallons to 49.4 million gallons.
By the end of the third quarter, CrossAmerica Partners LP had closed on 98 of the 106 sites acquired from 7-Eleven. As of November 4, 2021, the partnership had closed on five additional properties.
Charles Nifong, CEO and president, commented, "Our results this quarter reflect the benefit of these newly acquired assets as well as the positive impact of our ongoing strategic initiatives on our overall business." (Source: Ibid.)
He continued, "We remain highly focused on the successful integration of our new sites and on executing our strategic plan to further drive our profitability."
CAPL Stock's Price & Dividend
CrossAmerica Partners LP's business performance should help fuel share-price growth. As you can see in the below chart, CrossAmerica Partners stock has erased all of its losses tied to the March 2020 COVID-19-related crash.
As of this writing, CAPL stock is up by:
Nine percent over the last six months
25% year-over-year
210% since bottoming in March 2020
35% above its pre-pandemic level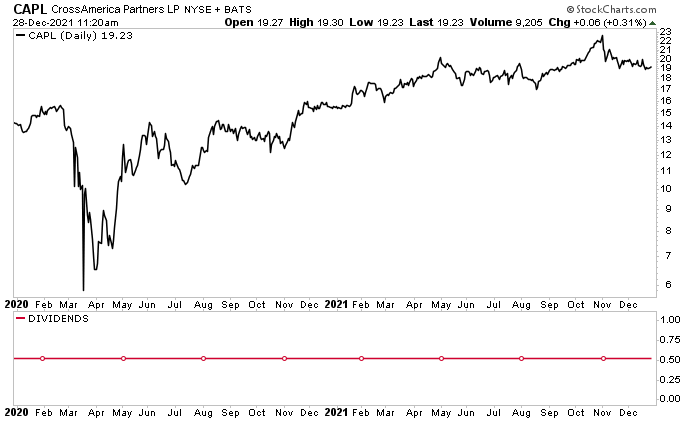 Chart courtesy of StockCharts.com
While CrossAmerica Partners stock's dividend has held steady at $0.525 (with an 11% yield as of this writing), a return to stronger profitability should allow the company to return to raising CAPL stock's quarterly payout on a regular basis. Between 2014 and 2017, the company raised its quarterly dividend in 13 out of 14 quarters.
The Lowdown on CrossAmerica Partners Stock
CrossAmerica Partners LP is an excellent oil and gas stock for income hogs. CAPL stock's price has more than recovered from the pandemic-fueled crash, and it continues to pay ultra-high-yield dividends.
Most significantly, in spite of COVID-19, CrossAmerica Partners stock has maintained its frothy dividend of $0.525 per unit. The payout and share-price appreciation from this dividend stock should continue to benefit from the company's increased sales and profitability in 2022 as more people hit the roads.