CrossAmerica Partners LP: 11.1% Yield Looks Safe as Economy Reopens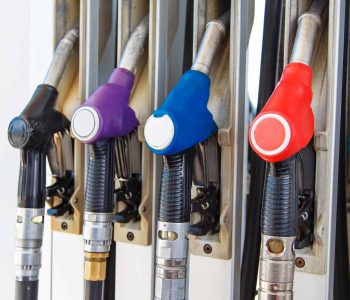 CrossAmerica Partners Stock Is a High-Yield Stock Worth Watching
If you're tired of forking out huge sums of money for gas when you pull up to the pumps, you might want to consider getting the oil and gas companies to repay the favor. One company that does that in spades is CrossAmerica Partners LP (NYSE:CAPL), a master limited partnership (MLP) that currently provides an 11.1% yield.
No matter how big or small a stimulus check from Washington, D.C. is, it'll never be enough to cover the damage that COVID-19 has wreaked on household budgets.
One of the biggest and most common expenses is gasoline. A whopping 90% of U.S. households spend, on average, $3,000 per year on gas. That works out to $250.00 per month. On top of that, there are leasing or financing costs, plus car insurance. Vehicles provide us with the freedom to drive anywhere, but the cost is an anchor that hobbles that freedom.
Income-starved investors who want to stick it to the oil and gas industry could recoup some—or all—of that money by investing in high-yield energy stocks. And CAPL stock is one of the best. It currently pays out a quarterly dividend of $0.525, with the aforementioned yield of 11.1%.
CrossAmerica Partners LP is able to pay this kind of eye-watering yield because it's an MLP. As such, it pays no corporate income tax. On the other hand, by law, the company has to pay out most of its income to investors.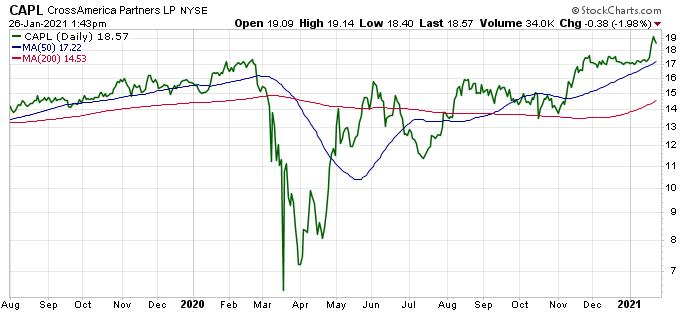 Chart courtesy of StockCharts.com
CrossAmerica Partners stock has finally erased all of its losses associated with the coronavirus-fueled sell-off in March 2020. CAPL stock is up 10.3% since the start of 2021 and it has soared 171% since hitting its March 2020 low. That more than makes up for the one-percent year-over-year gain.
I expect CrossAmerica Partners stock to trend steadily higher over the coming quarters as the U.S. economy opens up again and more people hit the roads. It's people and businesses that drive CrossAmerica Partners' profitability.
About CrossAmerica Partners LP
You might not recognize the name CrossAmerica Partners, but the company's product is probably in your gas tank. The MLP is a wholesale distributor of branded gasoline across 34 states. (Source: "Home," CrossAmerica Partners LP, last accessed January 26, 2021.)
The Allentown, PA-based company distributes fuel to about 1,800 locations, and it owns or leases approximately 1,100 sites. The company has long-established relationships with most major oil brands.
CrossAmerica Partners is one of Exxon Mobil Corporation's (NYSE:XOM) largest distributors by fuel volume in the U.S. It's also in the top 10 for other fuel brands.
Some of CrossAmerica Partners LP's other customers are Royal Dutch Shell PLC (NYSE:RDS.A), Sunoco LP (NYSE:SUN), BP plc (NYSE:BP), Chevron Corporation (NYSE:CVX), Valero Energy Corporation (NYSE:VLO), and Phillips 66 (NYSE:PSX).
Despite the slowing of the U.S. economy, the MLP was able to report strong wholesale and retail sales growth. In the third quarter, gross profit from the company's wholesale segment was $42.8 million, an 18.2% increase over the $36.2 million in the third quarter of 2019. (Source: "CrossAmerica Partners LP Reports Third Quarter 2020 Results and Announces Appointment of New Chief Financial Officer," CrossAmerica Partners LP, November 4, 2020.)
In the third quarter of 2020, the company distributed, on a wholesale basis, 327.4 million gallons of motor fuel, at an average wholesale gross profit of $0.094 per gallon. That resulted in motor fuel gross profit of $30.7 million.
CrossAmerica Partners LP's third-quarter retail gross profit was $19.5 million, a 297% increase on a year-over-year basis.
Its third-quarter operating income was up 92.6% year-over-year, at $23.7 million, while its net income advanced 194% to $21.2 million. Third-quarter adjusted earnings before interest, taxes, depreciation, and amortization (EBITDA) inched up 3.5% to $30.0 million while distributable cash flow advanced 15% to $29.7 million.
Commenting on the strong results, the company's CEO, Charles Nifong, said, "As with last quarter, our operating results demonstrate the durability of our business model and validate the strategic actions we took earlier in the year. Our newly acquired assets added meaningfully to our results this quarter and our overall financial position continues to be strong." (Source: Ibid.)
CAPL Stock's High-Yield Dividend Remains Safe
In the third quarter, CrossAmerica Partners LP generated $29.7 million in distributable cash flow. The distribution coverage ratio for the third quarter was 1.50 times, compared to 1.42 times for the comparable period of 2019.
For the trailing 12 months, the distribution coverage ratio was 1.24 times, compared to 1.14 times for the trailing 12 months ended September 30, 2019. This shows that the company's coverage ratio for its high-yield dividends is getting stronger.
On January 21, CrossAmerica Partners announced that its board of directors approved a quarterly distribution of $0.525 per unit, or $2.10 annually. (Source: "CrossAmerica Partners LP Maintains Quarterly Distribution," CrossAmerica Partners LP, January 21, 2021.)
Currently trading at $18.57 per unit, CrossAmerica Partners stock has a payout ratio of just 76.1%.
Admittedly, CAPL stock's distribution isn't perfect, but it is reliable. CrossAmerica Partners has held its payout at $0.525 for the last 12 quarters. That means, even during the biggest financial storm since the Great Depression, investors were able to rely on CrossAmerica's high-yield distribution. (Source: "CAPL Dividend History," Nasdaq, last accessed January 26, 2021.)
Over the 16 quarters before the company held its distribution at $0.525, it raised its payout 14 times, from $0.522 to $0.627. I wouldn't be surprised to see CrossAmerica Partners LP start raising its payout again over the coming quarters.
The Lowdown on CrossAmerica Partners Stock
CrossAmerica Partners LP is a great oil and gas play for income-starved investors. While COVID-19 continues to impact the MLP's operations, it saw an overall improvement in the third quarter. Once the economy reopens, look for the company's numbers to improve even more.
While CrossAmerica Partners pays out a frothy dividend of 11.1%, it has yet to establish a track record of consistently raising its distributions. On the other hand, the MLP has proven that investors can rely on CAPL stock to continue paying out a juicy, inflation-destroying dividend—even when the stock market is crashing. Which means investors can stick it to both the oil and gas industry and the Federal Reserve.
CrossAmerica Partners is an excellent company with a strong balance sheet and tremendous long-term growth potential. Therefore, investors should keep CrossAmerica Partners stock on their radar.