Cross Timbers Royalty Trust: 10.3%-Yielding Stock Up 50% in 2021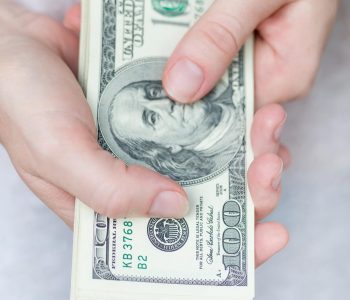 Cash Cow CRT Stock Pays Frothy Monthly Dividends
I worked the midnight shift in an auto plant during the summers while in university; they paid weekly. Office work pays less frequently, bi-weekly. If I were in sales and worked on commission, I'd probably never get paid. The fact is, it's no fun waiting to get paid.
The same goes for dividend investing. Getting a frothy dividend every quarter is pretty much the norm, but receiving more frequent payouts is a much better deal for investors.
In addition to getting paid more often, monthly dividends create investor loyalty. If a company has a bad quarter or two, investors tend to jump ship. If shareholders get paid monthly and the company has a bad quarter or two, most investors will stick around for the payouts and wait for the good times to return.
On top of that, getting paid monthly means shareholders can invest their money more quickly, and the benefits of compounding kick in sooner.
One great company that pays out juicy monthly dividends is Cross Timbers Royalty Trust (NYSE:CRT).
I think Cross Timbers and Berkshire Hathaway Inc. (NYSE:BRK.B) have some sort of competition going to see who can spend the least amount of money on their web site. I think Berkshire wins, but Cross Timbers is a close second.
But it doesn't really matter if you're making lots of money and handing it over to investors. Function before fashion.
Cross Timbers operates as an express trust in the U.S. The company holds 90% of the net profit interests in certain royalty and overriding-royalty property interests in Texas, Oklahoma, and New Mexico. (Source: "About Us," Cross Timbers Royalty Trust, last accessed June 30, 2021.)
Most of the trust's net profit income is from older gas properties in the San Juan Basin of northwestern New Mexico. Because the 90% net profit interests aren't subject to production or development costs, the net profit income from these interests generally only varies because of changes in sales volume or prices.
Cross Timbers Royalty Trust also lays claim to 75% of the net profit working interest in four properties in Texas and three properties in Oklahoma.
The net profit income from these properties is calculated separately for each state and is reduced by production and development costs.
As an express trust, Cross Timbers Royalty Trust's main objective is to hold net profit interest in natural gas-producing properties owned by XTO Energy Inc.
The underlying properties include over 2,900 producing properties with established production histories in Texas, Oklahoma, and New Mexico. The average reserve-to-production index for the underlying properties is approximately 10 years.
Instead of plowing money into developing new wells, Cross Timbers Royalty Trust simply pays out most of its earnings to unitholders. That's why the company is able to provide investors with a big dividend, which currently stands at 10.3%.
Admittedly, Cross Timbers Royalty stock's monthly dividend payout fluctuates with energy prices. So you can't rely on a consistent payout. But you can at least rely on there being a payout no matter what.
I enter this year's dividends (so far) as evidence:
| | |
| --- | --- |
| Month in 2021 | Dividend Per Share |
| January | $0.04 |
| February | $0.08 |
| March | $0.03 |
| April | $0.09 |
| May | $0.07 |
| June | $0.10 |
And here are CRT stock's dividends since 2008:
| | |
| --- | --- |
| Year | Dividends Per Share |
| 2020 | $0.77 |
| 2019 | $0.87 |
| 2018 | $1.42 |
| 2017 | $1.00 |
| 2016 | $1.06 |
| 2015 | $1.35 |
| 2014 | $2.65 |
| 2013 | $2.31 |
| 2012 | $2.48 |
| 2011 | $2.99 |
| 2010 | $2.78 |
| 2009 | $1.88 |
| 2008 | $5.15 |
(Source: "Cash Distributions," Cross Timbers Royalty Trust, last accessed June 30, 2021.)
It's not just Cross Timbers Royalty stock's distributions that fluctuate along with energy prices; its share price does, too. Then again, every single stock on the planet fluctuates based on the industry it's in. So that's not a big surprise.
As you can see in the below chart, CRT stock trended lower in 2019 and took a big hit in 2020. But thanks to the vaccine rollout and reopening of the economy, oil and gas prices are up, and so too are Cross Timbers Royalty Trust's distribution and stock price.
In June, the company announced that the average price for a barrel of oil was $78.77, compared to $57.03 in May and $45.28 in April. Over that same period, the company's monthly net profits increased from $2.7 to $2.8 million. (Source: "Cross Timbers Royalty Trust Declares June Cash Distribution," Cross Timbers Royalty Trust, June 18, 2021.)
That news has helped juice Cross Timbers Royalty stock, which is currently trading at record levels. The most recent bump came just after the company announced its June distribution.
CRT stock is, as of the last day of June, up by:
Five percent over the last month
40% over the last three months
50% year-to-date
75% year-over-year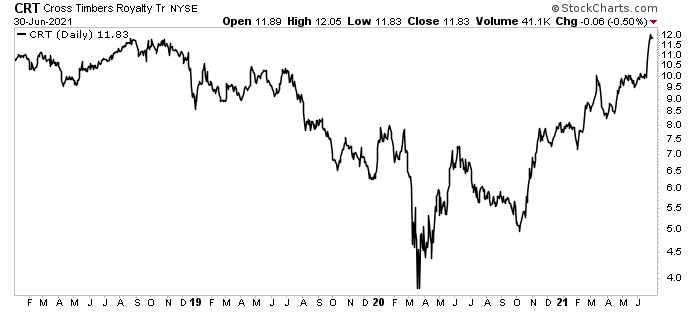 Chart courtesy of StockCharts.com
The Lowdown on Cross Timbers Royalty Trust
Cross Timbers Royalty stock is a great vehicle for investors who are looking for monthly distributions. Like all equities, there are risks. Cross Timbers Royalty Trust's share price and distribution payout will fluctuate with the price of oil and gas. And the long-lived wells will eventually run out.
Still, this dividend stock has been a reliable cash cow for investors since 1992, and there's no reason to believe it won't continue to be.