Crestwood Equity Partners Stock: 10.5%-Yielder Looks More Bullish on OPEC+ Production Cuts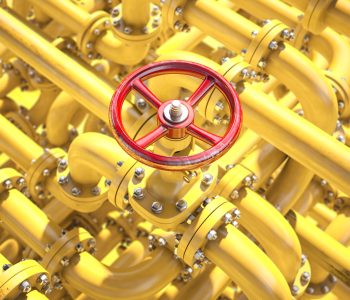 Crestwood Equity Partners LP's Outlook Just Got a Big Boost
Some recent unexpected news has made Crestwood Equity Partners LP (NYSE:CEQP) a little more interesting.
Oil prices surged on April 3 after the Organization of the Petroleum Exporting Countries Plus (OPEC+) producers surprised the market by saying they would cut their oil output collectively by 1.7 million barrels per day from May until the end of this year. (Source: "Oil Prices Surge After OPEC+ Producers Announce Surprise Cuts," CNN, April 3, 2023.)
OPEC+ had already cut its oil production by 2.0 million barrels per day last November. That was its largest production cut since the start of the COVID-19 pandemic, accounting for about two percent of global oil demand.
On April 3, the price of Brent crude oil spiked by 5.3% to $84.13 per barrel. Meanwhile, the price of West Texas Intermediate (WTI) oil jumped by 5.5% to $79.83 per barrel. Both increases were their highest in almost a year.
The surprise production cuts could see oil prices climb above $100.00 per barrel by this summer.
Moreover, the ongoing reopening of the Chinese economy is expected to help boost energy demand. Morgan Stanley (NYSE:MS) recently increased its forecast for global oil demand for 2023 by 36%. The investment bank cited the rebound of China's economy and the recovery of air travel as reasons for its bullish call. (Source: "Morgan Stanley Ups 2023 Oil Demand Growth Estimate by 36%, Flags Russia Risk," Reuters, February 22, 2023.)
I think Morgan Stanley's bullish call will get an upgrade soon.
The higher oil prices come at a time when the Federal Reserve and other central banks are trying to get a handle on decades-high inflation. The higher oil prices could increase the risk of a recession.
There's nothing investors can do to bring energy prices down, but they can capitalize on those high prices.
That's where Crestwood Equity Partners LP comes in. The company is a master limited partnership that's engaged in the gathering, processing, treating, compression, storage, and transportation of natural gas; the storage, transportation, terminaling, and marketing of natural gas liquids (NGLs); the gathering, storage, transportation, terminaling, and marketing of crude oil; and the gathering and disposal of produced water. (Source: "Investor Presentation: March 2023," Crestwood Equity Partners LP, last accessed April 4, 2023.)
The partnership owns and operates midstream energy assets located primarily in the Williston Basin, Delaware Basin, and Powder River Basin. The company has three business segments: Gathering and Processing North; Gathering and Processing South; and Storage and Logistics.
Crestwood Equity Partners LP's operating footprint includes:
2.0 billion cubic feet per day of natural gas gathering
1.4 billion cubic feet per day of natural gas processing
340,000 barrels per day of crude oil gathering
180,000 barrels per day of crude oil rail terminaling
775 million barrels per day of produced water gathering
10.0 million barrels of NGL storage
2.1 million barrels of crude oil storage\
Crestwood Equity Partners' diverse blue-chip customer list includes industry giants such as ConocoPhillips (NYSE:COP), Exxon Mobil Corp (NYSE:XOM), and Shell PLC (NYSE:SHEL). The majority of its contracts either include inflation escalators tied to the Consumer Price Index or flat annual rate increases. Some 85% of its contracts have fixed-fee or take-or-pay arrangements, and 15% of its contracts are tied to variable rates.
Recent Acquisitions & Divestitures
In 2021, Crestwood Equity Partners LP paid $1.8 billion for Oasis Midstream Partners LP, a company we had profiled at Income Investors on numerous occasions (when Oasis Midstream was a publicly traded company that paid ultra-high-yield dividends).
In 2022, Crestwood acquired Sendero Midstream Partners LP for about $600.0 million and acquired First Reserve's 50% interest in Crestwood Permian Basin Holdings LLC for 11.3 million Crestwood common units. Also in 2022, Crestwood completed the divestiture of its Barnett Shale assets for $275.0 million. (Source: "Crestwood Closes Series of Strategic Transactions and Announces Changes to Its Board of Directors," Crestwood Equity Partners LP, July 11, 2022.)
On February 20, 2023, Crestwood and Brookfield Infrastructure Corp (NYSE:BIPC) entered an agreement to sell Tres Palacios Gas Storage for $335.0 million. (Source: "Crestwood Announces Fourth Quarter 2022 Financial and Operating Results, the Divestiture of Tres Palacios for $335 Million, and Provides 2023 Guidance and Outlook," Crestwood Equity Partners LP, February 21, 2023.)
Crestwood Equity Partners will receive about $168.0 million for its 50% interest in Tres Palacios. The partnership plans to use all of the proceeds from this sale to reduce the borrowings on its revolving credit facility. The transaction is expected to close in the second quarter of this year.
2022 Was "Another Transformational Year" for Crestwood Equity Partners
Thanks to its long-term, fixed-fee contracts from a diverse mix of energy producers, Crestwood Equity Partners LP is able to generate a balanced cash flow mix from natural gas, crude oil, produced water, and NGLs.
For the fourth quarter, the company reported net income of $53.9 million, versus $78.6 million in the fourth quarter of 2021. Its adjusted earnings before interest, taxes, depreciation, and amortization (EBITDA) went up in the quarter by 34% year-over-year to $200.3 million. Its fourth-quarter distributable cash flow (DCF) was up by 22% year-over-year at $110.8 million, resulting in a coverage ratio of 1.6x. (Source: Ibid.)
Crestwood Equity Partners LP's full-year net income increased to $72.5 million from a loss of $37.4 million in 2021. The partnership's full-year adjusted EBITDA grew by 27% to $762.1 million. Its DCF in 2022 jumped by 25.7% to $466.6 million.
Commenting on the results, Robert G. Phillips—the company's founder, chairman, and CEO—said, "2022 was another transformational year for Crestwood as we continued to realign our midstream portfolio by expanding in the Williston, Delaware, and Powder River Basins, which are highly economic, oil-weighted resource plays, while divesting our Barnett and Marcellus assets which were non-core, gas-weighted, and low-growth." (Source: Ibid.)
He continued, "While we are disappointed in last year's operating and financial results due to the impact of severe weather events, upstream consolidation, and oilfield services and labor constraints on producer drilling and development activity, we are excited about current 2023 rig activity and planned customer developments on our G&P assets."
For 2023, Crestwood Equity Partners LP expects to report net income in the range of $310.0 to $390.0 million. It also expects to report adjusted EBITDA in the range of $780.0 to $860.0 million, which, at the midpoint, represents year-over-year growth of eight percent.
CEQP Stock Pays Quarterly Distributions of $0.655/Unit
Crestwood Equity Partners LP's high distributable cash flow helps the company deliver reliable, ultra-high-yield dividends. In January, it declared a quarterly cash distribution of $0.655 per unit, for a current inflation-crushing yield of about 10.5%.
That high yield isn't an anomaly tied to a falling share price. Crestwood Equity Partners stock's five-year average dividend yield is 10.6%. During the pandemic, a period when some companies were cutting or suspending their dividends, Crestwood actually increased its distribution.
As you can see in the chart below, the price of CEQP stock jumped on April 3 after OPEC+ announced big oil production cuts that will continue throughout 2023.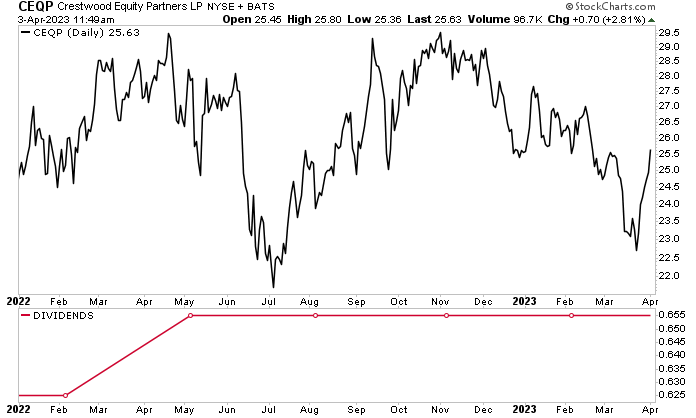 Chart courtesy of StockCharts.com
While Crestwood Equity Partners stock is only up by about two percent year-to-date, Wall Street analysts expect the stock to climb significantly. They have a 12-month share-price target for CEQP stock of $30.00 to $32.00. This points to potential gains in the range of 17% to 25%.
The Lowdown on Crestwood Equity Partners Stock
Crestwood Equity Partners LP shareholders have been able to rely on the company to provide them with high-yield dividends during times of stock market volatility.
Thanks to a number of strategic business moves in the past few years, including acquisitions and divestitures, the partnership is poised to increase its volumes, grow its free cash flow, and reduce its outstanding debt. The company's actions, coupled with strong energy industry tailwinds, bode well for CEQP stock's share price and dividends.