Crestwood Equity Partners LP: 10.7% Yield Safe Due to Record Financial Results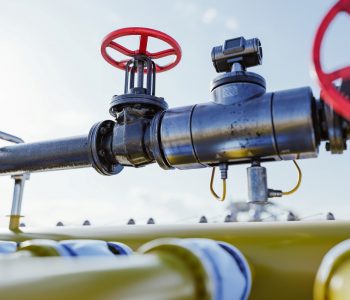 CEQP Stock Has High Yield & Strong Share-Price Growth
At a time when the broader market is in the red and the tech-laden Nasdaq is verging on correction territory, it's nice to know that investors can count on companies like Crestwood Equity Partners LP (NYSE:CEQP) to help weather the storm.
The Houston, TX-based oil and gas midstream company provides investors with a safe 10.7% dividend yield. On top of that, Crestwood Equity Partners stock has climbed steadily over the last 12 months. Thanks to improving economic conditions and rising crude oil prices, more gains could be just around the corner.
It's difficult to find high-yield stocks that don't make investors sacrifice quality for risk management, but CEQP stock is one of them.
Crestwood Equity Partners LP is a holding company and master limited partnership (MLP) that develops, acquires, owns, controls, and operates assets and operations in the energy midstream sector.
The MLP has three operating segments:
Gathering & Processing, which includes crude oil, natural gas, and water wellhead gathering and processing assets
Storage & Transportation, which includes natural gas and crude oil storage and transportation assets
Marketing, Supply & Logistics, which includes natural gas liquid, crude oil, and natural gas marketing and logistics
(Source: "Investor Presentation: February 2021," Crestwood Equity Partners LP, last accessed March 4, 2021.)
Through these segments, Crestwood Equity provides infrastructure solutions to serve natural gas and crude oil shale basins across the U.S.
Its long-term contract customers are a who's who of the oil and gas industry, including Royal Dutch Shell plc (NYSE:RDS.A), Exxon Mobil Corporation (NYSE:XOM), ConocoPhillips (NYSE:COP), and Chesapeake Energy (NASDAQ:CHK).
As you can see in the following chart, Crestwood Equity Partners stock tumbled over a cliff during the coronavirus-fueled sell-off in March 2020, but it has been climbing steadily since then.
Since bottoming in March 2020, CEQP stock has soared by an eye-watering 1,032%. It still needs to climb an additional 13% to get to its pre-pandemic sell-off level.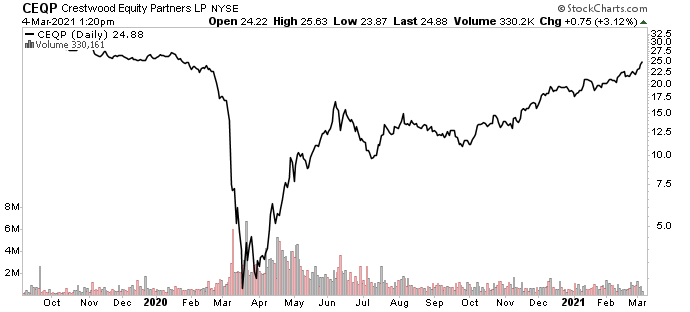 Chart courtesy of StockCharts.com
Safe 10.7% Dividend Yield
One of the joys of investing in a limited partnership is knowing that, legally, it has to distribute most of its available cash to investors. Right now, the quarterly distribution rate for Crestwood Equity Partners stock stands at $0.625 per common unit. Trading at $24.88, this translates into an annual dividend yield of 10.7% for CEQP stock.
Alas, the big question is, can Crestwood Equity Partners LP sustain that kind of dividend payout? The answer is yes!
The biggest metric you need to pay attention to is distributable cash flow (DCF), which is calculated by taking adjusted earnings before interest, taxes, depreciation, and amortization (EBITDA) and adjusting for cash interest expenses, maintenance capital expenditures, income taxes, and the partnership's share of its unconsolidated affiliates' DCF.
Or, instead of trying to figure out the math yourself, you could read what Crestwood Equity Partners said when it announced its fourth-quarter results on February 23. The company reported fourth-quarter net income of $27.8 million and adjusted EBITDA of $165.1 million. (Source: "Crestwood Announces Fourth Quarter 2020 Financial and Operational Results and Provides 2021 Guidance and Outlook," Crestwood Equity Partners LP, February 23, 2021.)
The MLP also announced fourth-quarter DCF of $106.3 million. That amount resulted in a distribution coverage ratio of 2.3 times.
How does that DCF relate to the company's previous results?
Despite 2020 being one of the most challenging years the oil and gas industry has ever faced, Crestwood Equity Partners LP delivered record adjusted EBITDA of $580.3 million and record DCF of $361.2 million. Both were up more than 10% from 2019, well above the consensus estimates, and the highest levels the company has reported in its 10-year history.
The future looks bright for Crestwood Equity Partners stock. On the heels of improvements in commodity prices, the MLP expects to generate adjusted EBITDA of $550.0 to $610.0 million in 2021. This year, management expects 84% of the company's adjusted EBITDA to come from take-or-pay and fixed-fee contracts.
Crestwood Equity Partners also expects to generate between $90.0 and $160.0 million in free cash flow in 2021 after paying its current distribution. The company said it will use that money to reduce its debt and increase its financial flexibility until it achieves its long-term leverage ratio target between 3.5× and 4.0×.
The Lowdown on Crestwood Equity Partners LP
Despite historic commodity-price volatility throughout 2020, Crestwood Equity Partners LP reported record fourth-quarter results.
Thanks to the company's strong balance sheet and the rise of commodity prices, Crestwood Equity Partners is well positioned to benefit from improving market conditions and maximize the total returns for CEQP stock holders in 2021.