Crescent Capital BDC Inc: Lock in an 8.6% Yield by September 28?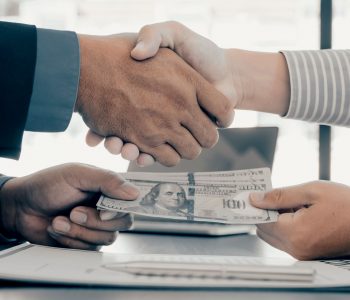 This "Alternative Bank" Pays Oversized Dividends
Long-time Income Investors readers would know that we're big fans of a group of companies that we call "alternative banks."
The reason for this is very simple: alternative banks offer some of the highest payouts on the market in today's low-yield environment.
Officially, these companies are called business development companies (BDCs). Most of them provide debt financing to middle-market businesses in America.
BDCs make money by lending capital out at higher interest rates than they borrow it at—very similar to what banks do. But because they have a very specific client group and don't have branches to serve retail customers like you and me, they are not traditional banks. Hence, we call them alternative banks.
One notable alternative bank is Crescent Capital BDC Inc (NASDAQ:CCAP), a BDC headquartered in Los Angeles. In the company's own words, its objective is to "maximize the total return of its stockholders in the form of current income and capital appreciation by providing capital solutions to middle market companies with sound business fundamentals and strong growth prospects." (Source: "Corporate Profile," Crescent Capital BDC Inc, last accessed August 12, 2021.)
At the end of June 2021, Crescent Capital BDC had investments in 130 portfolio companies, with an aggregate fair value of $1.1 billion. Note that it is not investing in risky start-ups. Its median portfolio company is capable of generating $28.0 million in earnings before interest, taxes, depreciation, and amortization (EBITDA) annually. (Source: "Quarterly Earnings Presentation," Crescent Capital BDC Inc, June 30, 2021.)
As is the case with other BDCs, the main reason for investors to consider CCAP stock is its oversized dividends. The company has a quarterly dividend rate of $0.41 per share, which comes out to an annual yield of 8.6%.
One of the reasons why Crescent Capital BDC Inc can offer such a generous payout is its lucrative lending business. According to the company's latest financial results, the weighted average yield of its income-producing securities at cost was 7.8%. Simply put, by collecting oversized interest income, the company can pay oversized dividends.
Another reason behind the high-yield status of BDCs is that they are essentially pass-throughs. As long as a BDC distributes most of its profits to investors through dividends, it pays little to no income tax at the corporate level.
Of course, although BDCs are known to be high-yield stocks in today's market, we are also in a time when high-yield stocks are not known for their dividend safety. So, can Crescent Capital BDC Inc afford its payout?
Well, Crescent Capital stock went public in February 2020. As such, it doesn't have a very long history to analyze.
However, the company has not cut back its payout since its listing. This means it was still dishing out oversized dividend checks when quite a few of its peers were slashing dividends in light of the COVID-19 pandemic last year. (Source: "Dividends," Crescent Capital BDC Inc, last accessed August 12, 2021.)
Moreover, the company was able to outearn its dividends despite the extraordinary environment.
In 2020, Crescent Capital BDC generated net investment income of $1.80 per share while declaring total dividends of $1.64 per share. (Source: "Crescent Capital BDC, Inc. Reports Full Year and Fourth Quarter 2020 Financial Results; Declares a First Quarter 2021 Regular Dividend of $0.41 per Share," Crescent Capital BDC Inc, February 24, 2021.)
In the first six months of 2021, the BDC earned adjusted net investment income of $0.99 per share. On the other hand, its dividends totaled $0.82 per share for the period. (Source: "Crescent Capital BDC, Inc. Reports Second Quarter 2021 Financial Results; Declares a Third Quarter 2021 Regular Dividend of $0.41 per Share," Crescent Capital BDC Inc, August 11, 2021.)
I'm not saying CCAP stock is a slam dunk, but in the BDC world, what the company has achieved so far is pretty impressive.
How to Collect the Next Dividend Check From Crescent Capital BDC Inc
On the same day that Crescent Capital BDC Inc announced its latest earnings report, its board of directors declared a regular cash dividend of $0.41 per share, which is in line with Crescent Capital stock's previous payout. The dividend is payable on October 15 to shareholders of record as of September 30.
While the record date is set to be September 30, a more important date to keep in mind is the ex-dividend date of September 29. This is because investors who buy CCAP stock on or after the ex-dividend date will not be eligible for the dividend. Instead, it will be paid to the seller.
Therefore, investors who want to be on the distribution list for Crescent Capital stock's October 15 payment will need to own shares before the ex-dividend date. In other words, the last day to take action is September 28.