Cracker Barrel Old Country Store, Inc.: A Total Return of 195% and Continuing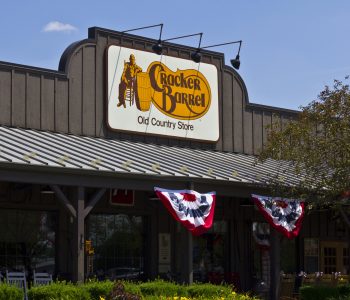 iStock.com/jetcityimage
Restaurant Stock Delivering Enormous Returns
If you follow restaurant company stocks, you'd know that the industry hasn't been in the best of shape. Even some of the most established players in the business have reported year-over-year declines in same-restaurant sales recently.
And that's why Cracker Barrel Old Country Store, Inc. (NASDAQ:CBRL) stock deserves your attention. The company runs a rock-solid business, and is still returning a tremendous amount of value to shareholders through its generous dividend policy.
Headquartered in Lebanon, Tennessee, Cracker Barrel is a unique player in the restaurant business. Each Cracker Barrel Old Country Store location consists of not only a home-style country food restaurant, but also a gift shop. Right now, the company owns and operates 649 Cracker Barrel Old Country Stores locations in 45 states, and also owns the fast-casual "Holler & Dash" restaurants.
Even though the performance of the overall restaurant industry has been rather sluggish lately, Cracker Barrel still managed to grow its business.
In the second quarter of its fiscal-year 2018 ended January 26, 2018, the company generated total revenues of $787.8 million, representing a two-percent increase year-over-year. Comparable store restaurant sales, a critical measure of a restaurant chain's performance, increased 1.1% year-over-year. This was driven by a two-percent increase in average check, which was partially offset by a 0.9% decline in comparable store restaurant traffic. (Source: "Cracker Barrel Reports Results For Second Quarter Fiscal 2018 And Updates Earnings Guidance For Fiscal 2018," Cracker Barrel Old Country Store, Inc., February 20, 2018.)
Moreover, due to the recurring nature of Cracker Barrel's business, the company has established a generous dividend policy. Paying quarterly distributions of $1.20 per share, CBRL stock offers an annual dividend yield of around three percent.
The payout has been growing, too. In the last five years alone, Cracker Barrel's quarterly dividend rate has increased by 140%. (Source: "Dividends History," Cracker Barrel Old Country Store, Inc., last accessed March 29, 2018.)
Mind you, regular dividends are not the only cash payments that CBRL stock investors have collected over the years. Thanks to solid financial performance, the restaurant company also rewarded shareholders with special cash dividends. Cracker Barrel paid special dividends of $3.00 per share in August 2015, $3.25 per share in July 2016, and $3.50 per share in July 2017.
Cracker Barrel's ability and willingness to return cash to investors is one of the reasons why we recommended CBRL stock to subscribers of our Income for Life advisory in October 2012. Including automatic dividend reinvestment, the company has delivered total returns of over 195% since our recommendation.
The best part is, Cracker Barrel's dividend increase track record is well positioned to continue. When the company reported earnings in February, it also updated its guidance. For full fiscal-year 2018, management expects the restaurant chain to earn an adjusted net income of between $9.30 per share and $9.50 per share. If the company achieves the midpoint of its guidance range and earns $9.40 per share for the year, its quarterly dividend rate of $1.20 per share would translate to an annual payout ratio of just 51%, leaving plenty of room for future dividend hikes.
Given the company's solid financials and willingness to return cash to investors, management will likely announce another dividend increase in the upcoming months.