Cracker Barrel Old Country Store, Inc. Is an Overlooked Dividend Machine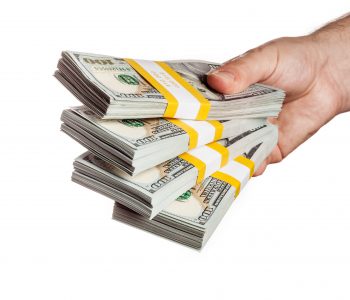 This Dividend Stock Could Be Special
In today's market, there are many businesses that are more exciting than operating restaurants. But if you are hunting for dividends, one company in the restaurant industry deserves a special look: Cracker Barrel Old Country Store, Inc. (NASDAQ:CBRL).
For those who love traditional Southern cuisine, Cracker Barrel should be a familiar name. The country-themed restaurant chain has been around since 1969. Today, it has 660 locations in 45 states. (Source: "Cracker Barrel Reports First Quarter Fiscal 2020 Results And Declares Quarterly Dividend," Cracker Barrel Old Country Store, Inc., November 26, 2019.)
One thing that makes the company different from other restaurant chains is that a typical Cracker Barrel location also consists of around 2,100 square feet of retail space, selling items from rocking chairs, to seasonal gifts, to branded food products. This allows the company to have a broader source of revenue.
What's even more interesting is how this restaurant chain returns cash to investors.
The first method is by paying regular dividends. Right now, Cracker Barrel stock pays shareholders a cash dividend of $1.30 per share every quarter. The amount may not seem like much, but it's a return that investors get no matter where the company's stock price is.
CBRL's second way of returning cash is through a share repurchase program. That is, Cracker Barrel Old Country Store, Inc. buys back its own company's stock. While investors don't get paid directly under this method, a buyback program reduces the number of shares outstanding, so each remaining shareholder gets to own a slightly larger portion of the company.
To give you an idea, in the most recent quarter, Cracker Barrel spent $14.2 million repurchasing its own shares. (Source: Ibid.)
The third method that the company uses to return money to investors—and this is probably the most exciting one—is special dividends. You see, from time to time, the company has dished out special dividends on top of its regular quarterly payments.
There's no guarantee on when—or how much—the next special dividend will be, but when it's paid, it serves as a nice bonus to income investors.
Looking back, we see that Cracker Barrel paid a special cash dividend in each of the last five years. (Source: "Dividends History," Cracker Barrel Old Country Store, Inc., last accessed November 28, 2019.)
Put those things together and it's easy to see that Cracker Barrel is a powerful dividend machine. The best part is, rather than paying a steady quarterly dividend, the restaurant chain's payout has been growing.
Consider this: in 2010, Cracker Barrel paid dividends totaling $0.82 per share. This year, its four quarterly dividend payments amounted to $5.10 per share, representing an increase of 522%.
Note that the $5.10 per share only included regular dividends. If you add Cracker Barrel's $3.00 special dividend paid this August, you'd see that the company has paid $8.10 per share in total cash dividends in 2019.
Moreover, those oversized payouts are backed by a rock-solid business.
CBRL Stock Maintains a Safe Payout
In Cracker Barrel's fiscal-year 2019, which ended August 2, the company earned an adjusted net income of $8.87 per share. (Source: "Cracker Barrel Reports Strong Fourth Quarter and Full Year Fiscal 2019 Results," Cracker Barrel Old Country Store, Inc., September 17, 2019.)
During the fiscal year, CBRL declared $5.05 per share in regular dividends and a $3.00-per-share special dividend. Therefore, the company's profits covered, not only its regular dividends, but the special payout as well.
Fast forward to the current fiscal year and things look just as solid.
In the first quarter of Cracker Barrel's fiscal-year 2020, which ended November 1, 2019, the company's earnings came in at $1.79 per share. The amount easily covered CBRL's regular dividend of $1.30 per share declared during the quarter. (Source: Cracker Barrel Old Country Store, Inc., November 26, 2019, op. cit.)
Looking at the Cracker Barrel stock chart, we see that the restaurant company's shares had a choppy ride over the past three years.
Cracker Barrel Old Country Store, Inc. (NASDAQ:CBRL) Stock Chart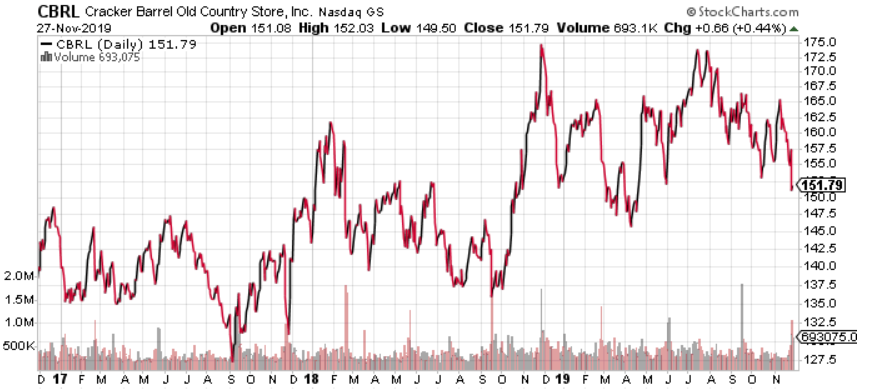 Chart courtesy of StockCharts.com
One consequence of this sideways trading is that the company can still offer a decent yield. At the current share price, CBRL stock has an annual dividend yield of 3.4%.
Sure, there are companies with much higher yields. But with its strong financials, continuous dividend growth, and possible special payouts on the horizon, Cracker Barrel Old Country Store, Inc. remains a solid contender for an income portfolio.