CBRL Stock: This Dividend Growth Stock Deserves a Look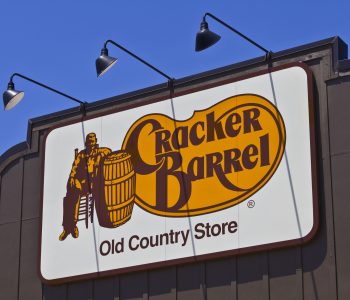 iStock.com/jetcityimage
Looking for Dividend Hikes? Read This
Today's chart highlights one of the most overlooked dividend growth stocks in the market, Cracker Barrel Old Country Store, Inc. (NASDAQ:CBRL).
When people talk about solid dividend growth stocks, they often refer to established companies in recession-proof industries, such as Procter & Gamble Co (NYSE:PG) and The Coca-Cola Co (NYSE:KO).
Cracker Barrel is in the restaurant business, which is not really recession-proof. And yet in recent years, the company managed to churn out dividend growth that would make even the most established Dividend Aristocrats feel jealous.
Consider that at the beginning of 2014, CBRL stock had a quarterly dividend rate of $0.75 per share. Today, the amount stands at $1.25 per share. That's a 66.7% dividend increase in just five years. (Source: "Dividend History," Cracker Barrel Old Country Store, Inc., last accessed April 4, 2019.)
With CBRL shares trading at $153.75 apiece at the time of writing, the company offers an annual yield of 3.2%.
What's more impressive is that in each of the past four years, Cracker Barrel also paid a special dividend. The latest one, which was paid in August 2018, was $3.75 per share.
Due to the special dividend, CBRL stock investors collected a much higher payout than what its official yield (which only took into account regular dividends) suggested.
And based on what Cracker Barrel has been doing, the company has a good chance of continuing its strong shareholder return track record.
A Unique Restaurant Business
You see, despite intense competition in the restaurant business, Cracker Barrel managed to build an entrenched market position. The company offers an experience that combines dining and shopping: a typical Cracker Barrel location contains both a Southern country-style restaurant and a retail store. Boasting scratch cooking from fresh ingredients, Cracker Barrel is not a fast food chain, and yet it manages to offer breakfast, lunch, and dinner to customers 364 days a year.
Today, the company has 659 Cracker Barrel Old Country Store locations spread across 45 states. Other than a Southern country-themed dining area, a typical store also contains around 2,100 square feet of retail space. The retail business contributes around 20% to the store's total revenue, while the remaining 80% comes from the restaurant business. (Source: "Bank of America Merrill Lynch Consumer & Retail Technology Conference," Cracker Barrel Old Country Store, Inc., last accessed April 4, 2019.)
Of course, if you've been following the restaurant industry, you'll know that business hasn't exactly been that great. Over the past several years, quite a few established restaurant chains have reported sales declines.
Not Cracker Barrel, though. In fact, the company's comparable restaurant sales have been trending up consistently.
According to the latest earnings report, CBRL's comparable restaurant sales increased 3.8% year-over-year in the second quarter of its fiscal 2019, which ended February 1. This was driven by a 3.7% increase in the average check and a 0.1% increase in comparable restaurant traffic. (Source: "Cracker Barrel Reports Second Quarter Fiscal 2019 Results, Company Reports Positive Comparable Store Restaurant Sales," Cracker Barrel Old Country Store, Inc., February 26, 2019.)
Thanks to higher sales generated by CBRL's restaurant business, the company's total revenue grew three percent year-over-year to $811.7 million during the quarter.
What's more impressive, though, is how the company grew its bottom line over the last several years. Just take a look at the following chart and you'll see what I mean:
Cracker Barrel Old Country Store, Inc. Earnings Per Share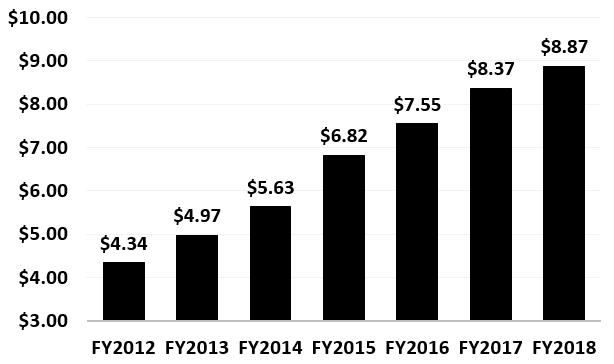 (Source: Ibid.)
From its fiscal 2012 to fiscal 2018, Cracker Barrel's earnings per share more than doubled.
And as I said, this is not the golden era for the restaurant business. But thanks to increasing profits, CBRL stock has no problem rewarding investors with bigger cash payouts year after year.
CBRL Stock: The Best Could Be Yet to Come
At the end of the day, I should point out that despite all the dividend hikes, the company wasn't really paying out that much.
For instance, Cracker Barrel's regular dividends of $4.85 per share in fiscal 2018 represented just 55% of its adjusted earnings per share. And even after factoring in its hefty special dividend of $3.75 per share, the company still outearned its total cash payout to shareholders in the most recent fiscal year.
Seeing the company's unique and growing restaurant business, we recommended Cracker Barrel stock to readers of our Income for Life advisory back in October 2012. Assuming automatic dividend reinvestment, the company has delivered a total return of over 200% since our recommendation.
With growing financials and a conservative payout ratio, more dividend hikes—and maybe even another special dividend—could be on the way for CBRL stock investors.