Costco Wholesale Corporation Could Soon Pay Special Dividend: Analyst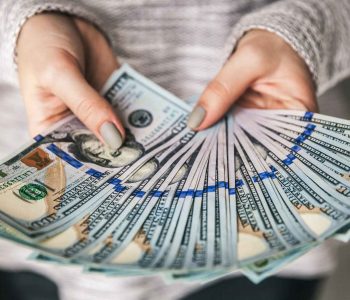 Analyst Forecasts: Costco Wholesale Corporation Could Soon Pay Special Dividend
For the past year, I have been predicting that Costco Wholesale Corporation (NASDAQ:COST) would soon issue a special dividend. Now it seems some folks on Wall Street are starting to agree with me.
In October, the retail giant posted September sales results that crushed analysts' expectations. Company-wide same-store sales, which measure the change in revenues at locations opened for at least one year, spiked 15%. This report closely followed blowout earnings results in September, when Costco posted record quarterly profits. (Source: "Costco Wholesale Corporation Reports September Sales Results," The Wall Street Journal, October 7, 2020.)
Those earnings, one expert believes, could start flowing to shareholders.
In a recent research note, Baird analyst Peter Benedict said that the odds of Costco paying a special dividend "seem to be rising." Benedict says the discount retailer has "excess cash on the balance sheet and fundamentals remain strong." (Source: "Could a Costco Special Dividend Be Coming? One Analyst Thinks Yes, at $10 a Share.," Barron's, September 26, 2020.)
I'm inclined to agree.
Admittedly, the COVID-19 pandemic and resulting shift to online shopping have hammered retailers. Most companies in the industry are just trying to ward off bankruptcy, let alone reward shareholders. So it seems like an odd place to look for anything in the way of special dividends.
Costco Wholesale Corporation, however, has held up relatively well. Given most that municipal governments deemed the company an essential service, the company managed to keep most stores open through the pandemic. Operations have returned mostly to normal, aside from requiring shoppers and workers to wear masks.
The company's e-commerce business has also started to thrive. In Costco's most recent sales report, management said that online revenues nearly doubled year-over-year during the previous month. And executives expect that growth to accelerate as a second wave of COVID-19 threatens to shut retailers down once again. (Source: The Wall Street Journal, op. cit.)
In other words, Costco Wholesale Corporation has benefited from a massive shift in consumer spending.
Sure, the pandemic has shut down wide swaths of the economy, such as travel, sports, and restaurants. COVID-19, however, hasn't forced consumers to cut back on spending, only to shift where they spend their dollars.
Overall retail sales, in fact, have actually increased over the past year. And Costco, it seems, has benefited from this trend. (Source: "Consumer Spending Rose in August; Economy on Track for Record Q3 Growth," CNBC, October 1, 2020.)
As a result, the retailer now has an interesting problem: too much money in the bank.
Last quarter, Costco Wholesale Corporation's cash and short-term investments topped $13.3 billion. This is more money than management needs on hand to run their day-to-day operations. It's also way more than executives could likely invest back into their business. (Source: "Costco Wholesale Corporation (COST): Financials," Yahoo! Finance, last accessed October 21, 2020.)
Shareholders probably won't accept the situation for long. Based on current interest rates, Costco is likely earning only about one or two percent per year on any cash on its balance sheet. That isn't too attractive, given that investors could likely earn better returns elsewhere.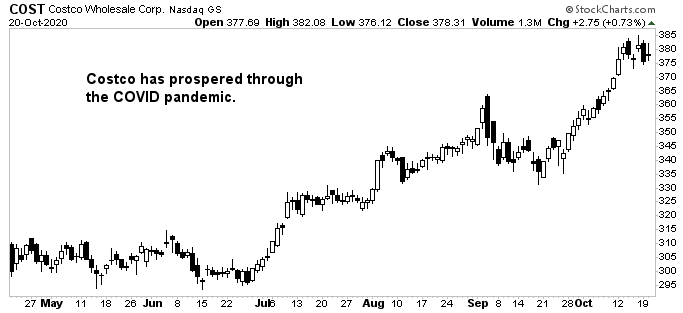 Chart courtesy of StockCharts.com
The only thing I disagree with Benedict's analysis comes down to the potential size of Costco Wholesale Corporation's special dividend.
In his research report, Benedict says management could issue a one-time payment to investors of around $10.00 a share. That would equate to a dividend yield of around three percent. (Source: Barron's, op cit.)
But that prediction could turn out to be too low. Based on the amount of cash Costco has on hand, I wouldn't be surprised to see the company issue a special dividend between $15.00 and $20.00 per share. And the longer management waits to make a distribution, the more this potential payout grows.
Regardless, income hunters should keep their eyes peeled for a Costco Wholesale Corporation special dividend.