Costco Wholesale Corporation: Soaring Income Stock From Unlikely Industry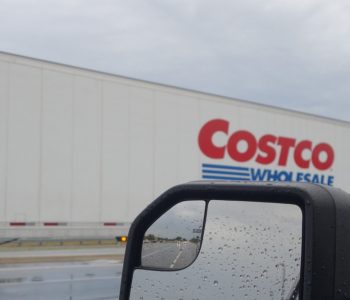 This Retailer Stock Looks Special
If you think that the so-called retail apocalypse has led all retailers' stocks to trade deep in the doldrums, think again. Costco Wholesale Corporation (NASDAQ:COST), an operator of 783 warehouse retail locations around the world, has been enjoying a tremendous rally in its share price.
Since the beginning of this year, COST stock has surged more than 45%, substantially outperforming the Dow Jones Industrial Average, the S&P 500, and the Nasdaq Composite. Over the past five years, Costco stock has more than doubled.
Better yet, the company is quite income-investor-friendly.
Here are the details.
Defying Retail Headwinds
Investors who follow the "retail apocalypse" news would know that one of the biggest issues facing the industry right now is declining sales due to consumers moving from physical stores to online vendors.
Frankly, that is a valid reason to be concerned. Over the past several years, we have seen many retailers—both large and small—report deteriorating numbers.
Yet, Costco's business has been booming. According to the company's latest monthly sales report, it generated $11.9 billion in net sales for the retail month of October—the four-week period ended November 3. This represented a 6.8% increase from the $11.2 billion of net sales earned in the year-ago period. (Source: "Costco Wholesale Corporation Reports October Sales Results," Costco Wholesale Corporation, November 6, 2019.)
Growth was across the board. For the month, Costco's comparable sales increased 6.5% in the U.S., 4.9% in Canada, and 2.1% at its other international locations.
Notably, while e-commerce is often considered a threat to brick-and-mortar retailers, Costco has been turning it into a catalyst. In October, the company's e-commerce comparable sales surged 16.5%.
Costco Delivers Strong Financials
As you'd expect from COST stock's market-beating performance, the company's overall financials have been improving.
Costco's fiscal 2019 ended on September 1. For the fiscal year, the company's net sales totaled $149.4 billion, representing an increase of 7.9% from fiscal 2018. (Source: "Costco Wholesale Corporation Reports Fourth Quarter and Fiscal Year 2019 Operating Results," Costco Wholesale Corporation, October 3, 2019.)
The bottom-line number was even more impressive. During Costco's fiscal-year 2019, the company earned a net income of $8.26 per diluted share, up 16.5% from the $7.09 per share earned in the prior fiscal year.
Worth noting is that, during the past 12 months, the company has beaten Wall Street's earnings-per-share estimates in three of the four fiscal quarters. (Source: "Costco Wholesale Corporation (COST)," Yahoo! Finance, last accessed December 3, 2019.)
COST Stock Returns Cash to Investors
Of course, if you look beyond the retail industry, you can easily find companies with higher growth rates than Costco. However, this retailer stock still deserves income investors' attention due to its willingness to return cash to shareholders on a regular basis.
Consider this: when Costco first started paying cash dividends in 2004, it was giving shareholders $0.10 per share every quarter. Today, the company's quarterly dividend rate stands at $0.65 per share. So in the past 15 years, Costco stock's payout has grown by a whopping 550%. (Source: "Splits & Dividends," Costco Wholesale Corporation, last accessed December 3, 2019.)
Furthermore, Costco has made three special dividend payments. Those special dividends—paid in 2012, 2015, and 2017—totaled $19.00 per share.
Obviously, because those payments are called special dividends, they are not expected to be recurring. And I'm not going to predict when the next special payout will be. But at the very least, the hefty special dividends show that Costco is a company that's willing to return cash to investors through dividends.
And there's little reason to worry about Costco's dividend safety. As we looked at earlier, the company earned a net income of $8.26 per diluted share in its fiscal 2019. During the fiscal year, Costco declared total dividends of $2.44 per share. So the profits easily covered the payout.
Don't forget, Costco is not the average retailer. It is a membership-only warehouse club with 98.5 million total cardholders representing 53.9 million households. Each year, the company earns $3.4 billion in cash membership fees. In the U.S. and Canada, Costco members have a renewal rate of over 90%. (Source: "4th Quarter FY 2019," Costco Wholesale Corporation, last accessed December 3, 2019.)
Costco Wholesale Corporation (NASDAQ:COST) Stock Chart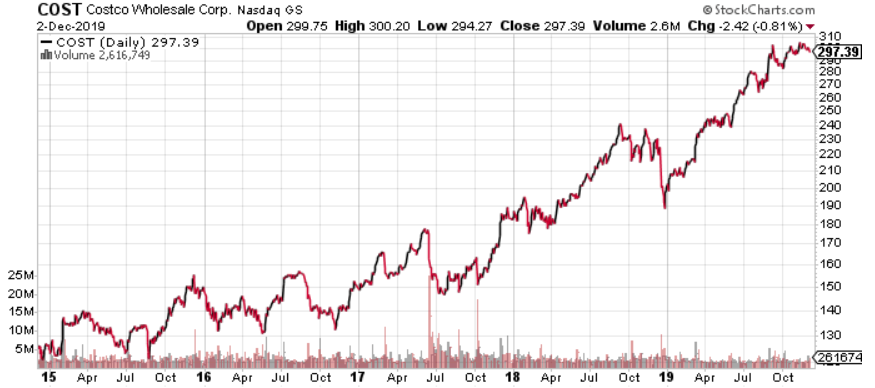 Chart courtesy of StockCharts.com
Bottom Line on Costco Wholesale Corporation
Trading at $295.14 per share, Costco stock has an annual dividend yield of 0.9%.
While it is not a high yielder by any means, the company's unique business model, improving financials, and strong dividend growth still make it a top name for income investors to consider.