Costco Wholesale Corporation Paying Huge Dividends to Shareholders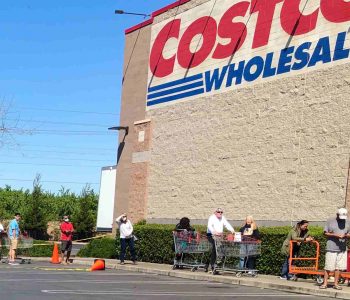 Costco Stock Dividend Immune to COVID-19
Businesses that "sell the basics" have thrived during the COVID-19 pandemic.
The products they sell may not make for the best conversation, but they're always in demand. Even in a pandemic, people still need essentials like toothpaste, paper towels, cereal, and laundry detergent.
That has resulted in tidy returns for the shareholders of these businesses. In my paid advisory Passive Monthly Income, I've covered the soaring stock prices of household brands like Clorox Co (NYSE:CLX), Procter & Gamble Co (NYSE:PG), and Church & Dwight Co., Inc. (NYSE:CHD). We've also seen big runs in the stocks of retailers like Walmart Inc (NYSE:WMT) and Target Corporation (NYSE:TGT).
And we've been seeing the same with this company.
Costco Wholesale Corporation (NASDAQ:COST) is a $170.0-billion retail giant. And if you're anything like me, you probably make several runs to one of the company's outlets every month.
Over the years, Costco has built a wide geographic reach. The company owns more than 800 stores across Asia, Australia, and North America. Altogether, this business generates more than $160.0 billion in annual sales. (Source: "Corporate Profile," Costco Wholesale Corporation, last accessed December 23, 2020.)
The secret to Costco's success, however, comes down to its counterintuitive business model. Oddly enough, the business doesn't actually make much money on the goods sold in its stores. Instead, the bulk of its profits come from memberships that are sold on an annual basis. This allows management to sell the bulk of their inventory at cost to customers, ensuring a permanent advantage that few rivals can match. Historically, this low-cost edge means that sales have rolled in like clockwork through good times and bad.
Executives have managed to widen the company's advantage over its competition during the COVID-19 pandemic. Virus-weary shoppers, worried about spending too much time out in public, can stock up on all their household essentials in one "Costco run." Innovations, such as easy online shopping and curbside pickup, make the wholesaler the preferred choice over mom-and-pop retailers.
These efforts have shown up in Costco Wholesale Corporation's recent financial results. In December, management reported that the company's quarterly same-store sales popped 17% year-over-year. Revenues from Costco's e-commerce business also spiked 86% from the same period in 2019. (Source: "Costco Keeps Drawing Homebound Shoppers," The Wall Street Journal, December 10, 2020.)
In fact, the quarter would have been even better if it wasn't for a handful of factors outside of Costco's control. COVID-19 restrictions, such as limited store capacity and reduced warehouse hours, took a bite out of sales. The company also struggled to keep up with booming demand for essential products, like toilet paper, paper towels, and hand sanitizer.
Costco's executive vice president and chief financial officer, Richard Galanti, explained the supply-chain struggles to shareholders in a recent conference call: "Most factories are up and running at our suppliers, and in many cases, production capacity has been increased. However, even higher increases in demand of some products are still creating some supply issues. There are instances of 50%, 100% or even more sales increases of an item." (Source: "Costco Wholesale (COST) Q1 2021 Earnings Call Transcript," The Motley Fool, December 11, 2020.)
He continued, "And if we could procure more, we'd have even higher sales. Examples would include things like exercise equipment, certain major appliances, certain electronics items, as well as certain housewares and small electric items. On the transportation front, there have been some container shortages at origin, as well as some congestion at destination ports here in the states. The latter, typically two to four days, but a little longer in some cases."
Such outstanding financial results have allowed Costco Wholesale Corporation to lavish shareholders with dividends. In November, management announced a record $4.4-billion special distribution. On a per-share basis, that comes out to about $10.00 apiece. (Source: "Costco to Pay Stockholders $10-per-Share Special Dividend," Supermarket News, November 17, 2020.)
It has also resulted in outstanding stock-price gains. Year-to-date, COST stock has popped 32%, crushing broader stock market indices like the S&P 500. And as you can see in the following chart, traders have bid up the price of Costco stock to near-record highs.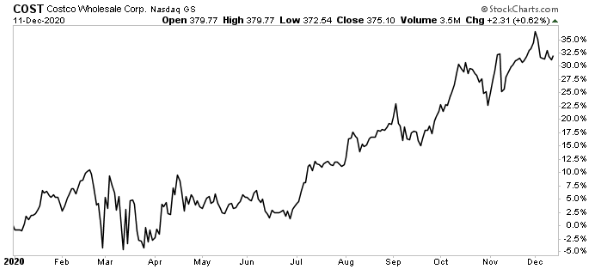 Chart courtesy of StockCharts.com
I expect those gains to continue.
As the economy rebounds in 2021, Costco Wholesale Corporation's sales will likely shift from essential products to luxury goods. And the company's international expansion should continue to pad its bottom line.