Costco Wholesale Corporation Earnings: Will Costco Stock Increase Its Dividend?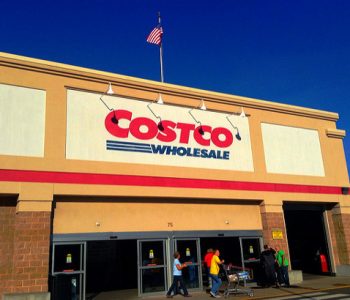 Mike Mozart/Flickr
Another Dividend Increase from Costco Stock?
Due to the rise of the e-commerce industry, brick-and-mortar retailers haven't been an investor favorite recently. However, Costco Wholesale Corporation (NASDAQ:COST) has been an exception. Over the last five years, Costco stock surged more than 80%.
At the same time, the company has also rewarded shareholders with an increasing stream of dividends. Now, the retailer is reporting earnings again. Let's see what dividend investors can expect from the latest Costco stock news.
With such an impressive share price performance, it's no surprise that the market has high expectations for the company. For the second quarter of Costco's fiscal year 2018, Wall Street analysts expect the company to generate $32.69 billion in revenue, which would represent a 9.8% increase year-over-year. Earnings are projected to come in at $1.46 per share, representing a 24.8% improvement from the $1.17 per share earned in the year-ago period. (Source: "Costco Wholesale Corporation (COST)," Yahoo! Finance, last accessed March 2, 2018.)
Over the past year, Costco stock has beaten analysts' earnings per share estimates in three of the four quarters.
Stats on Costco Stock
| | |
| --- | --- |
| Analyst EPS Estimate | $1.46 |
| Change from Year-Ago EPS | 24.8% |
| Revenue Estimate | $32.69 Billion |
| Change from Year-Ago Revenue | 9.8% |
| Earnings Beats in Past 4 Quarters | 3 |
Source: Ibid.
As I mentioned earlier, Costco has an impressive track record when it comes to dividend growth. The company started paying a dividend in 2004 and has raised its payout every year since then. From its initial quarterly dividend rate of $0.10 per share to today's $0.50 per share, Costco stock's payout has grown by 400%. (Source: "Splits & Dividends," Costco Wholesale Corporation, last accessed March 2, 2018.)
The neat thing is, despite all these dividend hikes, Costco was not really paying out all that much. In the first quarter of its fiscal year 2018, ended November 26, 2017, the company generated a net income of $1.45 per diluted share while declaring a cash dividend of $0.50 per share. In other words, Costco was paying out just over one-third of its profits as dividends. This leaves plenty of room for future dividend increases. (Source: "Costco Wholesale Corporation Reports First Quarter Fiscal Year 2018 Operating Results," Costco Wholesale Corporation, December 14, 2017.)
Moreover, the company's business has been growing. In the most recent quarter, comparable sales at Costco U.S. increased 10.3% year-over-year. But the real star was the company's e-commerce segment, which delivered a whopping 43.5% comparable sales growth for the quarter.
If the company can keep up the growth momentum in its comparable sales, it should have no problem continuing its dividend increase track record.
At the end of the day, keep in mind that Costco runs one of the most stable operations in the retail industry. The company is the largest membership-only warehouse club in America, with 91.5 million total cardholders representing 49.9 million households. On an annualized basis, Costco generates $2.9 billion in cash membership fees alone. (Source: "Costco Today," Costco Wholesale Corporation, last accessed March 2, 2018.)
Will Costco stock increase its dividend? Well, Costco is scheduled to report earnings on Wednesday, March 7 after the closing bell. With solid financials and a growing business, the company certainly has room for another dividend increase. However, given the fact that Costco's Board of Directors usually reviews its dividend policy in April, investors will likely have to wait another month before the company delivers the next dividend increase.
Trading at $189.37 apiece, Costco stock offers an annual dividend yield of 1.06%.