Corrections Corporation's Dividend May Come Under Pressure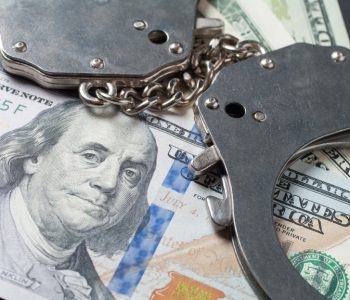 Handcuff and dollars
Prison Operator to Lose Government Contract
Corrections Corporation of America (CCA)(NYSE: CXW) may face a cash flow crunch if it continues to pay dividends to its shareholders after the indication of reduced business from the Federal Bureau of Prisons (BOP) to use its private prison and detention centers, according to Fitch Ratings.
The credit rating agency put the private prison operator on a "negative" rating watch for a possible credit downgrade after the reduction of their government contract with the BOP. the Bureau reduced the number of contract beds to 3,600 from 10,800 on recommendations by the U.S. Department of Justice (DOJ) to reduce future reliance on privately operated prisons. (Source: "Fitch Places Corrections Corp.'s 'BB+' IDR on Rating Watch Negative," Business Wire, August 23, 2016.)
"The loss of BOP income would effectively eliminate the company's small amount of retained cash flow after dividends, placing pressure on its adjusted funds from operations (AFFO) payout ratio, absent a dividend reduction," Fitch said in a statement.
CCA reiterated its dividend policy commitment of paying out 80% of its adjusted funds from operations (AFFO) and is expected to pay dividends of $0.54 per share in 2016, $0.56 per share in 2017, and $0.58 per share in 2018.
"The DOJ cited better performance at publicly run prisons, a decline in its prisoner population and excess capacity at publicly operated prisons as key reasons supporting its decision," the statement by Fitch said, explaining the reasoning behind the Bureau's decision.
Fitch said the probability of CCA losing the majority of its BOP contracts is high and in such a scenario, it would likely result in a one-notch reduction of the company's default rating to 'BB' from 'BB+,' unless the company cut its cost to mitigate the impact of lost revenues.
The company, in response to the BOP decision, said it was, "disappointed."
"These contracts represent approximately $131.2 million in annual revenues, or approximately seven percent of CCA's total annual revenue, at operating margins consistent with CCA's owned and managed facility portfolio average," according to a statement on the company's web site. (Source: "CCA Responds to the Department of Justice's Decision to Reduce Reliance on Privately Operated Prisons and Announces Investor and Analyst Conference Call," Corrections Corporation of America, August 19, 2016.)
The contracts at the three facilities the company operates for the BOP remain unchanged, with the statement noting that the BOP will determine whether to extend these contracts at the end of their respective contract terms.
Correction Corporation's shares were down four percent, trading at $18.52 in New York. They have lost two-thirds of their value in the past three months.