Coronavirus Recession Ignites Costco Stock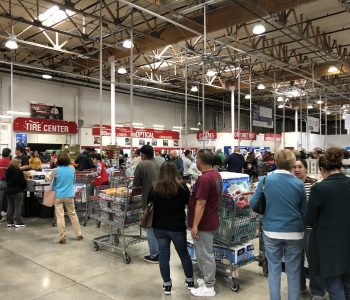 Costco Stock Soars on Coronavirus Recession Fears
Wall Street has been fretting over a coronavirus recession and a possible banking crisis. One company, however, seems to have missed the memo: Costco Wholesale Corporation (NASDAQ:COST).
COST stock has refused to give up much ground amid the broader market retreat. Year-to-date, Costco stock has dropped only about two percent. The S&P 500, by comparison, has lost almost one-third of its value during that same period.
Yet this could be just the beginning.
In fairness, discussing a retailer stock in the middle of a pandemic is tricky. Dozens of states have introduced shelter-in-place legislation, keeping most people at home. Governments have also ordered millions of businesses to shut their doors.
It will get worse. A coronavirus recession, as any armchair analyst could tell you, will crush consumer spending, which explains why retail stocks have cratered the past few weeks. But amid the carnage, Costco stock has emerged as a relative safe haven.
Why? The wholesaler has cashed in on the wave of panic buying sweeping the country.
Shoppers have stocked up on produce, canned food, and personal care products. In some locations, customers queue for hours just to get into the store. To keep up with the frenzy, management has announced plans to hire thousands of extra workers.
You can already see the impact of this bonanza in Costco's financial results. The company reported a same-store sales bump of 12.1% worldwide in the month of February, compared to the six- or seven-percent growth rate we normally see. Much of that pick-up, management reported, came in the last week of the month. (Source: "Costco Wholesale Corporation Reports Second Quarter and Year-to-Date Operating Results for Fiscal 2020 and February Sales Results," Costco Wholesale Corporation, March 5, 2020.)
"We had a huge pickup in traffic," said Richard Galanti, Costco's Chief Financial Officer, in a recent conference call. "Are some of them putting it in their basements for another day? Some of it related to the fact that people aren't eating out as much? I think it's a combination of those factors." (Source: "Costco Wholesale Corp (COST) on Q2 2020 Results – Earnings Call Transcript," Seeking Alpha, March 6, 2020.)
Incredibly, Costco missed a chance to post even better revenues in February. Throughout the entire month, management struggled to keep staples like toilet paper, peanut butter, and bottled water on store shelves. At many stores, supervisors have rationed customer purchases to avoid riots.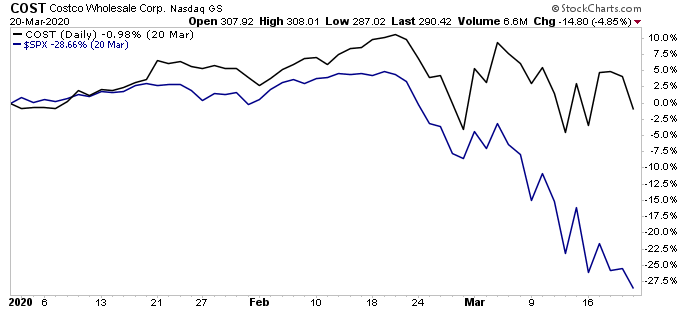 Chart courtesy of StockCharts.com
For dividend investors, a coronavirus recession represents bittersweet news.
On the one hand, booming sales will pad Costco's bottom line. If the weight of the current bear market lifts, that could send COST stock surging in the months ahead.
On the other hand, an economic downturn could delay any large distributions. For the past year or so, I have predicted that Costco stock would pay a one-time distribution in the range of seven or eight percent. A savvy management team, though, would want to conserve cash right now.
Regardless, Costco Wholesale Corporation looks like one of the few safe havens for the time being.