Coronavirus Pandemic Has Ignited Shares of This Dividend Stock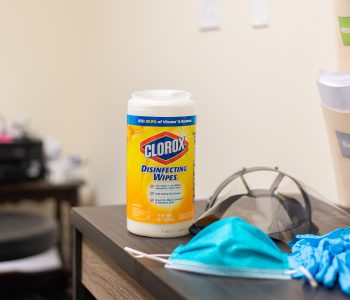 Clorox Co Gives Shareholders a Big Pay Raise
Wall Street has fretted this year over a pandemic, trade wars, and a possible financial crisis. But Clorox Co (NYSE:CLX) appears to have missed the memo.
In May, the cleaning products company hiked its quarterly dividend five percent to $1.11 per share. The move, which represented the company's 20th consecutive distribution bump, raises the forward yield on shares to 2.1%. (Source: "Clorox Increases Quarterly Dividend 5% to $1.11 Per Share," PR Newswire, May 19, 2020.)
Investors interpreted the announcement as a big vote of confidence in the business. And in the following session, traders bid up the price of CLX stock to fresh all-time highs.
Yet this could just be the beginning.
In fairness, Clorox stock does look a little frothy. Year-to-date, shares have posted a total return, including dividends, of 42%. And trading at 31-times earnings, investors have valued the company like a tech stock.
And Wall Street has good reason to be optimistic. Thanks to efforts to stop the spread of COVID-19, Clorox has struggled to keep up with the booming demand for wipes, sprays, and hand sanitizers. At the height of the pandemic in March, the company sold more cleaning products in a week than it usually does in a month. (Source: "Clorox Factories Go Into Overdrive," NBC News, May 6 2020.)
And it's not just cleaning supplies. With people spending more time at home, Clorox executives have reported high demand for the company's other household products. Management saw a spike in sales for everything from trash bags and BBQ coals to water filters and salad dressings.
Clorox Co has shifted its factories into overdrive just to keep up with demand. By running manufacturing plants around the clock and bringing in an outside partner, management has boosted production 40% since the start of the year. Despite these efforts, Clorox products sell out almost as soon as they hit the shelves. (Source: "Clorox's Coronavirus Challenge: 500% Demand Spikes and Nonstop Manufacturing," San Francisco Chronicle, May 23, 2020.)
All of which has translated into jaw-dropping financial results. In May, Clorox Co's quarterly numbers crushed Wall Street's expectations on both the top and bottom lines. Management also boosted their earnings guidance for the upcoming year, a feat few other businesses can claim in the midst of the COVID-19 pandemic.
"Clorox is uniquely positioned to play offense by leaning into investments in the long-term health of our business," said CEO Benno Dorer to analysts in a recent conference call. (Source: "Clorox Corporation (CLX) CEO Benno Dorer on Q3 2020 Results – Earnings Call Transcript," Seeking Alpha, May 1, 2020.)
"We're optimistic about our future prospects given the elevated role disinfecting products will have in consumers' lives for the foreseeable future."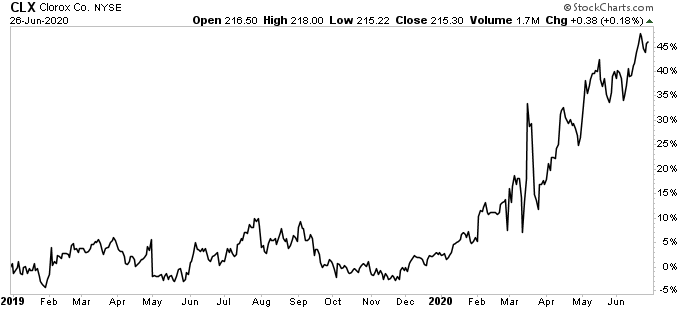 Chart courtesy of StockCharts.com
All of which should mean more dividend hikes for Clorox Co shareholders.
Over the next five years, analysts project that the business will grow earnings per share at a mid-teen annual clip. Given the company's modest 65% payout ratio, management should have no issue boosting the payout in line with profits. And thanks to the COVID-19 pandemic, those earnings estimates now look too conservative.
That could make CLX stock one lucrative dividend stock for 2020 and beyond.