Concordia Suspends Dividend After Missing Sale Target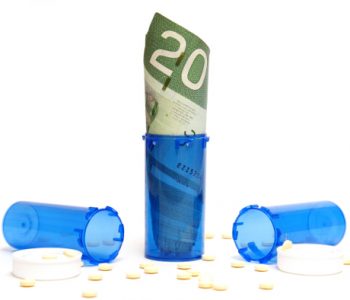 Shares Plunge 30% as Drugmaker Lowers 2016 Guidance
New York, NY —Concordia International Corp. (NASDAQ:CXRX) (TSX:CXR), a Canadian drugmaker, suspended its dividend payout today following its disappointing second-quarter results, saying that it will focus on growth and debt reduction going forward.
The company also said its chief financial officer, Adrian de Saldanha, is leaving the firm. (Source: "Concordia International Announces Second Quarter 2016 Results," Press Release, Concordia International, August 12, 2016)
"Subsequent to quarter end, on August 11, 2016, Concordia's Board unanimously agreed to suspend the $0.075 dividend per common share, payable quarterly," the statement said. "The company believes the dividend payments can be better deployed towards long-term value-creating initiatives or debt repayment."
Concordia shares plunged 24% to C$16.20 Friday morning, both the drop in the past 10 months and the lowest drop since April of 2014. The stock has dropped 71% this year after increasing to over seven times its size since 2012. (Source: "Concordia International Corp plunges to two-year low on dividend suspension, CFO departure," Financial Post, August 12, 2016.)
The drugmaker also cut its outlook for this year with a sales range of $859 million to $888 million, compared with the average estimate of about $939 million.
Concordia has revised its forecast for 2016 adjusted earnings before interest, taxes, depreciation and amortization (EBITDA) of $510 million to $540 million, which was lower than analysts' consensus estimates of about $575 million.
"Our international segment continues to perform well as the team executes and delivers on its business plan," said Mark Thompson, chairman and CEO of Concordia. "However, we have revised our 2016 guidance to reflect the impact of unexpected competition on several products in our North America segment, and current foreign currency exchange rates." (Source: Concordia International, op cit.)
Concordia said it continues to maintain a strong free cash flow profile. Meanwhile, its debt structure has no ongoing maintenance covenants and it was in compliance with all of its debt covenants.
The company reported second-quarter generally accepted accounting principles (GAAP) net loss of $570.5 million and GAAP earnings per share loss of $11.18, which was primarily due to an adjustment to the carrying values of Nilandron® and Plaquenil® by $567 million due to generic competition.
The statement also reported the second-quarter revenue of $231.7 million, an increase of 1.4% over the first quarter of 2016 and 208% over the second quarter of 2015   Second quarter 2016 adjusted EBITDA1 of $142.3 million and adjusted earnings per share of $1.38. (Source: Concordia International, op cit.)
Concordia's International segment launched 13 new products since October 21, 2015, and the company remains on track to meet its target of 60-plus launches in the next three years.