Conagra Brands Inc: This Mistake Could Cost You Thousands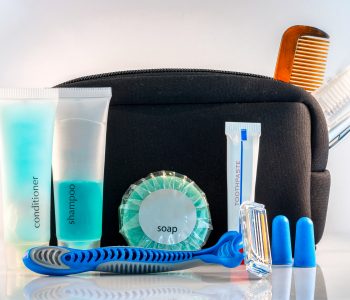 iStock.com/Alex Cimbal
After the Big Conagra Stock Plunge, How Safe Is Your Portfolio?
As Editor-in-Chief of Income Investors, I have two jobs.
First, identify the best income investment opportunities for subscribers. Second, help readers avoid gut-wrenching losses.
Today's stock, Conagra Brands Inc (NYSE:CAG), highlights that second responsibility. Our research team had backed the frozen foods giant for years, milking the stock for reliable dividends. But in a research note last summer, I told paid subscribers to ring the register and lock in an 87% gain.
We don't often issue sell recommendations. But digging into Conagra's financial results, several red flags popped up. The frozen foods giant faced a growing number of challenges and investors needed to run for the exits.
That turned out to be a smart call. Since I issued that sell recommendation, Conagra has issued a series of disappointing financial results. Investors have seen their shares lose more than one-third of their value.
So what tipped us off? Conagra Brands Inc harkens back to a theme I've discussed several times on Income Investors: consumer staples no longer represent the safe income plays they once did. And anyone buying these stocks now could be making an expensive mistake.
The thesis for owning household staples used to be pretty simple. Analysts have traditionally viewed the sector—which includes makers of everything from toilet paper to packaged foods to cigarettes and canned soup—as a safe haven. Because demand for these products tends to be relatively recession-proof, investors have counted on these stocks for reliable dividends.
But lately, the group hasn't lived up to its reputation. Since the start of 2018, the S&P 500 Consumer Staples Index has dropped more than 10%. Several top companies, including Kraft Heinz Co (NASDAQ:KHC), Dean Foods Co (NYSE:DF), and Anheuser-Busch InBev SA (NYSE:BUD), have slashed or suspended dividend payments.
Companies are getting squeezed by what I call the "packaged goods vise." On the low end, low-cost private-label brands steal sales from cost-conscious shoppers. On the high end, new upstart brands have started encroaching on the turf of established players.
Conagra Brands Inc, once one of our favorite dividend stocks around the office, has proven to be no exception.
Last quarter, both sales and profitability fell short of Wall Street's already low expectations. That forced management to revise their full-year profit guidance down again.
Higher transportation costs have only hurt margins further. In the old days, companies could pass on expenses through higher prices. But shoppers, thanks to a growing array of options at the supermarket, no longer pay up for the brands they once trusted.
Investors didn't take kindly to the news. After the report release, Conagra stock plunged 17% to a four-year low. In the following weeks, shares have only recovered slightly.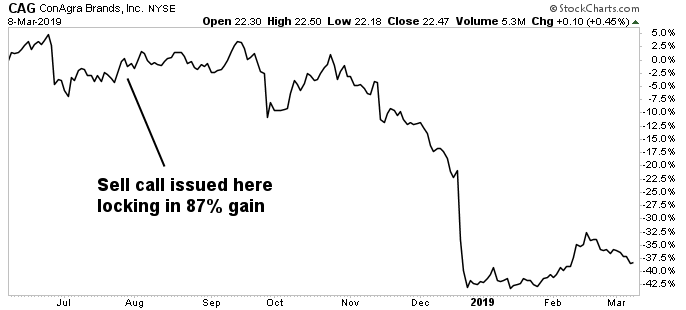 Chart courtesy of StockCharts.com

Of course, you can't call the entire consumer staples sector damaged goods. Some companies, in fact, have held up just fine.
In research reports to paid subscribers, I've highlighted the great stocks like Clorox Co (NYSE:CLX), Walmart Inc (NYSE:WMT), and McCormick & Company Incorporated (NYSE:MKC). These firms continue to post top- and bottom-line growth, which has resulted in outstanding returns for shareholders.
But investors can no longer buy consumer staples stocks and count on ongoing dividends. The packaged goods vise has divided the industry into two tiers: the winners and the losers.
And buying another in the latter group could represent an expensive mistake.