The Company Everyone Needs in a Pandemic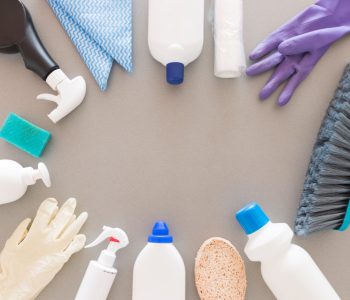 COVID-19 Crisis Ignites Shares of Ecolab Inc.
The economy has tanked lately, but you already knew that.
Thanks to the COVID-19 pandemic, hundreds of thousands of businesses have shut their doors. Few companies have enough money coming in to make rent or payroll, let alone pay dividends to shareholders. That has triggered a wave of dividend cuts and payout suspensions across Wall Street.
But some businesses continue to thrive. For proof, you only need to take a quick glance at the names I have highlighted in my Automated Income advisory.
Shares of spice maker McCormick & Company, Incorporated (NYSE:MKC) trade near all-time highs as more people cook from home. Traders have also bid up the price of Walmart Inc (NYSE:WMT) as customers stock up on essentials. And units of warehouse landlord Prologis Inc (NYSE:PLD) have surged in value thanks to the boom in e-commerce.
Today I want to highlight another such business: Ecolab Inc. (NYSE:ECL). The cleaning products giant has emerged as an essential partner for governments and businesses to combat COVID-19. And that could translate into lucrative returns (and growing dividends) for shareholders.
Ecolab keeps the world clean. The company provides products that help its customers do laundry, wash dishes, disinfect surfaces, control pests, and filter water. So if you have ever used a soap dispenser at a restaurant or passed a "WET FLOOR" sign in a hotel, odds are that was an Ecolab product.
What makes the company so profitable comes down to its "razor-and-blades" business model. Ecolab sells equipment at cut-rate prices in order to build a large base of customers. Then management sells consumable products (soaps, disinfectants, cleaning solutions) at a high markup. This creates a steady stream of ongoing sales that rolls in like clockwork month after month.
You can see the effectiveness of this approach in the company's financial results. In 2019, Ecolab's gross margins topped 41.7%. And over the past five years, management has generated an average of $0.18 in profit on every dollar that shareholders have invested in the business. (Source: "Annual Report 2019," Ecolab Inc., last accessed July 8, 2020.)
These numbers put the company in the same league of elite, world-class businesses like Johnson & Johnson (NYSE:JNJ), McDonald's Corp (NYSE:MCD), and Coca-Cola Co (NYSE:KO).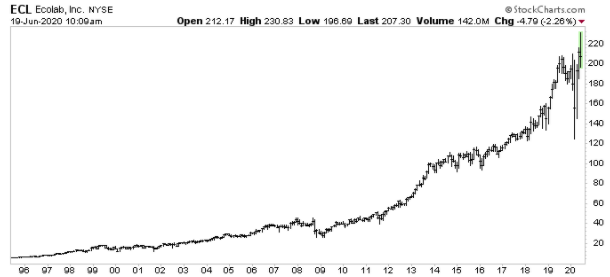 Chart courtesy of StockCharts.com
And 2020 could be a banner year thanks to the coronavirus pandemic.
Hospitals have turned to Ecolab in a bid to control the spread of COVID-19. Since the start of the year, surface-disinfectant sales have jumped fivefold. Hand sanitizer sales have increased 15-fold. Executives have added extra shifts at Ecolab's chemical plants to boost production, literally running factories around the clock to keep up with demand. (Source: "St. Paul-Based Ecolab Plays Key Behind-the-Scenes Role in Fight Against COVID-19," Star Tribune, May 31, 2020.)
This hasn't translated into an overall boost in revenues yet. Booming demand from healthcare and life sciences customers were virtually all offset by losses in closed industries like hotels, restaurants, and cruise lines.
That explains why the company posted net sales of only $3.6 billion in the first quarter, up less than three percent from the same period in 2019. Reported diluted earnings per share came in at only $0.97, down almost four percent year-over-year. (Source: "Ecolab First Quarter Reported Diluted EPS $0.97 Adjusted Diluted EPS $1.13, +10%," Ecolab Inc., April 28, 2020.)
That will likely change, however, in the coming weeks. As the economy reopens, businesses will have to spend more to adhere to stricter safety protocols. Retailers will have to sterilize high-touch doors, counters, and shopping carts nonstop. Hotels will spend more for premium cleaning products to makes customers feel safe. Hospitals will consume more disinfectant sprays in order to reuse personal protective equipment. All of which means more money for Ecolab.
"I think consumer's going to be quite aware of surroundings," said Chairman and Chief Executive Officer Doug Baker to analysts in a recent conference call. (Source: "Ecolab Inc. (ECL) CEO Doug Baker on Q1 2020 Results," Seeking Alpha, April 28, 2020.)
"They're going to be quite sensitive to, are things actually clean? They're going to want visible signs, call it cleanliness theater. How does this show up? How does it manifest itself, et cetera, and this is going to be quite important to consumers. And it's a consequence to our customers."
That should translate into respectable growth going forward. Over the next five years, analysts estimate that Ecolab Inc. will boost earnings per share at a high single-digit annual clip. And given the company's conservative 35% payout ratio, shareholders can expect their dividends to grow more or less in line with profits.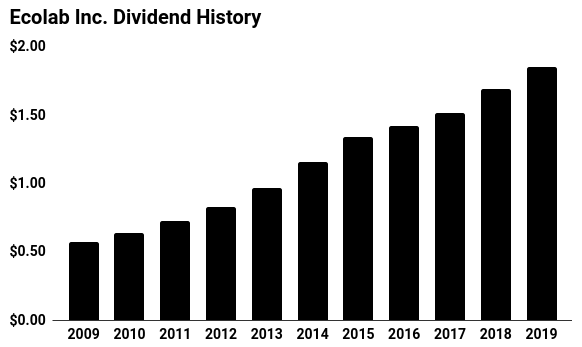 (Source: "Ecolab Inc. (ECL)," Yahoo! Finance, last accessed July 8, 2020)
Of course, I'm not the only one who has noticed this opportunity. Microsoft Corporation (NASDAQ:MSFT) founder Bill Gates has invested $680.4 million into Ecolab stock. Other movers and shakers in the financial world, including Ken Griffin, David Harding, and Cliff Asness, have also built up large stakes in the business. (Source: "Ecolab Inc. (ECL) – Hedge Fund Holdings," Insider Monkey, last accessed July 8, 2020.)
What could all these hedge fund honchos see in Ecolab Inc.? I'd say it means one thing: This dividend stock could go a lot higher.