Community Bank System Hikes Quarterly Dividend 3.2%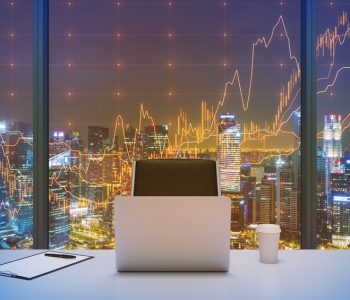 Shares Surge After Better-Than-Expected Earnings
Community Bank System, Inc. (NYSE:CBU) said its board has approved a 3.2% increase in its quarterly cash dividend payout to shareholders on its common stocks, reflecting the strength of the bank's capital position.
Community Bank announced a quarterly cash dividend of $0.32 per share on its common stock, payable on October 10 to the shareholders of record as of mid-September of this year.
"The payment of a meaningful and growing dividend is an important component of our commitment to provide consistent and favorable long-term returns to our shareholders,'' said President and Chief Executive Officer Mark Tryniski. "The increase reflects the continued strength of both our current operating performance and capital position." (Source: "Community Bank System, Inc. Announces Its 24th Consecutive Year of Dividend Increases," Business Wire, August 19, 2016.)
With assets of approximately $8.7 billion, Community Bank System runs more than 200 branches across upstate New York and Northeastern Pennsylvania through its banking subsidiary, Community Bank, N.A.
After the increase in quarterly dividend, the bank's annualized yield was 2.84%, based on the closing share price of $45.12, marking the 24th consecutive year of dividend increases for the company.
Community Bank's shares have surged 16% in the past three months as the lender reported better-than-expected earnings for the second quarter. Net income for the quarter rose 8.5% to $25.9 million, compared with $23.8 million for same period a year ago.
Diluted earnings per share were $0.58 for the second quarter against the consensus estimate of $0.56 per share, according Reuters' consensus estimates. (Source: "BRIEF-Community Bank System Q2 GAAP earnings per share $0.58," Reuters, July 21, 2016.)
Total revenue for the second quarter rose about 18% to $107.1 million, helped by the impact of the Oneida Financial transaction completed in the fourth quarter of last year. The transaction also helped the bank to generate an 11.5% increase in average earning assets. (Source: "Community Bank System Reports Second Quarter 2016 Results," Community Bank System, Inc., July 20, 2016.)
The continued acquired and organic growth in non-interest income was enough to offset a three-basis-point cut in net interest margin from the prior year quarter, according to the earnings statement.
"Our solid second quarter operating results were driven by meaningful loan growth, particularly in our business and auto lending portfolios, a continuation of exceptional credit quality, disciplined expense management, and continued improvement in our non-interest income generation," Tryniski told investors. "A 7% annualized growth in loans in the second quarter has allowed us to report over $100 million in loan growth year-to-date, a very productive outcome in this challenging low interest rate environment."  (Source: Ibid.)