Collect Rising Dividends from This Overlooked Company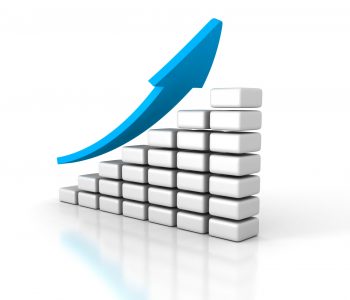 iStock.com/borzaya
A Dividend Growth Stock to Consider
The beauty of income investing is that it allows boring businesses to deliver exciting returns. A few percent in dividends may not seem like much. But if a company can consistently raise its payout, shareholders will be handsomely rewarded in the long run.
Just ask any longtime shareholder of Chubb Ltd (NYSE:CB) and you'll see what I mean. Chubb stock hasn't really made many headlines, but, over time, it has returned a tremendous amount of cash to investors.
Let me explain…
Chubb is the largest publicly traded property and casualty insurance company in the world. It provides a wide range of products and services, including commercial and personal property and casualty insurance, personal accident and supplemental health insurance, reinsurance, and life insurance to a diverse client base.
With total assets of $168.8 billion, Chubb runs huge operations. While the U.S. still represents its biggest market, the company has an extensive global presence, with subsidiaries in 54 countries and territories.
The chart below shows a geographical breakdown of where Chubb earns its premiums.
Geographical Sources of Premiums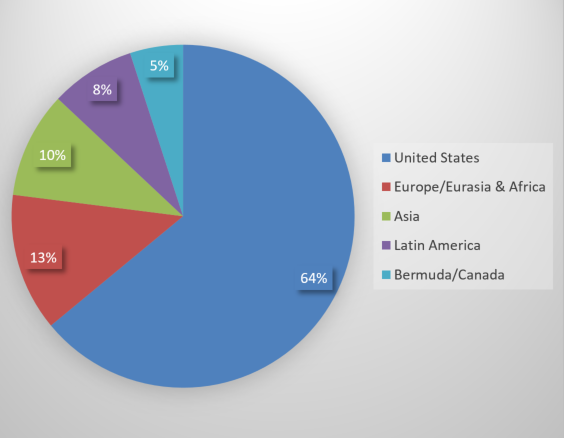 (Source: "A Global Leader in P&C Insurance: Fourth Quarter 2017," Chubb Ltd, last accessed May 23, 2018.)
In other words, the company has 36% of its business transacted outside of the U.S.
Other than diversifying geographically, Chubb stands out due to its sheer product breadth. Right now, the company offers over 200 different commercial insurance and reinsurance products and services. It also provides specialty coverage for its diverse client base that includes multinational corporations, middle market companies, small businesses, and consumers.
Here's a chart that shows each product segment's contribution to the company's total premiums in 2017.
Premium Distribution by Product
(Source: Ibid.)
What does all this diversification mean?
It means that the company managed to survive not just the economic ups and downs, but also the unexpected catastrophe losses over the years.
As a matter of fact, Chubb did much better than just survive; it provided investors with an increasing dividend stream.
Earlier this month, the company announced a three-percent increase to the annual dividend rate to $2.92 per share—which translates to quarterly payouts of $0.73 per share. With this announcement, Chubb has raised its annual dividend every year for 25 consecutive years. (Source: "Chubb Shareholders Approve 25th Consecutive Annual Dividend Increase; Board Declares Record Date for First Dividend Installment; All Other Shareholder Proposals Approved," Chubb Ltd, May 17, 2018.)
Trading at around $133.50 apiece, CB stock offers an annual dividend yield of 2.2%.
Business has been growing, too. In the first quarter of 2018, Chubb's property and casualty net premiums written totaled $6.5 billion, representing a 5.8% increase year-over-year. (Source: "Chubb Reports First Quarter Per Share Net Income and Core Operating Income of $2.30 and $2.34, Respectively, Including Catastrophe Losses of $0.64 Per Share Versus $0.35 Prior Year; Net Premiums Written Up 5.9%," Chubb Ltd, April 24, 2018.)
And just like in the past, the company's core operating income of $2.34 per share easily covered its quarterly dividend payment of $0.71 per share.
With solid financials and steadily increasing dividends, CB stock deserves the attention of income investors.