Collect "Rent Checks" as Amazon.com's Landlord
Prologis, Inc. Keeps Defying Coronavirus
Here's one of the most reliable ways to generate steady, passive income.
This little-known "landlord" has mailed out the "rent checks" it collects from the world's largest companies to its partners for the past 18 years. I'm talking about earning income from some of the biggest, most established companies in the world—like snack food giant PepsiCo, Inc. (NASDAQ:PEP). This landlord also gets rent from retail behemoth Walmart Inc (NYSE:WMT) and from package delivery services like FedEx Corporation (NYSE:FDX) and United Parcel Service, Inc. (NYSE:UPS). (Source: "Capabilities & Customers," Prologis, Inc., last accessed August 21, 2020.)
But this partnership's biggest tenant is Internet giant Amazon.com, Inc. (NASDAQ:AMZN). Yes, you read that right. Tech mogul Jeff Bezos has a contractual obligation to pay this company each month before he sees one red cent in profit. And that income rolls in no matter what COVID-19 does to the economy or how high the unemployment rate soars. (Source: "Amazon's Landlord: How The E-Commerce Boom Is Propelling Warehouse King Prologis to New Heights," Forbes, November 21, 2017.)
Needless to say, with a tenant roster like that, I would probably take notice of this business. So what is the name of the company? None other than warehouse owner Prologis, Inc. (NYSE:PLD).
My long-time readers have probably heard this name before. I wrote about this real estate investment trust (REIT) in my Automated Income newsletter back in late 2017, calling the company a backdoor way to profit from the online shopping boom. And since then, my thesis has played out just as expected, with investors making a fortune in the process.
Here's the thing: the coronavirus has turned the e-commerce bonanza into overdrive. Across the country, that has sparked a land rush for high-quality warehouse space. For that reason, I wanted to do another feature on Prologis and highlight this business to new readers.
Let's get started.
REITs, for those who don't know the industry lingo, work like a kind of "realty mutual fund." These partnerships buy properties, collect rent from tenants, and pass on the income to unitholders. Moreover, trusts trade on public exchanges, so they can be bought and sold like ordinary stocks. This makes REITs a perfect vehicle for ordinary investors to own real estate, without the hassle of dealing with tenants.
Prologis ranks as one of the bigger names in this space. Over the past two decades, the partnership has acquired 4,655 warehouses, those dull, gray buildings typically located on the outskirts of cities, totaling 963 million square feet. Altogether, they bring in close to $275.0 million in rental income each month. (Source: "Home Page," Prologis, Inc., last accessed August 21, 2020.)
Analysts love the warehouse business. Corporate tenants have a lot more rent money than the nice person answering an ad on Craigslist. Companies also tend to be in much better shape financially and generally pay their bills on time. Moreover, corporate renters tend to sign long-term lease agreements—sometimes as long as a decade or more. That means warehouse landlords can literally circle the dates on the calendar for when they'll get paid for years to come.
So how does Prologis stand apart from its warehouse peers? It's all about location.
The bulk of the partnership's warehouses are located in dense urban centers, which endow it with two advantages over its rivals. First, companies will pay a premium for this space because it's closer to end customers and cuts down on delivery time. Second, a shortage of space makes it difficult for rivals to build competing properties.
This domination of the proverbial "last mile" between the distribution center and the end customer has allowed Prologis to post outsized financial results. Executives have managed to boost its rental income at a double-digit annual clip for the better part of a decade.
Its properties remain consistently rented out, with an occupancy rate almost always over 95%. (Source: "Prologis Reports Second Quarter 2020 Earnings Results," Prologis, Inc., July 21, 2020.)
And over the past five years, Prologis has boosted its quarterly distribution at a 12% compounded annual clip—more than twice the growth rate of its warehouse peers.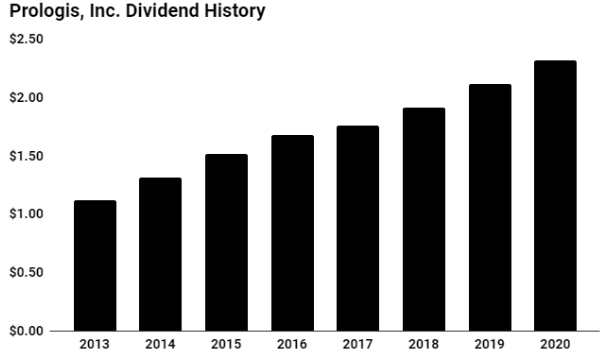 (Source: "Dividend History," Prologis, Inc., last accessed August 21, 2020.)
Yet this could just be the beginning.
Look: with COVID-19 shutting down public spaces, people have turned to online shopping to get what they need.
In June, the U.S. Department of Commerce reported that online sales jumped 29.6% year-over-year—the biggest year-over-year percentage increase in history. And that followed an already jaw-dropping surge in e-commerce sales in May (up 24.3% year-over-year) and April (up 23.9% year-over-year). (Source: "US Nonstore Retail Sales Surge a Record 29.6% in June," Digital Commerce 360, July 16, 2020.)
That has sparked a bonanza for any company with a solid online business. Walmart reported that its U.S. online revenues jumped 74% during the first quarter. (Source: "Walmart Becomes a Lifeline and Online Sales Surge 74%," WUSA9, May 19, 2020.)
Target Corporation's (NYSE:TGT) Internet sales doubled in March, and then popped another 275% in April! (Source: "Target's Digital Sales Are Growing More Than 100% So Far This Quarter," Digital Commerce 360, April 23, 2020.)
And according to a report by The New York Times, Amazon.com's online grocery sales have surged 147%. (Source: "Americans Keep Clicking to Buy, Minting New Online Shopping Winners," The New York Times, May 13, 2020.)
It's a struggle just to keep up. Earlier this year, Amazon said it would hire over 175,000 new employees to man their warehouses. For perspective, that's almost as many people as the population of Providence, the largest city in Rhode Island. (Source: "Amazon Reaches 1 million Workers Amid Pandemic Hiring Frenzy," MarketWatch, July 30, 2020.)
And this "virtual" boom requires an increasing amount of real-world space. E-commerce companies need to keep more inventory on hand in warehouses than their brick-and-mortar peers. They also need extra room to handle returned items and run their expensive packaging operations.
On average, the typical e-commerce company needs three times more warehouse space than physical stores do. (Source: "COVID-19 Special Report #6: Accelerated Retail Evolution Could Bolster Demand for Well-Located Logistics Space," Prologis, Inc., last accessed August 21, 2020.)
All of which is great news for warehouse owners, who serve as critical players behind the scenes. A recent study by CBRE Research found that for each incremental $1.0 billion in growth in online sales, companies needed an additional 1.25 million square feet of warehouse space to support their business. (Source: "E-Commerce's Impact on Industrial Real Estate Demand," CBRE Research, last accessed August 21, 2020.)
And by 2025, the U.S. will have to build another 1.0 billion square feet of logistics space to accommodate online vendors. (Source: "U.S. May Need Another 1 Billion Square Feet of Warehouse Space by 2025 as E-Commerce Booms," CNBC, July 9, 2020.)
That has translated into blowout financial results for Prologis. In July, PLD units soared after the company posted solid second-quarter results. The REIT's earnings and revenue beat the consensus Wall Street estimate. And despite rolling economic lockdowns, management indicated they had collected 98% of rent due from tenants in June. (Source: Prologis, Inc., July 21, 2020, op. cit.)
But here's the best part. In addition to posting great profits in the first half of the year, Prologis executives raised their full-year 2020 earnings guidance. Management now predicts that core fund flows from operations, a common measure of business performance in the real estate industry, will come in between $3.70 and $3.75 per share. The company also expects its year-end occupancy rate to top 95% and rent increases on existing properties to come in between 2.5% and 3.0%. (Source: Ibid.)
To the non-financial analyst, it's difficult to describe just how remarkable it is to read that last paragraph. On most of the conference calls I listen to now, companies have lowered or eliminated their guidance due to COVID-19 uncertainty. To see a business boost its earnings forecast in the middle of a pandemic is a testament to management's confidence in their business. And as you can see in the chart below, Wall Street has taken note.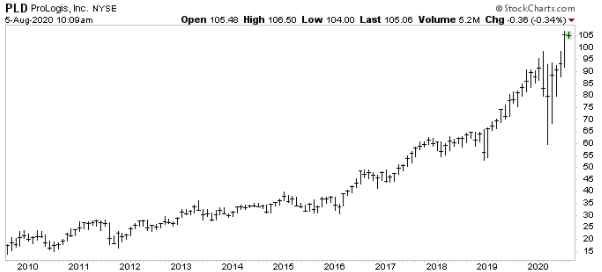 Chart courtesy of StockCharts.com
So with profits poised to soar, what could go wrong with the Prologis story? For prospective investors, I see three main risks: COVID-19, interest rates, and growth projects.
A lack of growth opportunities presents the biggest challenge for Prologis, Inc. In large U.S. cities today, it's increasingly hard to find vacant land on which to build new warehouses. And even if you can find space, local governments rarely grant the green light for new industrial projects. If Prologis can't find new opportunities to grow its business, that will bite into earnings growth (and by extension dividend growth).
The other two risks seem rather mundane. More pandemic-related business shutdowns could make it difficult for Prologis to collect rent from its tenants. But as I mentioned above, management has had no problem so far getting renters to pay up. And another lockdown might actually provide another boost to the e-commerce boom, thus increasing demand for warehouse space.
A spike in interest rates presents another threat. REITs trade in direct competition with fixed-income securities. So if yields in the bond market rise, traders will likely dump their Prologis units for safer income elsewhere. But I would see any sell-off like that as an opportunity.
Of course, I'm not the only person who has discovered "Amazon's landlord."
In a recent TV segment, famed stock market pundit Jim Cramer apologized to viewers for missing the Prologis story. He then concluded the show by pounding the table and practically begging his fans to give this partnership another look.(Source: "Prologis Is More Prepared to Weather This Downturn, Compared to 2008, CEO Says," CNBC, April 7, 2020.)
Prologis has caught the attention of hedge fund managers too. In a recent filing with the Securities and Exchange Commission, billionaire Cliff Asness revealed he had accumulated an 847,000-unit stake in the investment trust. Other hedge fund honchos, including Israel Englander, Steve Cohen, and Ken Griffin, have also started building positions. (Source: "Prologis Inc. (PLD) – Hedge Fund Holdings," Insider Monkey, last accessed August 21, 2020.)
What could all of these smart-money investors see in Prologis?
I'd say it means one thing: Prologis, Inc. is making money hand over fist as Amazon's landlord, and that will likely translate into big returns (and growing dividends) in the years ahead.