Collect Recession-Proof Dividends From CVS Health Corp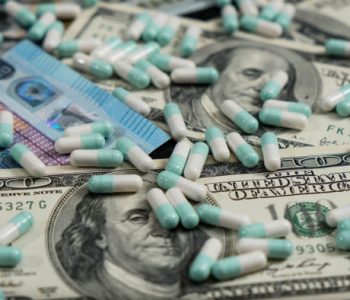 iStock.com/nastinka
A Top Dividend Stock for Income Investors
When times are good and companies are making money hand over fist, good news is abundant for income investors. Over the past several years, we've seen countless dividend hikes, stock buybacks, and even some special dividend payments from companies in almost every industry.
The thing is, though, our economy moves in cycles. While things are going great right now, at some point down the road, there will be another downturn. And as an income investor, it's of utmost importance to make sure that your portfolio can still deliver a dividend income stream, even when the economy is deep in the doldrums. And that's why companies like CVS Health Corp (NYSE:CVS) deserve your attention.
To consumers, CVS is mostly known for its retail pharmacy business. And indeed, with more than 9,800 locations, the company operates the second-largest retail pharmacy chain in America. Five million customers are served by CVS Pharmacy each day. The company also has more than 1,100 walk-in medical clinics located in 33 states and the District of Columbia.
At the same time, CVS Health Corp is a leading pharmacy benefits manager (PBM) in the country. The company offers a full range of PBM solutions to a wide range of clients, including employers, insurance companies, unions, government employee groups, and health plans, just to name a few. Right now, CVS' PBM business has more than 94 million plan members.
CVS Health Corp Pays Durable Dividends
In other words, CVS Health Corp is deeply entrenched in the healthcare industry. And one of the major benefits of being an established healthcare company is that it can offer investors a sustainable stream of dividends.
You see, while many businesses move in the same direction as the overall economy, the demand for healthcare tends to stay relatively stable. In a recession, new car sales will likely be down, for example, but when people need medication, they are still likely going to visit their local pharmacy and fill their prescriptions.
With a huge retail pharmacy network and a PBM business, CVS Health Corp is well positioned to make money through thick and thin.
And dividends come from profits. When a company can earn revenues and profits through business cycles, investors can collect recession-proof dividends. Just take a look at what the company was doing in the last economic downturn and you'll see what I mean.
The Great Recession, which lasted from December 2007 to June 2009, was widely considered as the biggest downturn since the Great Depression. Businesses were shutting down operations all over the place, unemployment rates were high, and many investors suffered huge losses.
However, even this huge macroeconomic shock did not stop this Woonsocket, Rhode Island-based healthcare giant from returning cash to investors. In fact, even during the height of the crisis, the company was still raising its payout.
In July 2008, CVS Health Corp raised its quarterly dividend rate from $0.06 per share to $0.069 per share, marking a 15% increase. Then, in January 2009, the company announced another 10.5% increase to its quarterly dividend rate to $0.07625 per share. (Source: "Dividend History," CVS Health Corp, last accessed July 25, 2018.)
CVS Stock: Dividends Are More Than Safe
Those dividend hikes have continued. In just the last five years alone, CVS stock's quarterly payout has grown by another 122%.
Trading at $65.22 apiece, shares of CVS Health Corp currently yield 3.1%.
To put it in perspective, the average S&P 500 company pays less than two percent at the moment. (Source: "S&P 500 Dividend Yield," Multpl.com, last accessed July 25, 2018.)
What's more, even after all the dividend increases over the years, the company has maintained a rather conservative payout ratio. In 2017, CVS Health Corp generated net revenues of $184.8 billion, representing a 4.1% increase from 2016. Excluding a $1.5-billion income tax benefit due to the tax reform, adjusted earnings came in at $5.90 per share. (Source: "CVS Health Reports Fourth Quarter Results And Updates 2018 Full-Year Outlook For Investments From Tax Reform," CVS Health Corp, February 8, 2018.)
Since the company paid total dividends of $2.00 per share last year, it had a very safe payout ratio of 33.9%.
It's a similar story in the first quarter of 2018. For the quarter, CVS Health Corp's net revenues grew 2.6% year-over-year to $45.7 billion. The company generated adjusted earnings of $1.48 per share, which covered its quarterly dividend payment of $0.50 per share nearly three times over. (Source: "CVS Health Reports First Quarter Results And Confirms 2018 Full Year Outlook," CVS Health Corp, May 2, 2018.)
A New Catalyst for CVS Health Corp?
Because a low payout ratio creates a wide margin of safety, companies with growing businesses and conservative payout ratios tend to raise their dividends on a regular basis. However, those that have been following CVS Health Corp would know that the company has yet to increase its payout in 2018. The reason lies in its planned acquisition of managed healthcare company Aetna Inc (NYSE:AET).
With over 44 million plan members, Aetna is a major player in the health insurance business. Last December, CVS announced its plan to acquire Aetna for approximately $69.0 billion. The company said that the deal would generate near-term synergies of $750.0 million. Management expects the transaction to close in the second half of this year. (Source: "CVS Health to Acquire Aetna," CVS Health Corp, December 3, 2017.)
This acquisition would be a big deal for CVS Health Corp. But because of the increased debt load from the transaction, the company has suspended its stock buybacks and won't increase the dividend until it lowers its leverage ratio. So for the next several quarters, CVS stock will likely be paying the same quarterly dividend rate of $0.50 per share.
Still, those dividends should be recession-proof. And in the future, CVS stock still has plenty of room to grow.