Collect Monthly Dividends with a 9.2% Annual Yield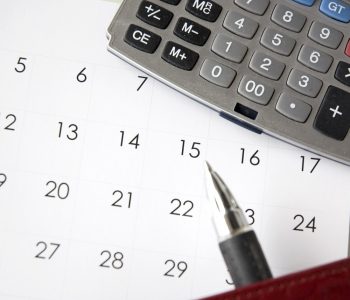 iStock.com/daniaphoto
This Is One Monthly Dividend Stock to Consider
Today's chart highlights one of the best monthly income opportunities in the current stock market, American Hotel Income Properties REIT LP (OTCMKTS:AHOTF, TSE:HOT.UN).
Income investors love monthly dividend stocks. Because of their more frequent distributions, monthly dividend companies make it easier for investors to budget their income and expenses.
However, because of the convenience offered by a monthly dividend policy, these stocks have become highly sought-after. As a result, the most well-known monthly dividend stocks have already gotten expensive, meaning their yields are now subdued.
Fortunately, some of the lesser-known stocks can still provide decent returns. For instance, most investors have never heard of American Hotel Income Properties (AHIP), yet the partnership offers a jaw-dropping yield of 9.2%.
As the name suggests, AHIP invests in hotel real estate in the United States. The partnership's portfolio consists of investments in 115 hotels totaling more than 11,000 rooms. These hotels are located in 92 cities across 33 states. (Source: "Investor Presentation," American Hotel Income Properties REIT LP, last accessed February 12, 2018.)
AHIP focuses on premium-branded, select-service hotels in areas with strong demand generators. It has partnered with international brands such as Marriott International Inc (NASDAQ:MAR) and Hilton Worldwide Holdings Inc (NYSE:HLT). Right now, the partnership earns approximately 81% of its net operating income from its premium-branded segment.
Of course, when investors see a dividend yield of over nine percent, they are probably wondering whether the payout is safe. And on that front, there has been some very good news.
You see, American Hotel Income Properties didn't start out with the safest distribution. But over the years, the payout ratio has become much more conservative.
Improving Payout Ratio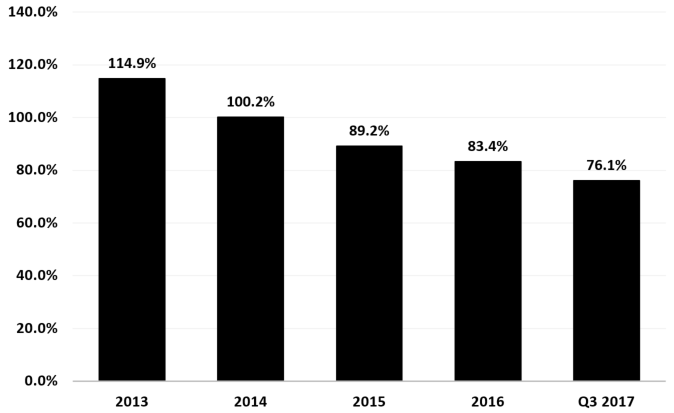 (Source: Ibid.)
As the chart above shows, AHIP had an adjusted funds from operations (AFFO) payout ratio of 114.9% back in 2013, meaning the partnership was paying out more cash in distributions than it generated from operations. That was not good. Since then, however, the payout ratio has been lowered every single year, creating a wider margin of safety for income investors.
Fast-forward to the third quarter of 2017: American Hotel Income Properties' AFFO had grown to $16.7 million. This helped the partnership further improve its payout ratio to 76.1%. (Source: "American Hotel Income Properties REIT LP Reports Third Quarter Results," American Hotel Income Properties REIT LP, November 8, 2017.)
For investors looking to use monthly dividends to cover day-to-day expenses, payout safety is of the utmost importance. Unlike the more well-known monthly dividend stocks, AHIP doesn't have a long dividend-paying history. But, by not being a hot ticker, the partnership offers a yield higher than the majority of its peers. And since its payout ratio has been improving, this 9.2% yielder deserves a second look.