Collect Monthly Dividends With a 12% Annual Yield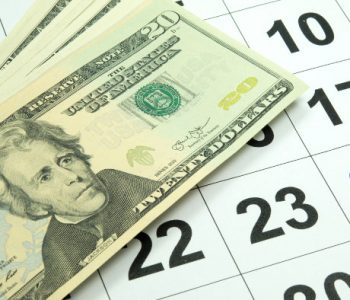 iStock.com/Stadtratte
A High-Yield Monthly Dividend Stock to Consider
Today's article highlights one of the best ways to earn a monthly income: from other people's mortgages.
You see, most people who borrowed money to buy their house make mortgage payments every month. But the payments don't always go to the bank. Sometimes, these loans get packaged together into a security that investors can buy. And the monthly payments of the underlying mortgages get passed on to the investors of that mortgage-backed security (MBS).
AGNC Investment Corp (NASDAQ:AGNC) is one of these investors. Headquartered in Bethesda, Maryland, the company invests primarily in residential mortgage-backed securities. As of December 31, 2017, AGNC had a $72.8-billion investment portfolio. (Source: "Credit Suisse Financial Services Forum," AGNC Investment Corp, last accessed March 1, 2018.)
Also Read:
The 5 Best High Yield Investments
The company's business is simple but profitable. AGNC generates an income from the interest earned on its investment assets and, after paying the associated borrowing and hedging costs, it passes some of the profits to shareholders.
Here's the neat part: because AGNC is structured as a real estate investment trust (REIT), it is required by law to distribute at least 90% of its annual taxable net income to its stockholders on a regular basis. In return, the company generally does not have to pay any federal or state corporate taxes.
In today's stock market, most dividend-paying companies distribute on a quarterly basis. But because AGNC earns a monthly income from its mortgage investments, it can afford to pay a dividend every month.
Right now, AGNC Investment Corp has a monthly dividend rate of $0.18 per share, translating to an annual yield of 12%.
Of course, from the last financial crisis, we know that mortgage-backed securities can carry a significant amount of risk. However, note that, instead of buying any MBS on the market, AGNC invests primarily in agency MBS.
When an investor buys an agency MBS, the principal and interest payments are guaranteed by a U.S. government-sponsored entity, such as the Federal National Mortgage Association (Fannie Mae) and the Federal Home Loan Mortgage Corporation (Freddie Mac), or a U.S. government agency like the Government National Mortgage Association (Ginnie Mae).
By the end of 2017, approximately 77% of AGNC's investment portfolio consisted of agency MBS. This substantially improves the company's risk profile.
According to AGNC's most recent earnings report, the company generated $0.63 of net spread and dollar roll income per share in the fourth quarter of 2017, which was more than enough to cover the $0.53 of dividends declared per share during the quarter. (Source: "AGNC Investment Corp. Announces Fourth Quarter 2017 Financial Results," AGNC Investment Corp, January 31, 2018.)
In full-year 2017, the company earned $2.56 of net spread and dollar roll income per share while declaring $2.16 of dividends per share. That translated to a payout ratio of 84%, which also left a margin of safety.
Earning a steady stream of monthly dividends might not seem as exciting as buying a tech stock that's about to shoot through the roof, but income investing can actually return a tremendous amount of value to investors over time. Assuming automatic dividend reinvestment, AGNC has delivered a total return of 356% to investors from its initial public offering (IPO) in May 2008 to the end of 2017.
For the investor looking to collect monthly dividends, AGNC's 12% yield could be an opportunity.