Collect Monthly Dividend Checks from Prospect Capital's (NASDAQ:PSEC) 12% Yield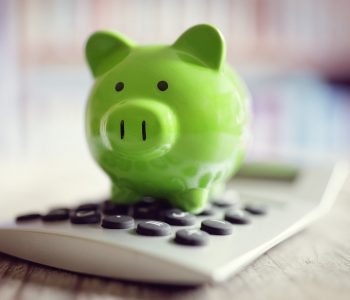 1 Monthly Dividend Stock Yielding 12.44%
Today I'll be highlighting a monthly dividend stock that's currently yielding 12.44%.
Monthly dividend stocks are some of the best things for income investors. Your bills are due every month, so why should you wait a quarter-year for a dividend check?
In today's market, investors searching for monthly dividend stocks will most likely find themselves looking through the list of real estate investment trusts (REITs). And this shouldn't be a surprise; REITs are like giant landlords. When tenants pay rent every month, these landlords can pass some of the rent to investors in the form of monthly dividends.
The thing is, though, the well-known monthly dividend REITs already have a huge following. Their prices have been bid up, so you'd be lucky to find one yielding more than five percent.
Fortunately, real estate is not the only place where you can find monthly dividend stocks. For instance, the 12% yielder I'm looking at is not a REIT. Instead, it is a business development company (BDC).
Prospect Capital Corporation (NASDAQ:PSEC) is a BDC that invests primarily in first-lien and second-lien senior loans and mezzanine debt. Headquartered in New York City, Prospect provides capital to middle-market companies, typically with annual earnings before interest, tax, depreciation and amortization (EBITDA) of between $5.0 million and $150.0 million.
The company pays monthly dividends of $0.08333 per share. At its current share price, Prospect Capital is yielding 12.44%.
One of the reasons why Prospect Capital is so generous with its dividends is the BDC structure. Business development companies are exempt from corporate income tax, but to qualify as one, there are certain income and distribution requirements. One of the requirements is that a BDC must distribute as least 90% of its taxable income to shareholders. In other words, Prospect Capital is a "pass-through" entity.
Prospect is one of the biggest BDCs in the market, with approximately $7.0 billion in capital under management. The company's scale provides a natural advantage because it allows Prospect to target larger, more-credit-worthy middle-market companies with one-step financing solutions.
Having a large platform is a good start, but BDCs do carry a certain level of risk. The good news is that while Prospect Capital screens more than 3,000 investment opportunities per year, it has a disciplined execution strategy that results in less than five percent of initially screened investments advancing to closing. The conservative approach is a good way to drive capital preservation in this business.
Income investors considering this monthly dividend stock would also be glad to know that the company has a diversified portfolio. By the end of March, Prospect Capital's investments were spread across 36 different industries.
Well-Diversified Portfolio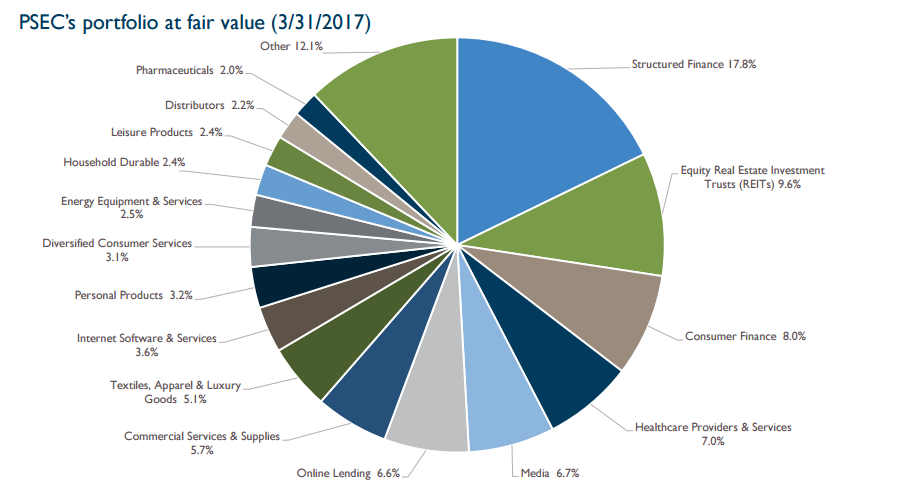 Source: "Prospect Capital Corporation," Prospect Capital Corporation, last accessed June 1, 2017.
Delivering Superior Performance
Prospect Capital's strategy has certainly worked. In today's market, an ultra-high dividend yield is often considered a sign of trouble. However, the company is doing just fine. In fact, looking at the operating results, Prospect Capital has actually outperformed many of its peers. The chart below compares the company's compounded dividends plus change in net asset value per share to the publicly traded BDC median.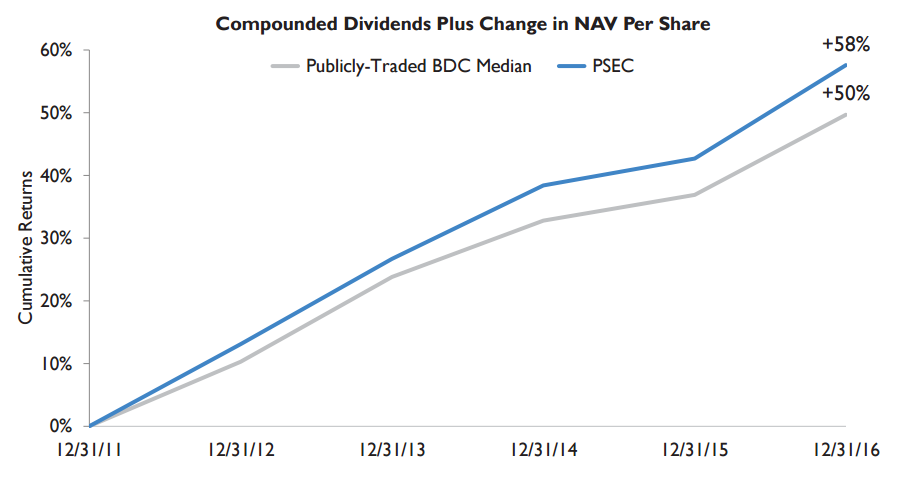 Source: "Prospect Capital Corporation," Prospect Capital Corporation, last accessed June 1, 2017.
As you can see, the company has consistently outperformed its group median in the five-year period ended December 31, 2016. During this period, Prospect Capital delivered average annual return on equity of 8.7%, while the BDC median delivered 8.2%.
Rising Interest Rates
One thing that might be a concern for dividend investors is the current interest-rate environment. The U.S. Federal Reserve has raised its benchmark interest rate twice in the past six months, and has hinted at more rate hikes to come in the remainder of this year. As a company in the investment business, will Prospect Capital be able to handle higher interest rates?
Also Read:
Retirement: 3 Monthly Dividend Stocks Yielding Up to 11%
Top 7 Stocks to Earn Monthly Dividends in 2017
Well, Prospect Capital is actually one of the few companies that can benefit from higher interest rates. You see, 90.7% of Prospect Capital's interest-bearing assets are floating rate, while 99.9% of the company's liabilities are fixed-rate. So, when interest rates increase, Prospect Capital would earn more from its floating-rate interest-bearing assets, yet its interest expenses would stay largely the same because most of its liabilities are fixed-rate. Higher-interest revenue and fixed-interest expenses are certainly good for business. Investors who own stocks in more rate-sensitive sectors may want to use Prospect Capital as a hedge.
The Bottom Line on This Monthly Dividend Stock
Investors are usually willing to pay a premium for more frequent distributions, but this monthly dividend stock is not expensive at all. The company is actually trading at a three-percent discount to its net asset value. For investors looking for companies that pay monthly dividends with a solid yield, Prospect Capital is a name worth considering.