How to Collect an Indirect 12.9% Yield From the IRS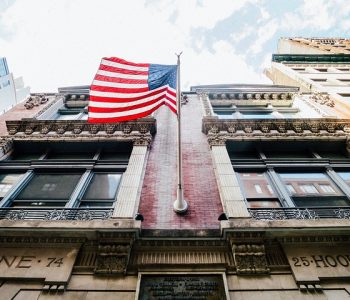 Free-Photos/Flickr
Earn a 12.9% Yield From the IRS
Do you hate tax season?
You're not the only one. Each year, we complete the frustrating, often stressful, ritual of filing our taxes.
And the worst part? It seems that every spring, "Uncle Sam" takes a bigger bite out of our income. Between each level of government, our tax bill only seems to get bigger and bigger.
Thankfully, there are answers. Well, not a way to avoid taxes entirely, of course. This little known method, however, allows you to collect income from the Internal Revenue Service (IRS), rather than the other way around.
For the past few years, I've highlighted the income potential of Government Properties Income Trust (NASDAQ:GOV). Like the name implies, this firm buys office buildings and leases them back to the government. And while it doesn't have a big following among retail investors, institutional firms have prized this trust for a few reasons.
You have one of the best renters around, first off. The IRS represents GOV's biggest tenant by square footage. The partnership's next-biggest renters include the Centers for Disease Control (CDC), the Federal Bureau of Investigation (FBI), and the United States Citizenship and Immigration Services (USCIS).
Needless to say, none of these tenants will go "out of business" anytime soon. Government agencies also tend to pay their bills on time. So for GOV, management can circle the dates on the calendar for when they'll get paid for decades to come.
Second, government contracts, as you might know, can be quite lucrative. Management locks in tenants to long-term contracts at rates above eight percent. GOV protects itself by baking inflation, rent hikes, and property tax adjustments into the lease agreement.
Most of this money gets passed on to unitholders. Last quarter, executives paid out a quarterly distribution of $0.43 per unit, which comes out to an annual yield of 12.9%. Around our research office, we nicknamed them indirect "tax rebate checks."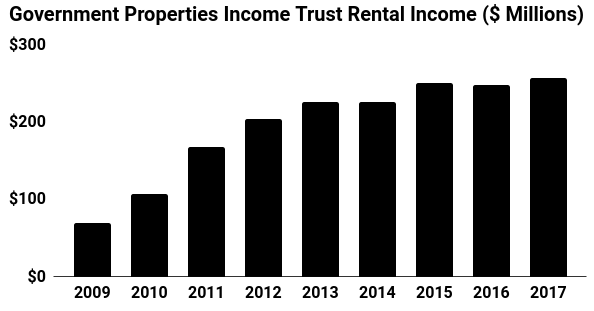 (Source: "Investors," Government Properties Income Trust, last accessed March 28, 2018.)

Of course, you can't call GOV a sure thing. I don't mean to imply that, either.
Keep in mind that higher interest rates will raise borrowing costs. Increasing rates will also make acquisitions more expensive, slowing the partnership's expansion.
GOV also pays out such reliable distributions that some analysts compare them to bond coupons. Problem is, that means the units compete directly with fixed-income securities. If interest rates rise, traders will sell GOV for safer, more secure debt issues.
That said, management has prepared for such a scenario. They've maintained a light debt load and locked in today's low interest rates for quite some time. Of all the real estate partnerships out there, this one will likely survive the return of higher yields better than most.
In any event, collecting a big check from the IRS sure makes tax season a little more palatable.